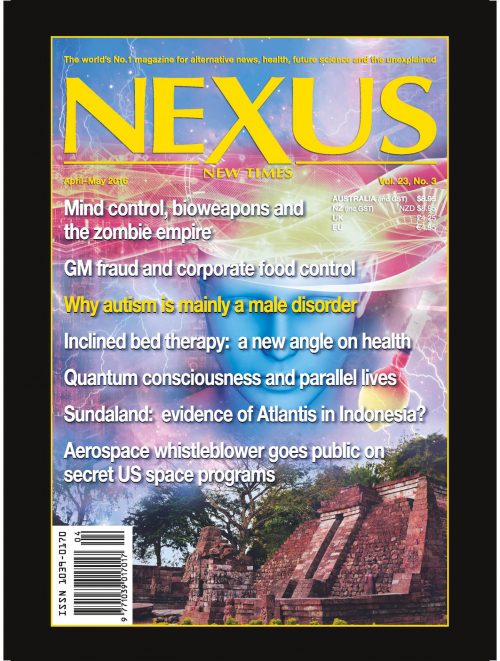 Volume 23, Number 3- downloadable
$6.60
Volume 23, Number 3 (April – May 2016) complete issue downloadable pdf file.
Description
LETTERS TO THE EDITOR
Readers comment on a nuclear radiation test case in London, proof of a spherical Earth, genocide in West Papua, dandelion root versus cancer, antivivisection, the cause of magnetic fields, and ethical science and art.
GLOBAL NEWS
We report on GM human embryos, a Flores "hobbit" study, Fukushima fallout, 3D printing of body parts, a new plastic-eating bacterial enzyme, medical marijuana laws linked with fewer painkiller overdoses, Wikipedia's pro–corporate medicine stance, the money behind British and Russian nuclear weapons programs, and more.
INCLINED BED THERAPY: A NEW HEALTH ANGLE
By Jenny Hawke. Sleeping on a bed inclined at five degrees has great benefits for circulation, metabolism and the immune system. It can also ease a range of conditions from Alzheimer's, diabetes and glaucoma to migraines, multiple sclerosis and varicose veins.
GENETIC ENGINEERING: TWISTED SCIENCE
By Colin Todhunter. Scientific research, the peer-review process and public debate have been corrupted by powerful corporate interests, aided by pro-GM activists including those who serve the new priesthood. Critics are derided while consumers are deceived about GM safety.
MKULTRA, BIOWEAPONS AND EMPIRE—Part 1
By Jack Heart and Orage. From its beginning, America's CIA recruited key scientists and doctors to develop mind-control technologies by means of psychotropic drugs and psychological conditioning. Project MKUltra, as it's now understood, is just the tip of the iceberg.
THE MYSTERY OF AUTISM AS A MALE DISORDER
By Dr Brett Cohen. The corpus callosum in the centre of the brain has lower fibre density in males than in females. High plasma GABA levels found in autism inhibit signalling in the corpus callosum. These findings may explain why males are more susceptible to autism.
SCIENCE NEWS
In this edition, Jonathan Eveleigh demystifies gravity and antigravity, explains the fundamentals of electricity, magnetism, spin, mass and inertia, and suggests how faster-than-light hyperspace flight can be achieved. He also affirms that energy follows thought instantaneously.
REWRITING PREHISTORY AT GUNUNG PADANG
By Narada Firebird Vantari and Pratima Mumford-Sephton. After amazing discoveries at what may be the most significant archaeological site on the planet, research at Gunung Padang in West Java has stalled due to a funding delay, academic resistance and politics.
THE HIDDEN REALITIES OF OUR CONSCIOUSNESS
By Peter Smith. We are much more than we believe ourselves to be: we are part of a greater consciousness. By changing limited mindsets and utilising key principles such as the Creator Effect, we are able to access higher-dimensional realms for healing and soul expansion.
THE TWILIGHT ZONE
We feature an account of taxi drivers' "ghost passenger" experiences following the 2011 Great East Japan earthquake and tsunami, and Dr Michael E. Salla's report on aerospace whistleblower William Tompkins' revelations about highly classified US Navy space programs.
REVIEWS—Books
"Colloidal Silver" by Werner Kühni and Walter Holst
"Brilliant Green" by Stefano Mancuso and Alessandra Viola
"The Arabian Alchemist" by Edda Livingston
"Natural Remedies for Low Testosterone" by Stephen H. Buhner
"Ghosts of Lincoln…His Paranormal Legacy" by Adam Selzer
"The Children of Roswell" by Thomas J. Carey & Donald R. Schmitt
"A New Look at the Solar System" by Ian Niall Rankin
"Silver Screen Saucers…UFO Movies" by Robbie Graham
"Selected by Extraterrestrials" by William Mills Tompkins
"The Aztec UFO Incident" by S. and S. Ramsey and F. Thayer, PhD
"Axis of Heaven" by Paul Broadhurst and Gabriele Trso
"The Establishment…How They Get Away With It" by Owen Jones
"Sacred Geometry of the Earth" by Mark Vidler & Catherine Young
"Flash Boys: Cracking the Money Code" by Michael Lewis
REVIEW—DVDs
"Secret of Water" by GaiamTV
"Fluoride: Poison on Tap" by Framing the World Productions
REVIEWS—Music
"Rroma Sapien" by Lolo Lovina
"Ambient Zone 2: Just Music Café, Vol. 5" by various artists
"Supernatural Love" by Sidestepper
"The Beautiful Waiting Room" by Lee Hardisty