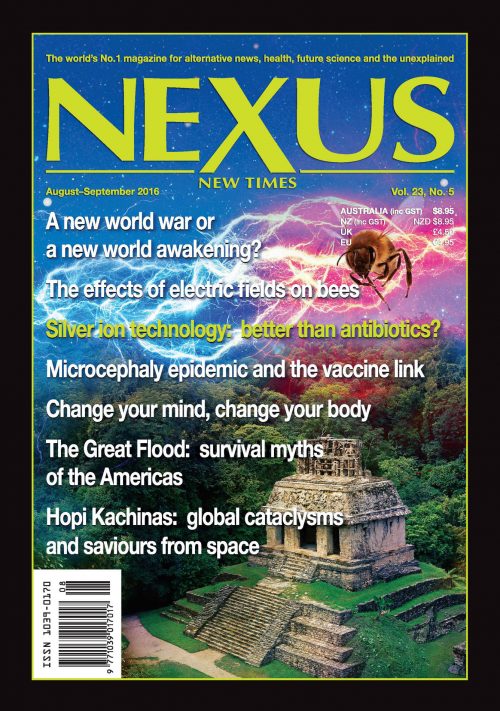 Volume 23, Number 5- downloadable
$6.60
Volume 23, Number 5 (August – September 2016) complete issue downloadable pdf file.
Description
LETTERS TO THE EDITOR
Readers comment on the perils of anti-caking agents in table salt, inclined bed therapy success, remote neural monitoring, an exopolitics party, the Order of the Golden Dawn, and dangers of the Moxifloxacin antibiotic.
GLOBAL NEWS
We report on new high-tech imaging from Petra and Cambodia, multiple poles of the Earth's ancient magnetic field, paracetamol's link to autism, Teslaphoresis and self-assembling circuits, the ancient "hobbit" ancestor, cannabinoids and Alzheimer's proteins, Britain's new colonialism, the rise of artificial intelligence, and more.
A NEW WORLD WAR OR A NEW AWAKENING?
By John Pilger. As American forces attempt to encircle Russia and China, now is a good time to reflect on nuclear testing and warfare, on US presidential politics, and on what happened to the tradition of popular direct action and commitment to create a better world.
VACCINATIONS & MICROCEPHALY OUTBREAKS
By Dr Viera Scheibner. The epidemic of microcephaly (babies born with shrunken heads) in Brazil in 2015–16 was not caused by the Zika virus. It occurred as a result of vaccinating pregnant women with the TDaP vaccine, and ended after the vaccination program was stopped.
CASTOR OIL IN EDGAR CAYCE'S READINGS
By Dr William A. McGarey. Already well known for its industrial applications, castor oil was used in antiquity and is part of folk medicine, as explained in this 1970 book extract. It was often recommended by "sleeping prophet" Edgar Cayce as a therapy for various illnesses.
SILVER IONTOPHORESIS: ANTIBIOTICS REPLACED
By Richard Malter. Silver has a long history of use as an antimicrobial. Now, an internal infection can be targeted via a silver-nylon conductive cloth placed on the skin and charged positive via a stimulator device, resulting in the flow of an ultra-low direct current of silver ions.
SCIENCE NEWS
This issue we reprint a 1976 article by Dr rer. nat. Ulrich Warnke on the effects of electric charges on honeybee behaviour. It lays the groundwork for understanding the threat to bees from electromagnetic fields.
ECHOES OF THE GREAT FLOOD IN MYTHS
By Rafael Videla Eissmann. There are remarkable similarities between the Flood myths preserved within the Americas and by global indigenous cultures. In the light of geological evidence, it's likely that these myths describe real events involving natural catastrophes, the stories passed down by survivors and their descendants.
CHANGE YOUR MIND, CHANGE YOUR BODY
By Mark Baker. Increasingly, research is showing that our mind, perceptions and beliefs control our body. By changing and developing our mindset, we can improve our physical health, recover more quickly from injury and reduce discomfort from pain.
THE TWILIGHT ZONE
We feature Shawn Hamilton's second article on secrets of the Hopi, with elder White Bear's revelations on previous Earth cataclysms, a shield of protection, the laws of the Creator, and the Kachinas as cosmic saviours who travelled to Earth in magnetically powered spaceships.
REVIEWS—Books
"Life After Death Is Certain: A Psychic's Manual" by John O. Milne
"The Book of Ho'oponopono" by L. Bodin, N. Lamboy, J. Graciet
"Meet the Hybrids" by Miguel Mendonça and Barbara Lamb
"The Global Mind and…Civilization" by Carl Johan Calleman, PhD
"Haunted Skies – Volume 10" by John Hanson and Dawn Holloway
"Weapons of the Gods…Ancient Civilizations…" by Nick Redfern
"Legend Tripping" by Robert C. Robinson
"…Life of George Hunt Williamson" by M. Zirger and M. Martinelli
"Templar Sanctuaries in North America" by William F. Mann
"Your Health, Your Vitality, Your Choice" by Yvonne Tait
"Nikola Tesla's Electricity Unplugged" edited by Tom Valone, PhD
"The Mechanical Theory of Everything" by Joseph M. Brown
"Britain's Secret Wars" by T. J. Coles
"Hidden Finance…Secret Sorcery" by Joseph P. Farrell
REVIEWS—DVDs
"What's With Wheat?" produced by Cyndi O'Meara
"Man Made Epidemic" directed by Natalie Beer
REVIEWS—Music
"Wa Di Yo" by Lakou Mizik
"The Source" by 2016: Afro Celt Sound System
"Presence" by Sacred Earth
"Pa'Ki Pa'ka" by Robert "Robi" Svärd