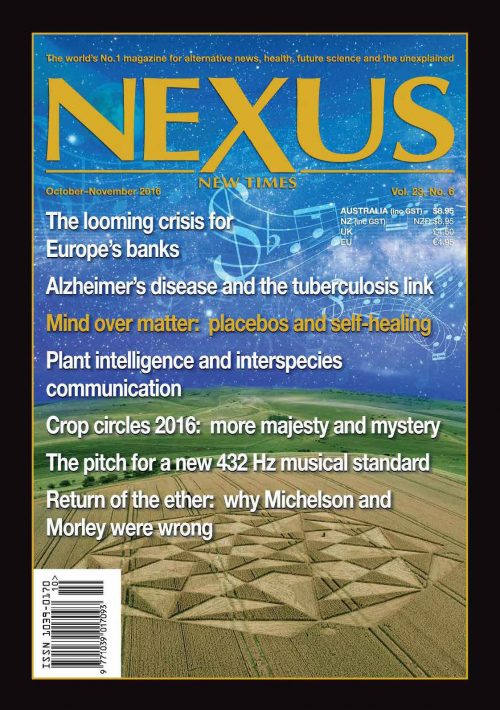 Volume 23, Number 6 – downloadable
$6.60
Volume 23, Number 6 (October – November 2016) complete issue downloadable pdf file.
Description
LETTERS TO THE EDITOR
Readers comment on Black President prophecies, inclined bed miracles, Indonesia's genocides in West Papua and East Timor, and Canada's legal income tax system.
GLOBAL NEWS
We report on a mystery Australasian ancestor, the Saudi cover-up of Hajj deaths, concerns over 5G technology, the battle for Syria's pipelines, China's quantum satellite, lack of evidence for the Exodus, the US death rate from prescription drugs, glyphosate in vaccines, and more.
BLACK SWANS CIRCLING OVER EUROPE'S BANKS
By Karen Mutton. Italian and German banks are in dire straits with plummeting share values, negative interest rates and failed attempts to recapitalise. If Deutsche Bank crashes, this will have a disastrous impact on all the European banks and the global financial system.
THE BACTERIAL CAUSE OF ALZHEIMER'S DISEASE
By Dr Lawrence Broxmeyer. An infectious cause of dementia was being investigated in the 18th century, well before Alois Alzheimer concluded he'd discovered a new disease in 1906. Yet Alzheimer disregarded contemporary research that suggested a link with tuberculosis.
PRIMARY PERCEPTION & BIOCOMMUNICATION
By Derrick Jensen. Polygraph specialist Cleve Backster discovered that all lifeforms, whether plants, bacteria or human cells, exhibit an intrinsic perception of their environment and respond to it. This finding calls for a redefinition of consciousness and holds promise for the future of interspecies communication.
432 Hz: TOWARDS A NEW CONCERT PITCH
By Simone Vitale. The standard concert pitch of 440 Hz for the tuning of musical instruments has been arbitrarily determined. There is a growing movement to change the regulated pitch to 432 Hz, in harmony with the Bel Canto tradition as well as scientific and esoteric insights.
SCIENCE NEWS
This issue, Blake Taylor analyses why Michelson and Morley were wrong to reject the ether's existence. He explains that an understanding of magnetism based on logic is the key to restoring the ether to its rightful place.
MIND OVER MATTER: PLACEBOS & HEALING
By Bevis Beauvais. The materialist, reductionist model based on Newton's scientific theories is being replaced by a new paradigm that incorporates holographic reality and the variables of mind and consciousness while acknowledging that we are all cosmically connected.
CROP CIRCLES OF 2016
By Andy Thomas. This season saw the ever-fascinating crop circle mystery fall quieter around the world but remain strong in the English heartlands, where many impressive masterpieces made their presence felt and stirred valuable debate as intensely as ever.
THE TWILIGHT ZONE
We feature Linda Moulton Howe's interview with aerospace whistleblower William Mills Tompkins on secret Nazi and US space programs and collaborations with Reptilian and Nordic ETs with their own agendas.
REVIEWS—Books
"Maladies & Remedies" by Steve Price
"Herbs & Nutrients for Neurologic Disorders" by Kurn and Shook
"Rising from the Dead" by Suzanne Humphries, MD
"Food Forensics" by Mike Adams
"Soul Breathing" by Carrie L'Esperance
"Hidden Mind" by Tom Griffin and Dr Nuala Bent
"44: …an Ex-Soldier's True Story" by B. Brooks & J. Summerscales
"Zecharia Sitchin and…ET Origins…" by M. J. Evans, PhD
"The Great Pyramid of Giza" by Willem Witteveen
"Extraterrestrial Sands" by Gary Gilligan
"The Memory Code" by Lynne Kelly
"Rewriting Prehistory…Gunung Padang" by Vantari & Mumford
"Confessions of an Illuminati – Vol. II" by Leo Lyon Zagami
"Age of Discovery" by Ian Goldin and Chris Kutarna
REVIEWS—DVDs
"2016 NEXUS Conference" produced by NEXUS Magazine
REVIEWS—Music
"Onwards to Mars!" by Fanfare Ciocarlia
"Beating Heart – Malawi" by various artists
"Monistic Theory" by Joe Driscoll & Sekou Kouyate
"Anian" by 9Bach