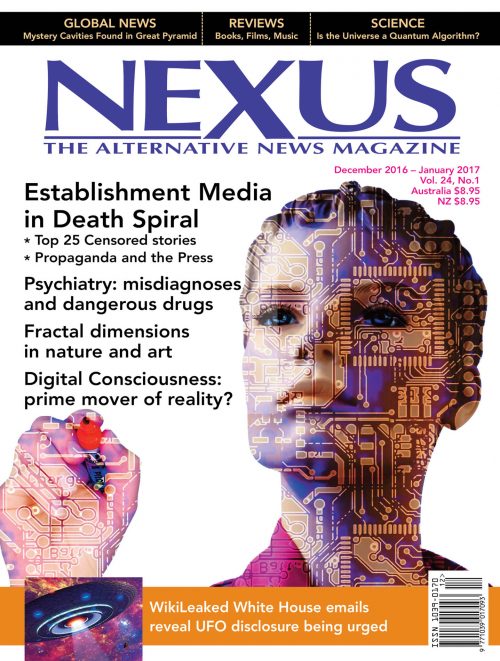 Volume 24, Number 1 – downloadable
$6.60
Volume 24, Number 1 (December 2016 – January 2017) complete issue downloadable pdf file.
Description
LETTERS TO THE EDITOR
TB, Alzheimer's and Cancer; Homeopathics vs Placebos; South Africa 'Student' Riots; The Companion NEXUS; The Sacred Number 432
GLOBAL NEWS
We report on plants that channel light to their roots, the oldest known Aboriginal settlement in arid Australia, flaws in fossil analysis, mysterious cavities within the Great Pyramid, smart security cameras and facial recognition, CDC scientists' corruption concerns, a staged Sky News program on Syria, and more.
PROJECT CENSORED: The Top 25 News Stories of 2015–16
By Professor Mickey Huff and Project Censored. Students and academics, continuing an initiative that began in 1976 at Sonoma State University, California, have compiled the top 25 news stories of 2015–16 that were most ignored by the US corporate media.
PUBLIC RELATIONS, PROPAGANDA AND THE PRESS: READING BETWEEN THE LIES
By Leon Horton. Public relations hasn't merely leaked into the news, it's saturated it. As media corporations cut costs and sack more staff, the PR industry and wire agencies have filled the information-gathering void while overworked reporters are forced into churnalism.
DEADLY PSYCHIATRY
By Professor Peter C. Gøtzsche. As this book extract shows, the diagnosis of mental disorders is based on dubious psychiatric criteria, and treatment tends to require at least one dangerous drug from Big Pharma.
FRACTAL GEOMETRY AND THE MANDELBROT SET
By Nigel Lesmoir-Gordon. Fractal patterns are found in nature and in art, but it wasn't until Professor Benoît Mandelbrot discovered his now iconic fractal set in 1980 that infinite nature was revealed in all its glory. Maths and geometry were back in the public mind.
SCIENCE NEWS: QUANTUM CODE
By Ovidiu Racorean. A recent quantum computing simulation points to the existence of a bizarre quantum code beneath stock market transactions. Could this code be a tiny fragment of a quantum code that our universe uses to create physical reality?
DIGITAL CONSCIOUSNESS: THE ANSWER TO LIFE'S GREAT MYSTERIES?
By Jim Elvidge. Evidence is mounting that we live in a consciousness-driven digital reality. This model may explain scientific anomalies as well as paranormal phenomena and has enormous implications.
STRANGE TIMES
Linda Moulton Howe discusses the WikiLeaked John Podesta UFO emails, and interviews Grant Cameron of PresidentialUFO.com on ET agendas and high-ranking, secret groups working towards disclosure.
REVIEWS—BOOKS
Alzheimer's Disease by Lawrence Broxmeyer, MD
The Answer to Cancer by Keith Foster, FLS
Vaccination Policy and the UK Government by Christina England & Lucija Tomljenovic, PhD
The Completion Process by Teal Swan
Dying to Wake Up by Rajiv Parti, MD, with Paul Perry
Opening the Doors of Perception by Anthony Peake
Unveiling the Truth by David John Oates
The Secret Life of Lady Liberty by Robert Hieronimus, PhD, and Laura E. Cortner
Psychedelic Marine by Alex Seymour
The Jesus Phenomenon by Greg Rigby
The Suppressed History of American Banking by Xaviant Haze
The Myth of Human Supremacy by Derrick Jensen
The Panama Papers by Bastian Obermayer and Frederik Obermaier
The Writer With No Hands by Matthew Alford
REVIEWS—FILM
Seed: The Untold Story by Taggart Siegel and John Betz
Project Censored the Movie: Ending The Reign of Junk Food News by Doug Hecker and Christopher Oscar
REVIEWS—MUSIC
Full Circle by Miriam Lieberman
Doncomodja by Moussa Diakite
Beauty Thunders by Peia
Fio Da Memoria by Luísa Maita