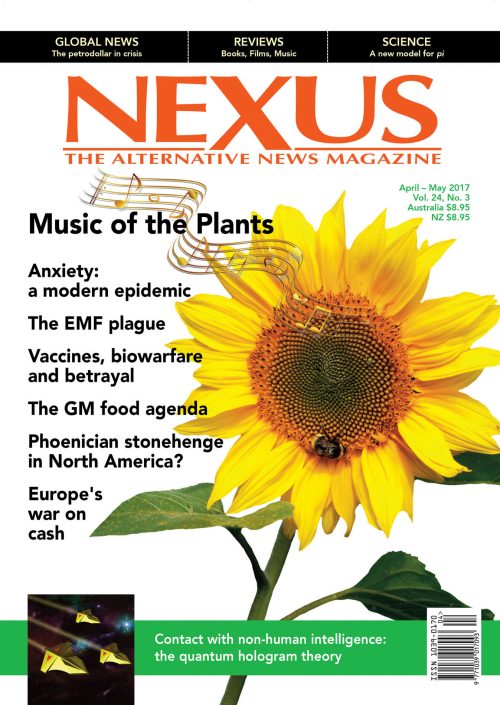 Volume 24, Number 3 – downloadable
$6.60
Volume 24, Number 3 (April-May 2017) complete issue downloadable pdf file.
Description
LETTERS TO THE EDITOR
Readers comment on facial recognition; nasal breathing for oxygenation; psychiatric misdiagnoses; modern physics refuted; and electrosmog and bee deaths.
GLOBAL NEWS
We report on a 5480 BC solar event, an earlier arrival of humans in North America, the Vatican vs the Knights of Malta, facial recognition for Australian airports, a time crystal, Europe's war on cash, vaccines linked to brain disorders, smart meters and consumer profiling, GMOs and eugenics, the petrodollar crisis, and more.
THE EMF PLAGUE: PART 2 OF 2
By Donna Fisher. Electromagnetic frequencies from high-tech electronic devices and systems disrupt our biological rhythms, causing a range of adverse health effects including cancer. Public health authorities need to enforce safer industry standards urgently.
MUSIC OF THE PLANTS
By Simone Vitale. The Damanhur community in Italy first utilised an apparatus to show that plants can create music intentionally. It has opened up exciting ways for us to understand plants as sentient beings and even to engage in musical dialogue with them.
VACCINES, BIOWARFARE AND BETRAYAL
By Catherine O'Driscoll. Governments, Big Pharma, oligarchs and the military have seemingly colluded to turn vaccines into bioweapons to control populations. So is it ethical for our governments to profit from the very industry and products that they regulate?
SCIENCE NEWS: WHEN PI = 4
By Miles Mathis. The value of 3.14… for pi, the ratio of a circle's circumference to its diameter, does not apply when circular motion is considered. Instead, the value of 4 is correct in this new model that uses cycloid mathematics and also factors in the time variable.
PHOENICIAN STONEHENGE IN AMERICA?
By Suhail M. Jalbout. There are many indications that ancient Phoenician mariners reached the East Coast of North America millennia ago. They may have erected their own stone monument to mirror and align with stone circles in their Eastern Mediterranean homeland.
ANXIETY: A MODERN EPIDEMIC
By Peter Smith. Anxiety is increasingly prevalent today, but our mental health networks, drug treatments and therapies can't address the source of the problem. An awareness of how trauma is held energetically in the subconscious mind offers a pathway to healing.
STRANGE TIMES: ALIEN CONTACTS
By Reinerio Hernandez et al. A survey of over 3,000 people reveals surprising findings about physical and telepathic contacts with non-human intelligence. The quantum hologram theory of consciousness provides a framework to make sense of multidimensional reality.
BOOK, FILM, CD REVIEWS
REVIEWS—BOOKS
SUPER SLIM by Keith Foster, FLS
GENDER MEDICINE by Marek Glezerman
THE YO(U)NIVERSE PARADOX by John Ferris
IN THE DARK by Jason Bawden-Smith
THE NEW HUMAN by Mary Rodwell
THE SEARCH FOR EXTRA-TERRESTRIAL LIFE IN THE UNIVERSE by Obaidur Rahman
SCIENCE FOR HERETICS by Barrie Condon
THE GOLDEN NUMBER by Matila C. Ghyka
DRUGS AS WEAPONS AGAINST US by John L. Potash
THE GREAT BREXIT SWINDLE by T. J. Coles
REVIEWS—FILM
TRACE AMOUNTS: Autism, Mercury and the Hidden Truth by Shiloh Levine and Eric Gladen
THE COMING WAR ON CHINA written & directed by John Pilger
REVIEWS—MUSIC
INDO LATIN JAZZ LIVE IN CONCERT by Mariah Parker
TERRAFORMING IN ANALOGUE SPACE: IRL Remixes 2000–2015 by various artists