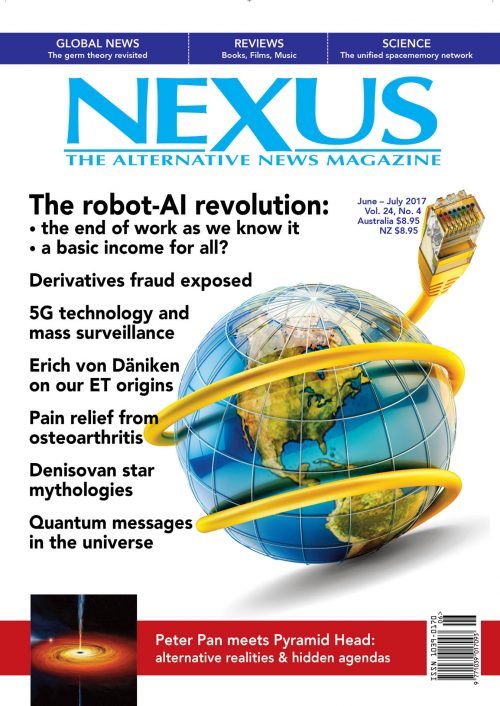 Volume 24, Number 4 – downloadable
$6.60
Volume 24, Number 4 (June-July 2017) complete issue downloadable pdf file.
Description
LETTERS TO THE EDITOR
Readers comment on US War Crimes and Hypocrisy; Empty Claims on Moon Flights; BioMats for Cancer Healing; The Fight Against Wifi; Help for Mystery Illness and praise for NEXUS.
GLOBAL NEWS
We report on how plants listen for water, unreliable cancer studies, a DNA analysis revealing Australian Aborigines' 50,000-year heritage, US demonisation of North Korea, the City of London's post-Brexit future, the robot economy, David Rockefeller's control legacy, a basic income, germ theory doubts, and more.
NIACINAMIDE FOR OSTEOARTHRITIS PAIN
By Dr Jonathan V. Wright.  In the 1940s, Dr William Kaufman proved that niacinamide, a form of vitamin B3, relieves osteoarthritis pain and inflammation.  It can also help in preventing joint replacement surgery.
THE 5G NETWORK: ORWELLIAN REALITY?
By Reinette Senum.  Telecom companies are rolling out the 5G wireless network across the USA, with small cells to be installed everywhere and sensors utilised to implement the Internet of Things, with no regard for the expected impacts on health and the environment.
THE 21ST-CENTURY GREATER DEPRESSION
By Paul Majchrowicz.  The Goldman Sachs investment bank, co-opting the US Treasury, the Federal Reserve and the International Monetary Fund, is at the centre of the derivatives market fraud that could result in more bank bailouts and another major economic collapse.
PETER PAN MEETS PYRAMID HEAD
By Jack Heart and Orage.  Pioneering research into frequency and resonance by scientists in Germany and America from the early 20th century led to top-secret experiments that created time machines and tapped pyramid energy.  Einsteinian physics was irrelevant.
SCIENCE NEWS: UNIFIED PHYSICS
By Nassim Haramein and William David Brown.  The unified spacememory network may explain quantum entanglement through micro-wormholes as well as biomolecular dynamics and subjective awareness.
WE, THE OFFSPRING OF THE 'GODS'
By Rafael Videla Eissmann.  In a recent interview, Erich von Däniken speaks of vestiges of extraterrestrials on Earth, sunken continents, knowledge preserved in ancient literature and megalithic monuments, legends of war in space, and humanity's cosmic destiny.
DENISOVAN STAR TRAILS
By Alistair Coombs.  Shared stories about the "Seven Sisters" or Pleiades star cluster reflect a history of early migrations of Denisovan people from Siberia, east to North America via the Beringia land bridge and south via Sundaland to Melanesia and then to Australia.
STRANGE TIMES: UFOs AND ETI
We cover a Chan Buddhist master's UFO sightings in 1884 and an alien abduction description from a 1528 Chinese manuscript, and feature Ovidiu Racorean's view on quantum communication with ET intelligence.
REVIEWS—BOOKS
THE JOY OF LIVING by Barry Eaton & Anne Morjanoff
THE PHYSICS OF TRANSFIGURED LIGHT by Leon Marvell, PhD
HEALING WITHOUT MEDICINE by Albert Amao, PhD
THE NINE WAVES OF CREATION by Carl Johan Calleman, PhD
CORPORATE TIES THAT BIND edited by Martin J. Walker
NOURISHING FATS by Sally Fallon Morell
THE LOST WORLD OF CHAM by David Hatcher Childress
SKY CRITTERS by Antony Milne
OUT OF AUSTRALIA by Steven and Evan Strong
THE LOST CONTINENT OF PAN by Susan B. Martinez, PhD
REVIEWS—FILM
THE UFO CONCLUSION directed by Richard Lowry
PUNKS FOR WEST PAPUA: THE DOCUMENTARY directed by Anthony Ash Brennan
REVIEWS—MUSIC
FERTILE PARADOXES by Amine & Hamza, The Band Beyond Borders
ABBAR EL HAMADA by Aziza Brahim
UNFOLDING THE ROOTS by MANdolinMAN
TARG by Bargou 08