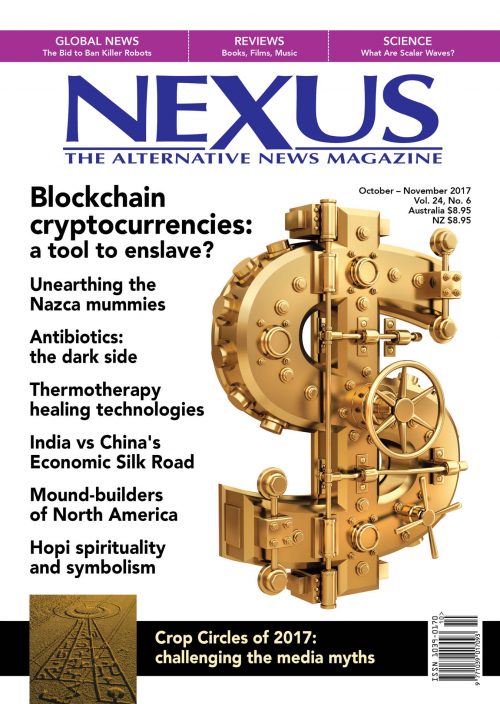 Volume 24, Number 6 – downloadable
$6.60
Volume 24, Number 6 (October-November 2017) complete issue downloadable pdf file.
Description
LETTERS TO THE EDITOR
Readers comment on Homeopathy vs MMR Autism; Eliminating Pathogens; EMFs and Calcium Influx; Dirty Electricity Concerns; and Validation on ET Contact.
GLOBAL NEWS
We report on China's petrodollar challenge, the 5.7-million-year-old human-like footprints found in Crete, the bid to ban "killer robots", an epidemic of opioid overdoses, India's new geopolitical agenda, and more.
FAR INFRARED HEALING
A compilation.  Thermotherapy technologies that emit far-infrared radiation have therapeutic benefits in the treatment of a variety of conditions from cancer and sports injuries to toxicity overload, mimicking natural sunlight exposure but without harmful ultraviolet rays.
THE DARK SIDE OF ANTIBIOTICS
By Stephen McMurray.  All classes of antibiotics can have serious side effects, both physical and mental, and some can cause death.  There are also issues with hidden antibiotics entering the food chain and water supply as well as their use as ingredients in vaccines.
BLOCKCHAIN:  A TOOL TO ENSLAVE US?
By Karen Mutton.  Bitcoin and other cryptocurrencies which use blockchain technology have been sold to the public as an anonymous and safe way to store wealth. But the blockchain may enslave us through the IMF's Special Drawing Rights and the digitisation of assets.
NORTH AMERICAN MOUND CULTURE
By Thomas Karl Dietrich.  Excavations of many ancient earthworks allegedly uncovered enormous skeletons.  Were these mounds created by a race of Giants who possessed advanced scientific knowledge, but whose existence has been suppressed by the orthodoxy?
SCIENCE NEWS: SCALAR WAVES
By Dr Horst Eckardt.  Scalar waves are explained as longitudinal waves with vector and scalar potentials.   Transmitter and receiver devices for these longitudinal electromagnetic waves are proposed, with reference to the research of Nikola Tesla and others.
CROP CIRCLES OF 2017
By Andy Thomas.  A wealth of fascinating designs arrived in the English fields this season.  While the media reduced these crop circles to the status of "fake news", the truth is that the phenomenon still inspires and promotes healthy, legitimate, alternative enquiry.
UNEARTHING THE NAZCA MUMMIES
By Linda Moulton Howe.  In an interview, Gaia's Melissa Tittl reveals that several mummified humanoids, coated in a white powder, have been discovered in a tomb at Nazca, Peru, and are being tested.  Diagnostic imaging of one of the mummies suggests there is no hoax.
STRANGE TIMES: HOPI WISDOM
By Shawn Hamilton.  Hopi elder Oswald "White Bear" Fredericks described his ancestors' legacy, passed on from the Third World to the Fourth World and kept alive in his people's history, spirituality and symbolism.
REVIEWS: BOOKS, FILM, MUSIC
REVIEWS—BOOKS
WHAT'S THE MATTER WITH MEAT? by Katy Keiffer
MEDICAL MEDIUM LIFE-CHANGING FOODS by Anthony William
GARDASIL: Fast-Tracked and Flawed by Helen Lobato
MASTER MANIPULATOR by James Ottar Grundvig
CANNABIS AND SPIRITUALITY edited by Stephen Gray
INTO THE GREY ZONE by Adrian Owen
COVER-UP AT ROSWELL by Donald R. Schmitt
WE ARE THE DISCLOSURE by Miguel Mendonça
CRISIS OF CONTROL by Peter J. Scott
COSMOSAPIENS by John Hands
REVIEWS—FILM
INJECTING ALUMINUM: How Toxic Are Vaccines? directed by Marie-Ange Poyet
UNACKNOWLEDGED: An Exposé of the World's Greatest Secret directed by Michael Mazzola
REVIEWS—MUSIC
TRO by Gwyneth Glyn
1000 CAN DIE by King Ayisoba
SEEN ONE EARTH by Pete Bardens
BEAUTIFUL WORLD by Elemotho