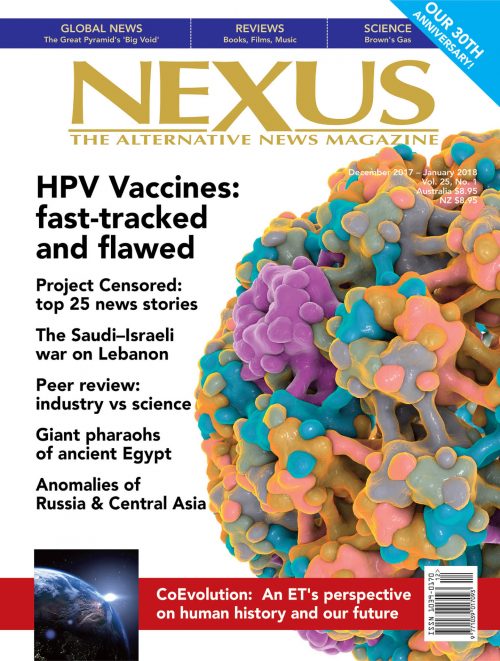 Volume 25, Number 1 – downloadable
$6.60
Volume 25, Number 1 (December 2017-January 2018) complete issue downloadable pdf file.
Description
LETTERS TO THE EDITOR
Readers comment on BioMats and Rife Healing; Reducing Harmful EMF Effects; Vaccines, Vitamin C and Truth; Wi-Fi Ban in Public Parks; and Evidence for the Aether.
GLOBAL NEWS
We report on China's petrodollar challenge, the 5.7-million-year-old human-like footprints found in Crete, the bid to ban "killer robots", an epidemic of opioid overdoses, India's new geopolitical agenda, and more.
PROJECT CENSORED'S TOP 25 NEWS STORIES
By Project Censored. A journalism studies program set up in 1976 at Sonoma State University, California, is progressed by academics and students in their latest annual review of the most important news items that have been disregarded by America's corporate media.
GARDASIL: FAST-TRACKED AND FLAWED
By Helen Lobato. Many causes have been suggested for cervical cancer, but now the human papillomavirus (HPV) is considered the culprit. Today's HPV vaccines, Gardasil and Cervarix, were poorly tested, have unsafe additives and are associated with adverse events.
PEER REVIEW IN THE RAW
By Dr Louis Slesin. Vested interests in the telecoms industry plotted to discredit scientists Henry Lai and Narendra Singh and their research linking microwave radiation exposure with genetic damage. The journal Radiation Researchwas complicit in the conspiracy.
SCIENCE NEWS – BROWN'S GAS HEALING
By Walter Last with George Wiseman. Well known for its amazing technological applications, Brown's Gas, or HHO, also has powerful healing properties. During electrolysis to produce hydrogen and oxygen, a third gas, which is electrically expanded, is created.
THE GIANTS OF ANCIENT EGYPT
By Hugh Newman. Examinations of historical texts, hieroglyphs and artworks as well as discoveries of large artefacts, mummified remains and sarcophagi provide compelling evidence that very tall individuals, famous pharaohs included, lived in Egypt in antiquity.
ANOMALOUS PHENOMENA IN RUSSIA, CENTRAL ASIA & TIBET
By Paul Stonehill and Philip Mantle. Silver-suited giant amphibians, pulsating spheres and submersible craft are among the strange sights reported by military and civilian witnesses, recorded in books and archives, and preserved in legends in Russia, Central Asia and Tibet.
STRANGE TIMES: CoEvolution
By Alec Newald. Recollections from a 10-day missing-time experience reveal insights about human history, dark forces that prey on fear, climate crises, secret ET bases on Earth, and the faith we can have in our future.
BOOK, FILM, CD REVIEWS
REVIEWS—BOOKS
THE LANGUAGE OF PLANTS edited by Monica Gagliano, John C. Ryan and Patrícia Vieira
OTHER LIVES, OTHER REALMS by Karen Joy
YOUR BRAIN KNOWS MORE THAN YOU THINK by Niels Birbaumer
IT'S ALIVE! by Toby Walsh
ANCIENT ALIEN ANCESTORS by Will Hart
MANAGING MAGIC by Grant Cameron
HESS AND THE PENGUINS by Joseph P. Farrell
WHO'S WHO OF THE ELITE 2016 + THE ELITE CONTROL EVERYTHING OF SIGNIFICANCE 2016 by Robert Gaylon Ross, Sr
THE VANDEMONIAN WAR by Nick Brodie
THE SEA CHART by John Blake
REVIEWS—FILM
A QUEST TO HEAL: BEYOND THE PHYSICAL directed by Michelle Mahrer
GENERATION ZAPPED directed by Sabine El Gemayel
REVIEWS—MUSIC
HAR DAM SAHARA by Rafiki Jazz
LIVE IN MOSTAR by Divanhana
WHY DID WE STOP GROWING TALL? by Abatwa (The Pygmy)
JAPANESE TAIKO by Joji Hirota & The London Taiko Drummers