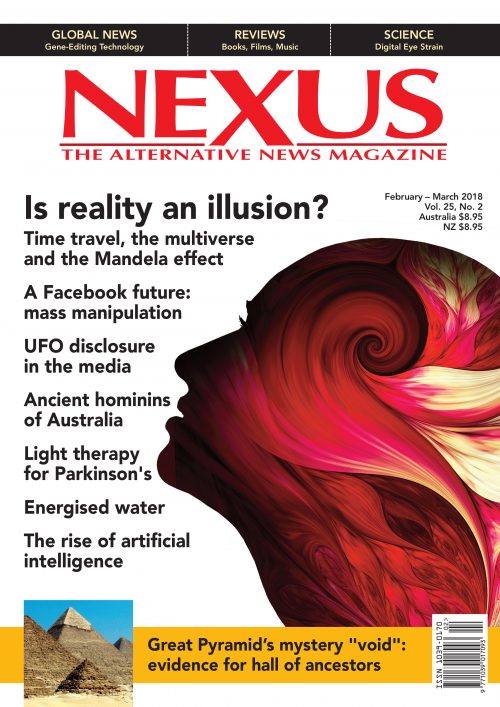 Volume 25, Number 2 – downloadable
$6.60
Volume 25, Number 2 (February-March 2018) complete issue downloadable pdf file.
Description
LETTERS TO THE EDITOR
Readers comment on Yowies, Giant Snakes and UFOs and Redating Aboriginal Australia
GLOBAL NEWS
We report on a universal quantum computer reality, parent–infant synchronicity, EMF link to miscarriage and infertility, trillions missing from the US Treasury, a hidden operating system inside your computer, gene editing; a guide to Blockchain and Bitcoin, plus more.
A FACEBOOK FUTURE
By Dr Nafeez Ahmed.  Enabled by Facebook, companies specialising in data mining and analysis have become increasingly successful in their quest to target specific groups with strategic communication designed to influence public opinion and outcomes.
LIGHT THERAPY FOR PARKINSON'S DISEASE
By Suvi Mahonen.  Promising studies have found that exposure to red and near-infrared light at the correct wavelength may offer a level of neuroprotection and improvement in motor function for Parkinson's sufferers, resulting in significantly reduced symptoms.
THE ILLUSION OF REALITY
By Dr Richard Alan Miller.  Consciousness may exist as quantum energy in the microtubules of the brain and be released into the multiverse upon physical death or restored following a near-death experience, or it may reside in a higher dimension awaiting rebirth.
SCIENCE NEWS: DIGITAL EYE STRAIN/AI
This edition we present information on the serious short- and longterm effects from blue light emitted by backlit displays and impressive but concerning advancements in artificial intelligence made in 2017.
ANCIENT HOMININS OF AUSTRALIA
By Steven and Evan Strong.  Our understanding of human origins is being overturned by the discovery in southeastern Australia of the ceremonial burials of two unidentified species.  Could they be the ancestors of the Original Australians, if not the first Homo sapiens?
ENERGISED WATER
By Walter Last with George Wiseman.  With geometric and aetheric properties that are upending mainstream theories of physics, high-bioenergy water with special healing, anti-ageing and rejuvenating benefits can be produced using a practical, safe, low-cost generator.
HALL OF THE ANCESTORS
By Scott Creighton.  Coptic Texts may hold the key to what is contained within the so-called "void" recently discovered in Egypt's Great Pyramid at Giza, namely the remains of royal ancestors, kept safe for all time from an anciently predicted deluge.
STRANGE TIMES: ARE THEY HERE?
By Linda Moulton Howe.  With the first flypast of an interstellar object in our solar system, the release of US Department of Defense UFO videos, revelations of a secret aerospace threat program and the launch of the To The Stars initiative, has the "paradigm" shifted?
REVIEWS—BOOKS
RELIEF FROM ANXIETY AND PANIC BY CHANGING HOW YOU BREATHE by Tess Graham
WIRELESS-WISE FAMILIES by Lyn McLean
THE WHOLE BRAIN DIET by Dr Raphael Kellman
THE POWER OF EIGHT by Lynne McTaggar
THE FORGOTTEN EXODUS by Bruce R. Fenton
THE SECRET LIFE OF WHALES  by Micheline Jenner
ASTRONAUT GODS OF THE MAYA by Erich von Däniken
"WE ARE HERE!" by Michel Zirger
WHITEWASH by Carey Gillam
WHAT A PLANT KNOWS:  A Field Guide to the Senses by Daniel Chamovitz
REVIEWS—FILM
RIFE FREQUENCY THERAPY, ELECTROMEDICINE, AND HOLISTIC HEALTH CONFERENCE with Nenah Sylver, PhD
HEAL by Kelly Noonan Gores and Adam Schomer
REVIEWS—MUSIC
UN POQUITO DE AMOR EVERYDAY by San Miguel
SIMPLIFY by Bob Hillary
ENAMORARSE EN LA PLAYA by Rafael & Energía Dominicana
KIDAL by Tamikrest