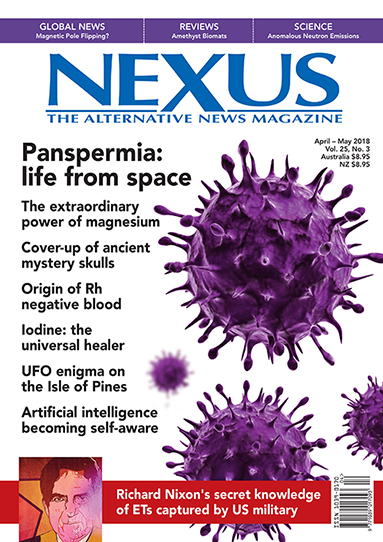 Volume 25, Number 3 – downloadable
$6.60
Volume 25, Number 3 (April-May 2018) complete issue downloadable pdf file.
Description
LETTERS TO THE EDITOR
Readers comment on cancer and infertility from shoes, electric car technology and intellectual property, vitamin C as a painkiller, and protection from electromagnetic fields.
GLOBAL NEWS
We report on Bayer's takeover of Monsanto, a cyber sea slug, effects of stress on gut bacteria and the brain, China's vote to eliminate presidential term limits, ancient tools in India; soy implications for infants, Mayan city under Guatemala jungle, plus more.
THE EXTRAORDINARY POWER OF MAGNESIUM
By Sandy Sanderson.  Magnesium has remarkable power in driving the human electrical system for healing and recovery.  An efficient anti-inflammatory
nutrient, it aids energy levels and is a natural statin.
IODINE: UNIVERSAL AND HOLISTIC SUPER MINERAL
By Gabriel Cousens MD, HMD(H), DD.  Well known as an antiseptic, iodine is essential for brain and thyroid function.  High-dose iodine has had success in treating several types of cancer as well as diabetes and more.
OUT OF SPACE: ADVANCED PANSPERMIA
By Wojciech Konrad Kulczyk. Lack of supporting evidence in the fossil record for the theory of genetic evolution as well as the sudden development of human consciousness is giving credence to the hypothesis that human evolution has been influenced by intelligent civilisations from the cosmos.
SCATTERED SKELETONS: THE AUSTRALOID ROBUST HOMININS REVISITED
By Karen Mutton.  After the recent discovery in southeastern Australia of two unidentified species of hominin, Karen Mutton revisits the group of archaic and robust-looking skeletons found in Australia, known as Kow Swamp types and questions why new findings continue to be pushed aside by anthropologists.
SCIENCE NEWS: NEW NUCLEAR REACTIONS
By Andrea Petrucci.  A team of Italian researchers has found promising new types of nuclear reactions starting from stable chemical elements, rather than uranium. The studies are likely to lead to a future way of producing safe energy on a large scale.
ENIGMA ON THE ISLE OF PINES
By Warren Aston.  The release of the Aztec document in 2017 containing alleged conversations with a UFO crash survivor pointed to landing platforms in the Pacific built 11,500 years ago.  This in turn led the author to research and visit the controversial concrete structures found on the Isle of Pines.
BLOOD GROUPS: THE ORIGIN AND PRIMACY OF RH NEGATIVE
By Will Hart.  Geographical distribution of blood types and supporting research indicate that type O Rh negative is the ancestral blood group of humanity and it originated in the ancient, remote Basque population.
STRANGE TIMES: NIXON AGENT INTERVIEW
An interview from Earthfiles, introduced by Linda Moulton Howe. Daniel Liszt talks to Richard Merritt,  one of President Nixon's hand-picked covert agents at the heart of the Huston Plan, who discusses Nixon's handwritten letter to the American people, detailing his knowledge of ETs working with his government.

BOOK, PRODUCT, FILM, CD REVIEWS
REVIEWS—BOOKS
THE VATICAN CONSPIRACY by Peter Kross
BIG BROTHER TECHNOLOGY by Axel Balthaza
OCCULT PHYSICS by K.M. Hunter
IMPOSSIBLE TRUTHS by Erich von Däniken
WATER: THE KEY TO NEW ENERGY by Moray B. King
ANCIENT ALIEN ANCESTORS by Will Hart
MEDICAL MEDIUM THYROID HEALING by Anthony William
SUNKEN REALMS by Karen Mutton
REVIEWS—PRODUCT
Amethyst Biomats, reviewed by Duncan Roads
REVIEWS—FILM
BIOSLUDGED, Directed & Produced by Mike Adams
REVIEWS—MUSIC
AT LEAST WAVE YOUR HANDKERCHIEF AT ME by Saz'iso
DANCING BEYOND by Tarshito
IPHUPHO by Afrika Mamas
HALO by Juana Molina