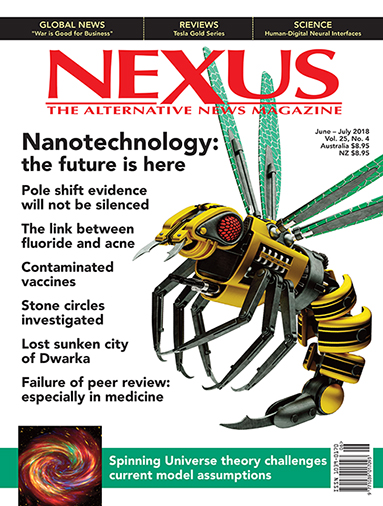 Volume 25, Number 4 – downloadable
$6.60
Volume 25, Number 4 (June-July 2018) complete issue downloadable pdf file.
Description
LETTERS TO THE EDITOR
Readers comment on prophecy, angels on Earth, mind control experiments, cancer link to vaccination and drug development failings.
GLOBAL NEWS
We report on 3-D printed food, atherosclerosis and gut health, a new form of DNA, cuts to Moon rover funding, rights of nature, paracetamol in pregnancy and the link to autism, flawed animal research, war and insider trading, early earthquake detection, and more.
THE FAILURE OF PEER REVIEW—ESPECIALLY IN MEDICINE
By Brendan D. Murphy.  "Experts" have given the process of peer review credibility but under close examination, the absence of fact-checking, problem of vested interests, prevailing bias, time constraints, and recently published hoax journal articles have all reduced the peer review process to sham status.
CONTAMINATED VACCINES: A SERIOUS THREAT TO HUMAN AND ANIMAL HEALTH
By Stephen McMurray.  Serious safety concerns for human and animal health are raised by studies showing vaccines have been contaminated with live viruses, bacteria, mycoplasma, glyphosate and glass.
FLUORIDE AND ACNE
By Melissa Gallico.  Sugar, chocolate, hormones and genes have traditionally been blamed for chronic acne.  However analysis of the research raises questions, and further investigation implicates fluoride as the cause.
POLE SHIFT: EVIDENCE WILL NOT BE SILENCED
By David Montaigne.  The historical record shows pole shifts may occur more suddenly than is generally accepted.  Information on a coming magnetic pole shift may have been suppressed, while governments covertly fund secret preparations.
SCIENCE NEWS: NANOTECHNOLOGY
The latest on technologies utilising nanotechnology, from 3D printing of living cells and foldable materials to batteries, wearable health monitoring, neural interfaces, and the removal of air pollution.
THE CASE FOR THE SPINNING UNIVERSE
By James Michel Hughes.  Contrary to conventional theories of the dawn of our Universe, it may have in fact been born spinning.  A new theory would explain some unsolved questions, such as the reason galaxies rotate.  The theory also argues that missing antimatter may still exist within the Universe.
STRANGE TIMES: ANCIENT DWARAKA
Discovery of underwater ruins off the coast of India confirmed to be the ancient city of Dvārakā has expanded the historical context of India and verified the authenticity of the religious text, the Mahābhārata.
BOOK, PRODUCT, FILM, CD REVIEWS
REVIEWS—BOOKS
UNDER AN IONIZED SKY: From Chemtrails to Space Fence Lockdown by Elana Freeland
IN THE LOST CITY OF SRI KRISHNA:  The Story of Ancient Dwaraka by Vanamali Mataji
THE HARMONIC ORIGINS OF THE WORLD: Sacred Number at the Source of Creation by Richard Heath
THE HIDDEN CAUSE OF ACNE by Melissa Gallico; Foreword by Stephen Harrod Buhner
THE NEW GENESIS:  The Greatest Experiment on Earth by Wojciech K. Kulczyk, PhD
ONE WOMAN'S MIRACLE: Everyone's Journey by Sylvia L. Martin
MEGALITH:  Studies in Stone by Hugh Newman, Howard Crowhurst, Robin Heath, Evelyn Francis, Gordon Strong, Gerald Ponting, Chris Mansell and Alexander Thom
REVIEWS—PRODUCT
Blushield Tesla Gold Auto and Tesla Gold Disc, reviewed by Duncan Roads
REVIEWS—FILM
A QUEST FOR MEANING, Directed by Nathanaël Coste & Marc de la Ménardière
SACRIFICIAL VIRGINS, Andi Reiss and Joan Shenton
REVIEWS—MUSIC
SOAR by Catrin Finch & Seckou Keita
COMPOSITIONS & MEDITATIONS by Emily Burridge
WHISTLE DOWN THE WIND by Joan Baez
COLOURS OF RAGA by Deben Bhattacharya