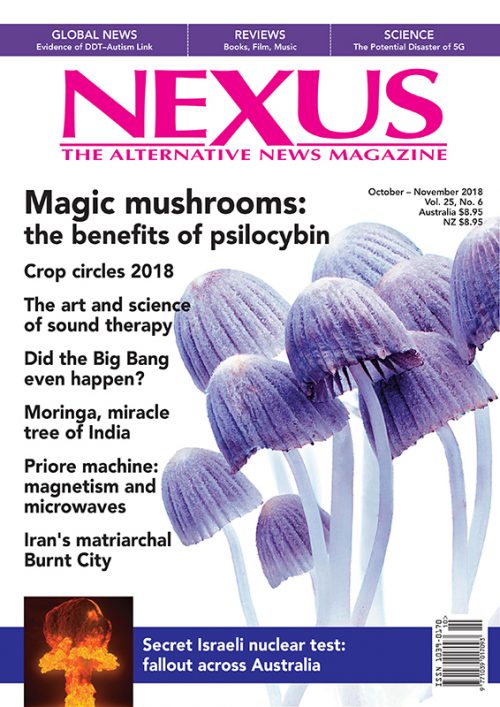 Volume 25, Number 6 – downloadable
$6.60
Volume 25, Number 6 (October-November 2018) complete issue downloadable pdf file.
Description
LETTERS TO THE EDITOR
Readers comment on tidal wave visions; cell death breakthrough research; a wave to another dimension; and an open letter to Donald Trump on 9/11.
GLOBAL NEWS
We report on facial recognition fails, a DDT–autism link, military microbots, emergency room errors, ancient frozen worms back to life, disclosure in clinical trials, China's artificial rain program, diplomat illness and radiation, Israeli nuclear test fallout, and more.
MORINGA: THE MIRACLE TREE OF INDIA
By Lakshmipriya Gopalakrishnan, Kruthi Doriya and Devarai Santhosh Kumar. Every part of the moringa tree is suitable for either nutritional or commercial purposes. This journal article outlines the nutritive and medicinal properties of this truly "super" food.
REDISCOVERING SOUND THERAPY
By John Stuart Reid and Annaliese Reid. Having first been used by the ancients, sound therapy is fast regaining its place as a powerful healing modality and is now poised to reveal the intricacies of healing, both at the cellular and psychological levels.
MAGIC MUSHROOMS: PSILOCYBIN BENEFITS
By Marco. Psilocybin or magic mushrooms have a long history of use for spiritual, religious and divination practices. Recent research is providing greater understanding of psilocybin and its potential in the treatment of depression, anxiety and addiction.
CROP CIRCLES OF 2018
By Andy Thomas. The so-called "golden age" 1990s was impressive for its sheer abundance of crop circles, but this year's crop is notable for its detail and quality, exhibiting that the crop circle phenomenon continues to produce creative surprises.
SCIENCE NEWS: 5G ECOLOGICAL RISKS
By Martin L. Pall, PhD. Much stronger than previous technology, 5G is to be rolled out without any genuine testing. Likely able to penetrate the body much deeper, it is a potential disaster for humans, flora and fauna.
A BIG BANG NEVER HAPPENED
By David Rowland. An examination of the science behind the Big Bang model reveals it was built from theories—not proven, but littered with assumptions, presumptions, made-to-fit hypotheses, inadequate sample sizes, selection bias and flawed mathematics.
THE PRIORE MACHINE
By J. B. Bateman. This historic 1978 report from the Office of Naval Research investigates the mystery around the little understood and possibly suppressed Priore machine, a device said to have cured cancer using modulated magnetic and microwave fields.
STRANGE TIMES: BURNT CITY AND MORE
We cover archaeological findings in Iran's mysterious matriarchal "Burnt City" evidencing a peaceful, advanced civilisation; how a near-extinction of males occurred in recent history and the attack of an elderly lady by NASA agents over a piece of moon rock.
REVIEWS: BOOKS, FILM, MUSIC
REVIEWS—BOOKS, reviewed/compiled by Duncan Roads
SACRED GEOMETRY FOR ARTISTS, DREAMERS, AND PHILOSOPHERS, by John Oscar Lieben
BEYOND UFOS: The Science of Consciousness and Contact with Non Human Intelligence, Vol. 1,
edited by Rey Hernandez JD, Jon Klimo PhD and Rudy Schild PhD
LIQUID CONSPIRACY 2: The CIA, MI6 and Big Pharma's War on Psychedelics, by Xaviant Haze
THE TIP OF THE NEEDLE, by Catherine O'Driscoll
The REAL Epidemic: Preventing and Treating Allergies and Autoimmune Diseases in your Dog (and Yourself), by Catherine O'Driscoll
COLOR WAR: Dinshah P. Ghadiali's Battle with the Medical Establishment over His Revolutionary Light-Healing Science, by Steven M. Rachlin, MD and Harvey Rachlin
LIGHT THERAPIES: A Complete Guide to the Healing Power
of Light, by Anadi Martel
REVIEWS—BOOKS, reviewed by Barry Eaton, RadioOutThere.com
A Manual for Developing Humans by P. M. H. Atwater
REVIEWS—PRODUCTS, by Duncan Roads
THE SECRET HISTORY OF AUSTRALIA CONFERENCE, Eight DVDs, boxed set, download or rent
REVIEWS—FILM
Dominion, Written, Directed and Edited by Chris Delforce
REVIEWS—MUSIC
BATTLE OF KINGS by Saor Patrol
KOUM TARA: CHAÂBI, JAZZ AND STRINGS by Karim Maurice
THE BLUEBIRD, THE MYSTIC AND THE FOOL by Joseph Tawadros
QUEENS OF FADO: THE NEXT GENERATION by Various Artists