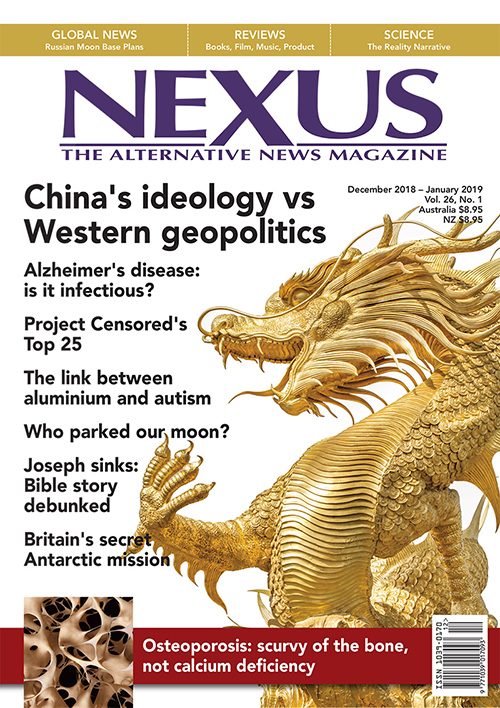 Volume 26, Number 1 – downloadable
$6.60
Volume 26, Number 1 (December 2018–January 2019) complete issue downloadable pdf file.
Description
GLOBAL NEWS
We report on toxic air, border agents accessing travellers' digital devices; thought sharing across three brains; addiction genes; theta brain waves aiding memory; osteoporosis as scurvy of the bone, solar eruptions causing mine detonations and more.
MACKINDER VS CHINA'S NEW SILK ROAD
By Matthew Ehret-Kump. A history of the Bering Strait tunnel, geopolitics, empire and why China's Polar Silk Road offers the west a chance to become part of a global paradigm founded upon the most important principles of human self-organisation and natural law.
TOP 25 NEWS STORIES OF 2017–18
By Project Censored. Originated by Professor Carl Jensen and his Sonoma State University students in 1976, the expansion of the Project to include affiliate faculty and students from campuses across North America has made the Project even more diverse and robust when listing this year's under-reported stories.
ALZHEIMERS: THE INFECTIOUS THEORY
By Bret Stetka and Leslie C. Norins, MD, PhD. Dr Leslie Norins has called for urgent research into the theory that Alzheimer's Disease may be infectious. Studies revealing a possible link to the herpes virus and various other clues remain poorly investigated.
WHO PARKED OUR MOON?
By Jim Marrs. We revisit the unlikely geology and position of our Moon and why it may not belong in Earth's orbit; including theories that our Moon was hollowed out and relocated by alien intelligences.
By Robert Solomon. A proposed solution to the paradox revealed by two quantum experiments: the two-slit experiment and Wheeler's delayed choice experiment—which are unexplainable in material terms.
ALUMINIUM AND AUTISM
By J. B. Handley. Research has revealed effects of aluminium adjuvants used in vaccines have not previously been well understood. Recent discoveries explain how autism is triggered and have formed a clear picture of its causation.
JOSEPH SINKS
By Dr Ashraf Ezzat. The story of The Exodus does not hold up to scrutiny. Historically there are flaws in the account, involving the slave trade, camels, language and other evidence leading to the conclusion that the story of Joseph in Egypt is an impossibility.
STRANGE TIMES: BRITAIN IN ANTARCTICA
By James Robert. Due to popular demand, we reprint an officer's account of his deployment at the end of World War II, when Britain sent a covert mission to Antarctica to seek out and destroy a subterranean Nazi base.
REVIEWS—BOOKS, reviewed/compiled by Duncan Roads
COSMIC WOMB: The Seeding of Planet Earth by Chandra Wickramasinghe PhD, and Robert Bauval
POWER PLACES AND THE MASTER BUILDERS OF ANTIQUITY by Frank Joseph
HIDDEN DANGERS: How Governments, Electric Power Utilities and Telecom Industries Suppress THE TRUTH ABOUT THE KNOWN HAZARDS OF ELECTROMAGNETIC FIELD (EMF) RADIATION by Captain J. G. Flynn (Retired)
SCHOOL—NO PLACE FOR CHILDREN: A Wake-up Call by David Adelman
INVISIBLE MASTER: The Puppeteers' Hidden Power by Leo Lyon Zagami
THE MYTH OF MAN: Hidden History and the Ancient Origins of Humankind by J. P. Robinson
REVIEWS—BOOKS, reviewed by Barry Eaton, RadioOutThere.com
Higher Self Now! By William and Susan Buhlman
A Passage Through Eternity: The enigma of the dead, UFOs and aliens By Philip Kinsella
REVIEWS—PRODUCTS, by Duncan Roads
THERAPY AIR iOn by Zepter International
REVIEWS—FILM
Eating You Alive Director: Paul David Kennamer Jr
ET Contact: They Are Here Writer/Director: Caroline Cory
REVIEWS—MUSIC
DAA DEE by Minyeshu
WAITING FOR THE SUN by Joe Matera
CEDRIC CONGO MEETS MAD PROFESSOR by Cedric Congo & Mad Professor
A WOMAN'S WORLD by Various