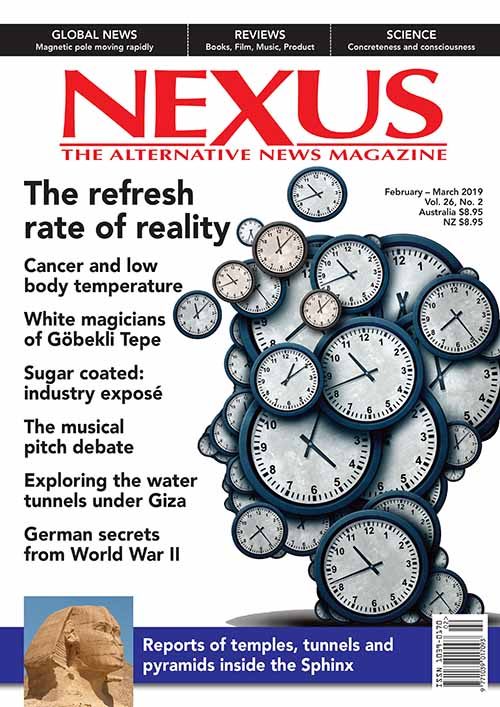 Volume 26, Number 2 – downloadable
$6.60
Volume 26, Number 2 (February–March 2019) complete issue downloadable pdf file.
Description
LETTERS TO THE EDITOR
Readers comment on Alzheimer's not being contagious, gratitude for NEXUS, Big Bang feedback and the Min Min light phenomenon.
GLOBAL NEWS
We report on China's population decline, the north magnetic pole's unexpected movement, the South Pole's cosmic rays, mystery seismic waves, irreversible effects of screen time on pre-teens, early puberty link to chemicals, US withdrawal from Syria and more.
CANCER AND LOW BODY TEMPERATURE
By Dr David Jernigan. A cold core temperature leaves the body susceptible to depression, viruses and chronic infection. It is a sign of degeneration and gradual cellular death—but treatment is available.
SUGAR COATED
By Dr Joseph Mercola. A history of how America and the world was sold sugar through public relations, fat bashing, the "uncertainty" of the sweetener's bad health implications, "Bliss Point" marketing, and industry-funded studies on the benefits of sugar.
GERMAN SECRETS BY THE THOUSANDS
By Charles Lester Walker. This 1946 article reveals that after World War II, thousands of Nazi patents were found, having been hidden in various locations. These were microfiched, stored in US libraries, and sold locally and internationally to interested parties.
THE MUSICAL PITCH DEBATE
By Dameon Michael Keller. A holistic analysis of the flood of information available on the theories, intuitions and opinions relating to the use of sound, vibration, colour and light and an inclusive explanation of the 432Hz versus 440Hz debate.
SCIENCE NEWS: REFRESH RATE OF REALITY
By Robert Solomon. Cause and effect may not be related in the way we think. States may emerge into being as consciousness tracks through them. What seems concrete may actually be our conscious awareness making what we perceive seem real.
THE WHITE MAGICIANS AT GÖBEKLI TEPE
By Patrick Chouinard. An argument that megalithic similarities and other evidence points to the building of Göbekli Tepe by an ancient Eurasian civilisation possessing sophisticated astronomical knowledge.
WATER TUNNELS OF THE GREAT PYRAMID
By Dr Kathy J. Forti. Exploration of the watery tunnels found underneath the Great Pyramid at Giza has unearthed surprising findings regarding the water composition and its potential origins. The prevalence of water-filled tunnels found beneath pyramids worldwide also raises questions of their purpose.
STRANGE TIMES: TUNNELS OF THE SPHINX
We present a compilation of news articles from the early 1900s covering an expedition to Egypt by Harvard University professor, George Reisner and the discovery of tunnels, temples and small pyramids under the Great Sphinx of Giza.
REVIEWS: BOOKS
THE HIDDEN HISTORY OF ELVES AND DWARFS: Avatars of Invisible Realms By Claude Lecouteux
REAL FAKE NEWS: Techniques of Propaganda and Deception-Based Mind Control, from Ancient Babylon to Internet Algorithms By T.J. Coles
EDEN IN THE ALTAI: The Prehistoric Golden Age and the Mythic Origins of Humanity By Geoffrey Ashe
ON THE TRAIL OF THE WAITAHA: Tracing New Zealand's Hidden Nation By Tim Willcocks
The Encyclopedia of Moon Mysteries: Secrets, Conspiracy Theories, Anomalies, Extraterrestrials and More By Constance Victoria Briggs
DIGITAL CONSCIOUSNESS: A Transformative Vision By Jim Elvidge
THE SOUL CODE: 33 Days By Marlene Harvey
RADICAL GENEROSITY: By M.J. Ryan
REVIEWS: PRODUCT
THE COMPLETE PARASITE KIT by Probiotic Foods Australia
REVIEWS: FILM
THE DEVIL WE KNOW, Directed by Stephanie Soechtig Co-Directed by Jeremy Seifert
WHITE BUFFALO: An American Prophecy Produced and Directed by Ethan Marten
REVIEWS: MUSIC
7 BILLION by Kiran Ahluwalia
JEDBA: Spiritual Music from Morocco by Abdesselam Damoussi and Nour Eddine
THRAKI: Thrace—The Paths of Dionysus by Rodopi Ensemble
ALTARGANA AND OTHER MEMORIES by Jyothi