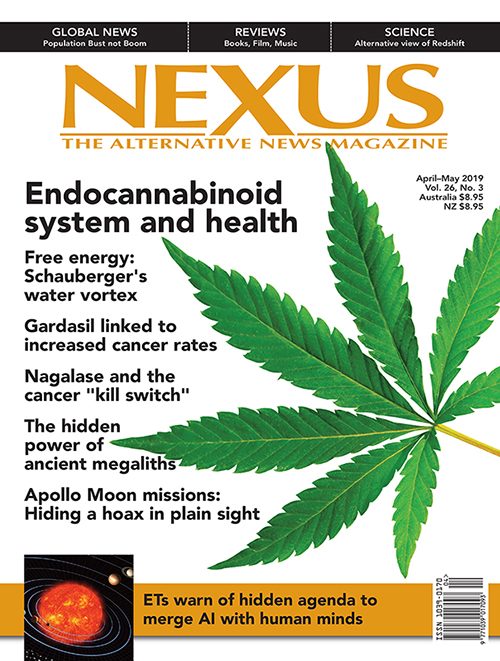 Volume 26, Number 3 – downloadable
$6.60
Volume 26, Number 2 (February–March 2019) complete issue downloadable pdf file.
Description
LETTERS TO THE EDITOR
Readers comment on sugar, aluminium and Alzheimer's, the refresh rate of reality, Biomat success and more.
GLOBAL NEWS
We report on a future world population bust, brain hacking, a new form of DNA by scientists, red light helmet trials for Parkinson's disease, measles destroying a brain tumour, City of London financial crimes, Syrian chemical weapons fiasco and more.
NAGALASE AND CANCER
By Greg Fredericks, MA, ND. Linked to the suspicious deaths of scientists and now largely discredited by mainstream, nagalase is an intrinsic component found in retroviruses which, along with certain frequencies, may play a role in the creation of cancer.
THE ENDOCANNABINOID SYSTEM
By Dr Joseph Mercola and Carl Germano. The endocannabinoid system has an enormous influence throughout the human body. Hemp oil containing not only CBD but full-spectrum phytocannabinoids is necessary to support the body's endocannabinoid system in healing a wide range of health problems.
GARDASIL AND CANCER: THE PARADOX
By Dr Gérard Delépine. Alarming statistics from a French oncologist show that contrary to expectations, since the introduction of the human papillomavirus vaccines the incidence of cervical cancer has actually increased—and the public has not been informed.
SCIENCE NEWS: NOVEL REDSHIFT THEORY
By Jeremy Dunning-Davies. A mathematics academic offers an alternative explanation on redshift, arguing different fields of study benefit from collaboration.
By Reinout Guépin. Viktor Schauberger's approach to water led to discoveries of how to work with nature using less energy. However, attempts to exploit his technology by Hitler and the US government left the environmentalist a broken man.
THE APOLLO HOAX
By Randy Walsh. Problems with Saturn V F-1 rocket engines used in the Apollo missions, a lack of testing, and additional evidence from Apollo 11 launch film used in mathematical calculations, confirms these missions went little further than Lower Earth Orbit.
THE HIDDEN POWER OF MEGALITHS
By Boris Loza, PhD. An exploration of the dolmens of the Caucasus reveals their relationship to megaliths worldwide, as well as ley lines, legends, mysteries, how they generate high-frequency vibrations and electromagnetic waves, and what power they possess.
STRANGE TIMES: AI WARNING FROM ETs
An extract from the upcoming book, CoEvolution: The Secret World by Alec Newald, containing information not disclosed in previous versions of his book but imparted to him by Elders when he was taken aboard a UFO for ten days in 1989.
BOOKS
The Apollo Moon Missions: Hiding a Hoax in Plain Sight (Pt 1), By Randy Walsh
Manufacturing Terrorism By T.J. Coles
Spiritual Gold By Paulinne Delcour-Min
Borderland Phenomena Volume One: Spontaneous Combustion, Poltergeistry and Anomalous Lights By Louis Proud
The Age of Aluminum: The Dark Side of the Shiny Metal, By Bert Ehgartner
Flash Time: The Discovery and Meaning of Cyclic Time, By Jules Boles
Remember, Every Breath is Precious By Lesley Joan Lupo
Loving to the End… and On, By Lynn B. Robinson, PhD
PRODUCT
Bioptron Light Therapy System by Zepter International
FILM
Weed the People, Directed by Abby Epstein, Executive Producer Ricki Lake
The End of Meat, Directed by Marc Pierschel
MUSIC
Eklectia by Various
The Art of Vietnamese Zither by Tri Nguyen
Night Chants: Native American Flute by Gary Stroutsos