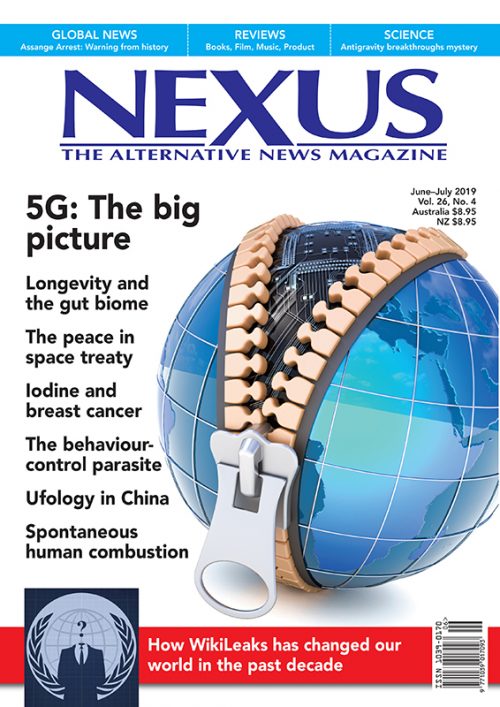 Volume 26, Number 4 – downloadable
$6.60
Volume 26, Number 4 (June–July 2019) complete issue downloadable pdf file.
Description
Letters to the Editor
Readers comment on redshift theory advances, SpaceX and NASA's empty promises, Apollo politics and the Ropen.
Global News
We report on 6G, RFID and the Internet of Things, sunscreen absorption dangers, 3D-printed hearts, cold plasma sterilisation, volcanic mass extinction, Italy to reclaim gold from EU, the arrest of Julian Assange, WikiLeaks' world contribution and more.
5G: The Big Picture
A comprehensive exploration into humanity's current crossroads by Jeremy Naydler, PhD. The final assault of choosing 5G technology will result in not just physical harm to all living beings, but human disassociation from the natural world.
Iodine for the Prevention and Treatment of Breast Cancer
Jonathan V. Wright, MD discusses research on iodine's ability to destroy breast cancer cells, why we are not informed about the benefits of nature's minerals and iodine's usefulness in the prevention and treatment of breast cancer.
Toxoplasma Gondii: A behaviour-changing parasite
This parasite has the ability to change the behaviour of its host in a very spectacular way. Professor Robert Sapolsky examines the process by which this occurs and contemplates how this information may be used in future medical developments—even warfare.
The Longevity Microbiome
By Greg Fredericks, ND, MA. As research increasingly confirms the connection between gut health and wellness, it is now also becoming apparent that a long, healthy life is linked to genes in the human gut microbiota, with diet a crucial part of the mix.
Science News: Antigravity Mystery
Ning Li, the scientist who was lauded for producing a gravity-like field some 20 years ago has not been heard of since, with some suggesting she has disappeared into the Black Budget projects of either the US or China.
Peace in Space Treaty
Dr Carol Rosin introduces the updated Treaty on the Prevention of the Placement of Weapons in Outer Space, discussing the role of Wernher von Braun in its foundation. Dr Alexander E. Semyonov elaborates on the astro-geopolitical importance of the Treaty and the desire for power versus peace in space.
Spontaneous Human Combustion
Louis Proud investigates the various theories surrounding the phenomenon known as spontaneous human combustion, including the impact of negative, suicidal thoughts, the link with poltergeists and ball lightning and the role of the body's electrical system.
Strange Times: Chinese Ufology
An overview of Chinese ufology covering current organisations and institutions and their hierarchy systems, trends in Chinese ufology, and government attitudes from censorship to jail sentences.
Reviews: Books, Film, Music and Product
REVIEWS: BOOKS
INFORMATION MEDICINE by Ervin Laszlo and Pier Mario Biava, MD
THE ENERGIES OF CROP CIRCLES by Lucy Pringle with James Lyons
PAST LIVES UNVEILED by Barry Eaton
OUR COSMIC ANCESTRY IN THE STARS by Chandra Wickramasinghe, PhD, Kamala Wickramasinghe, MA and Gensuke Tokoro
HEALING THE THYROID WITH AYURVEDA by Marianne Teitelbaum, DC
NATURAL COMPRESSES AND POULTICES by Christopher Vasey, ND
THE UNIVERSE LISTENS TO BRAVE by Dr Rebecca Ray
RAISING FAITH: A True Story of Raising a Child Psychic-Medium by Claire Waters
REVIEWS: PRODUCT
STETZERIZER® FILTER and STETZERIZER® MICROSURGE METER by Stetzer Electric, Inc.
REVIEWS: FILM
MODIFIED Directed by Aube Giroux
RUBBER JELLYFISH Directed by Carly Wilson
REVIEWS: MUSIC
REFUGE by Luka Bloom
RÜYA (DREAM) by Olcay Bayir
JOY by AKA Trio
VISIONS OF IRAQ by Ahmed Mukhtar