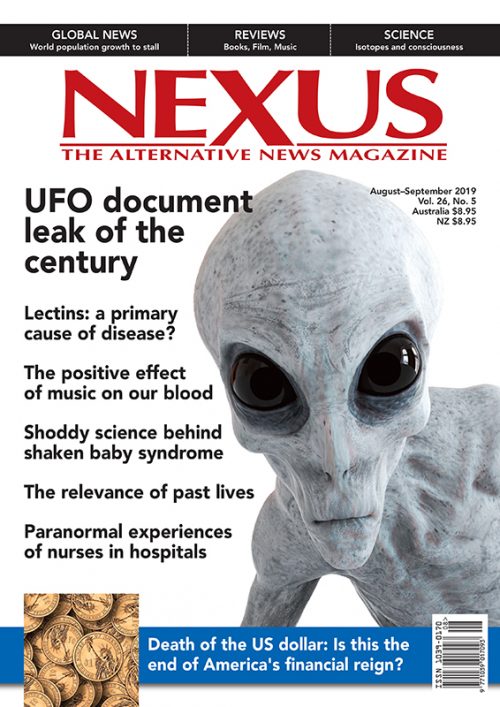 Volume 26, Number 5 – downloadable
$6.60
Volume 26, Number 5 (August–September 2019) complete issue downloadable pdf file.
Description
Letters to the Editor
Readers comment on Cholesterol misunderstanding; 5G implosion; Climate change big picture; Plant Cure for Addiction and an Anti-Worm Cancer Treatment.
Global News
We report on Pentagon porn sharing, universal computer memory, Google Earth inside buildings, parasite behaviour, gut bacteria for health, indoor pollution concerns, the real story on Venezuela, world population forecast, demise of the US dollar and more.
Lectins: Primary Cause of Disease?
Naturopath Greg Fredericks examines the research of Dr Steven Gundry and others in discovering lectins (a type of plant protein) as a possible cause of modern illness—including cancer, coeliac and cardiovascular disease, leaky gut, and the effect they have on blood.
Blood and Music: Testing a 2,500-year-old Hypothesis
Inspired by his own experience and Pythagoras' belief in music as medicine, John Stuart Reid conducted experiments which found the number of viable red blood cells in vitro remained higher when exposed to music—a promising result for its role in healing.
The Shaken Baby Fiction
Walter Last provides a history of shaken baby syndrome, including unjust imprisonment of parents and carers. He exposes the poor science which led to SBS's blanket acceptance in medical circles, and the link to vaccination and vitamin C deficiency.
UFO Leak of the Century
Richard Dolan presents his summary and analysis of leaked documents focusing on the meetings of Admiral Thomas Wilson with key figures in US military, government and industry regarding a crashed UFO program, reverse engineering of UFO craft and more.
Science News: Isotopicity
Theoretical physicist, Professor Alexander Berezin explains his work on isotopic diversity, randomness and self-organisation as a singular phenomenon—isotopicity, and concludes isotopic consciousness is a reality.
Memories of the Future
Rafael Videla Eissmann analyses Quinta de las Delicias from author Juan Egaña, a significant 19th-century figure also involved in the independence of Chile from Spain. Eissmann finds this 1829 work suggests an extraterrestrial presence in our Universe.
Past Lives Unveiled
This excerpt from Barry Eaton's latest book discusses the gifts we can receive from learning about our past lives. Recall can assist in overcoming obstacles and phobias, and resolve relationship issues, helping us live in the moment and work on soul development.
Strange Times: Sensitive Nurses
Psychologist Alejandro Parra, PhD shares his research into the commonality of anomalous activities in hospitals and other facilities, reported predominantly by nurses. He includes several first-hand accounts from nurses relating their multisensory experiences.
REVIEWS: BOOKS
MEDICAL MEDIUM: CELERY JUICE by Anthony William
SHATTERED DREAMS Compiled by Christina England
THE ANUNNAKI OF NIBIRU AND THE SNAKEMEN OF ERIDU by Michael Feeley
THE ANCIENT CODE: A SERPENT FIRE by Michael Feeley
OBELISKS: TOWERS OF POWER by David Hatcher Childress
PROJECT STARGATE AND REMOTE VIEWING TECHNOLOGY Edited by Axel Balthazar
ENCYCLOPEDIA OF MOON MYSTERIES By Constance Victoria Briggs
AMERICAN INDIAN MYTHS & MYSTERIES By Vincent Gaddis
ROAD TO ANANDA by Carl Germano, CNS, CDN
REVIEWS: FILM
The Last Pig Directed by Allison Argo
Manufactured Crisis: HPV, Hype and Horror; The Alliance for Natural Health
REVIEWS: MUSIC
GLASCHU by Mary Ann Kennedy
TIMES OF MAHARAJAS by Dhoad Gypsies Of Rajasthan
DIMENSIONAL DANCER by Gordon Barraclough and Gillian Scargill
SOUND OF SILK by Li Xiangting and Cheng Yu