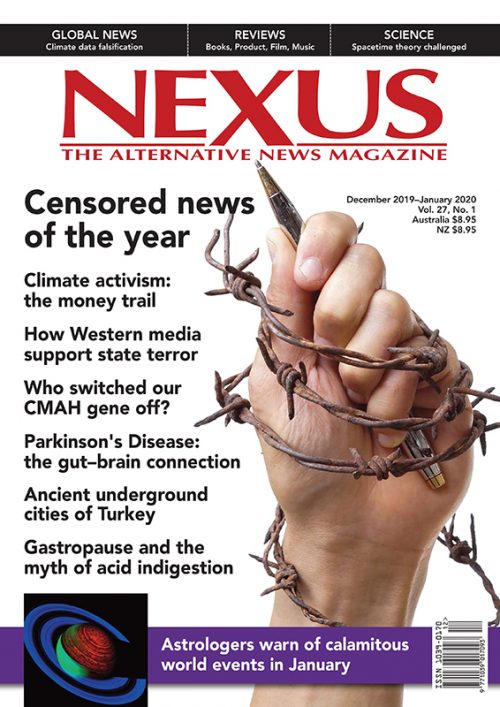 Volume 27, Number 1 – downloadable
$6.60
Volume 27, Number 1 (December 2019–January 2020) complete issue downloadable pdf file.
Description
FOLLOW THIS LINK IF YOU WISH TO BUY THIS ISSUE AS A HARD COPY
Letters to the Editor
Readers comment on visions of the new future; the triple conjunction of 2020; Wikipedia bias on UFO topics; natural versus synthetic hormones and World Trade Centre 7 and 9/11.
Global News
We report on animal sentience being recognised; deaths associated with drugs given to trans children; a compound in breast milk which fights harmful bacteria; golden ratio observed in human skulls; facial recognition concerns; space as a war zone; plastic-eating bacteria; blue light concerns; a quantum computing milestone; acetaminophen implicated in autism and ADHD; China's oil; leaked UFO footage; climate data falsification and more.
How Western Media Support State Terror—While Millions Die
Academics and media theorists Matthew Alford, Daniel Broudy, Jeffery Klaehn, Alan MacLeod and Florian Zollmann outline how the media supports state terror while millions die, and discuss how this heavily sourced work was rejected by mainstream.
Climate and the Money Trail
F. William Engdahl reveals influential players in the climate change movement such as Al Gore, institutional investors and multinational corporations are steering the agenda and are set to benefit most.
Project Censored: The Top 25 News Stories of 2018–2019
Project Censored, comprised of professors and students from 15 US college and university campuses bring us the year's most under-reported stories.
Introducing Gastropause
Jonathan V. Wright, MD exposes the myth of acid indigestion, including the dangers of conventional treatments, and explains that as we age, stomach problems arising are attributed to too much acid, but in contrast the body is often not producing enough.
Science News – 2701: Was Einstein Wrong?
David Rowland questions the basis for Einstein's curvature of spacetime theory by challenging the foundation of general relativity as nothing more than a series of assumptions and convoluted logic.
Parkinson's Disease: From the Gut to the Brain
Suvi Mahonen provides an update on research into Parkinson's and infrared light, new research into the gut biome connection and remarkable results for patients.
Underground Cities of Ancient Turkey
Karen Mutton reports on the ancient underground cities of Cappadocia, used to house thousands of occupants in times of warfare and invasion, and which included stables, cellars, churches and more. Recently more underground discoveries have been made.
CMAH and the Alien Gene Code
Naturopath Greg Fredericks discusses gene editing in light of recent research into the CMAH gene suddenly "switching off" during our evolution, leaving us vulnerable to disease but allowing for brain growth, raising the possibility of alien intervention.
Strange Times – 2701: Saturn–Pluto Conjunction
Astrologer Jessica Davidson explains the Saturn–Pluto conjunction and its effect on current and future world affairs, including the need for deep changes in the structure of society and an economic shift away from the West, resulting in possible power struggles.
REVIEWS: BOOKS
SONGSPIRALS By Gay'wu Group of Women
THE MISSING LANDS by Freddy Silva
IN TIMES OF WAR by Jonathan Beecher
DENISOVAN ORIGINS by Andrew Collins and Gregory L. Little
FROM QUANTUM PHYSICS TO ENERGY HEALING by Johanna Blomqvist
PERSONAL SOVEREIGNTY by Adrian Emery
THE DARK SIDE OF ISAAC NEWTON by Nick Kollerstrom
YOUNG DARK EMU: A Truer History by Bruce Pascoe
REVIEWS: PRODUCT
SHUNGITE: THE MINERAL OF MYSTERY AND OF HEALTH by Duncan Roads
REVIEWS: FILM
Love and Saucers Directed by Brad Abrahams
High as Mike Directed by Peter Cross, Daniel Raffaele and Craig Wilson
REVIEWS: MUSIC
FLY by Balaklava Blues
THE GAMBIA SESSIONS by Musa Mboob and XamXam
ANGELIC ACADEMY by Gordon Barraclough & Gillian Scargil
DO YOU LOVE by Otava Yo