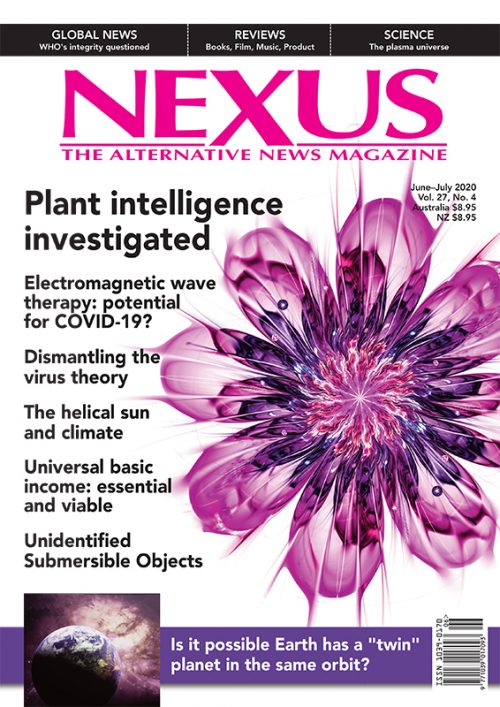 Volume 27, Number 4 – downloadable
$6.60
Volume 27, Number 4 (June–July 2020) complete issue downloadable pdf file.
Description
LETTERS TO THE EDITOR
Readers comment on the fast tracking of a vaccine for the coronavirus, a mysterious police escort, "dragons" over Florida, tapping into the Universe, keyBlock technology, and spreading the word online.
GLOBAL NEWS
We report on an anti-aging breakthrough, gut biome and food allergies, "Ku-band" 5G satellites, digital currencies amid COVID-19, weapons controlled by thinking, the digital yuan, the integrity of the WHO, the global political project being imposed and more.
UNIVERSAL BASIC INCOME
Ellen Brown contends that in a debt-based system, the consumer economy is chronically short of money and despite critics' claims, a universal basic income can fill the debt gap by providing a vital safety net for individuals, and prevent cyclical recessions.
DISMANTLING THE VIRUS THEORY
Dr Stefan Lanka explores the origins of the virus theory, arguing that due to various factors, a false view on the cause of diseases was born and imposed as a dogma, which is in fact still in effect to date.
ELECTROMAGNETIC WAVE THERAPY
As comments by Nobel laureate, Dr Luc Montagnier and also Donald Trump receive mainstream scorn in relation to light therapy for COVID-19, Matthew Ehret digs deeper and uncovers a long history of scientific discovery in light's potential for medical treatment.
PLANT INTELLIGENCE
Jack Fox-Williams delves into various studies on plant behaviour, including those by Darwin and more contemporary researchers and ecophilosophers, revealing that plants exhibit behaviour that proves a brain is not necessary for conscious awareness.
THE HELICAL SUN
Jamal S. Shrair examines the Sun's position above the galactic equator and concludes that its spiralling up phase is approaching its limit and this is having a major impact on Earth's current climate, creating massive Earth changes including extreme wildfires.
Matthew Ehret reports on work by physicists that plasma and cosmic radiation comprise the medium in which our planets move around the Sun, and how the role of music and creativity in progressing science has been halted by statistical probability theorists and limited thinking.
Presenting five dramatic encounters with USOs by military witnesses since the 1950s, Preston Dennett investigates whether these could have been experimental craft, but it seems that something else besides the military is moving around in our oceans.
An excerpt from The Pyramids: Legacy of the Gods by Valery Uvarov looks at texts and legends from Sumer and Egypt, as well as observations from astronomers of a celestial body—all indicating the existence of a planet on the opposite side of the Sun known as "Counter-Earth".