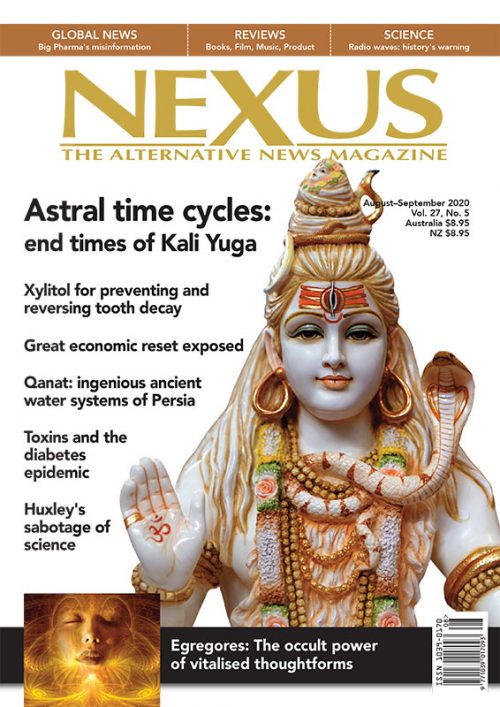 Volume 27, Number 5 – downloadable
$6.60
Volume 27, Number 5 (August–September 2020) complete issue downloadable pdf file.
Description
LETTERS TO THE EDITOR
Readers comment on COVID-19 and surveillance consequences, risk from 5G satellites, Earth's twin, universal basic income, health utopia and Big Pharma, and the plasma universe and modern science.
GLOBAL NEWS
We report on unexpected structures near Earth's core, a new particle collider, early earthquake warning system using animals, Assange's new indictment, punctuated evolution debunked, the second "drone age", misinformation from Big Pharma and more.
THE WEST'S GREAT ECONOMIC RESET
In light of the World Economic Forum's latest plans, Peter Koenig exposes the "Beast" and its agenda of control—involving the UN, ID2020 and more—with people power and China key to an alternative scenario.
TOXINS AND THE DIABETES EPIDEMIC
Joseph Pizzorno, naturopath, co-founder of Bastyr University and founder of the term "science-based natural medicine", cites a range of scientific studies showing that environmental metals and chemicals have become a leading cause of diabetes.
THE KALI YUGA
Bibhu Dev Misra unravels the four phases of the Indian yuga cycle timeline, exposing changes made over the years, and notes that this time cycle, also mentioned in many other ancient cultures, is now due to begin its ascension out of the current phase of world darkness.
THE SABOTAGE OF SCIENCE
Matthew Ehret reveals how Thomas Huxley and  associates created the "X Club", which in turn established Nature magazine and used its power to push an agenda which continues to the present day to outlaw both principle and mind from the Universe.
This issue we reprint an article by Tom Jaski from Popular Electronics, where it was reported by mainstream media in 1960 that strong evidence existed at that time, and as far back as the 1920s that life (human and otherwise) can detect, and be adversely affected by radio waves.
Karen Mutton takes readers into the world of Persian subterranean qanat technology, used by the ancients as a water transport system, and discusses its spread as far as Europe, Africa and Asia, enabling parched lands to be opened up for agriculture and trade.
Albert Amao Soria, PhD examines the occult power of egregores—vitalised thoughtforms created by the emotional energy of like-minded people—and how they influence our psychology, have a role in organised religion and also in social control of the masses.