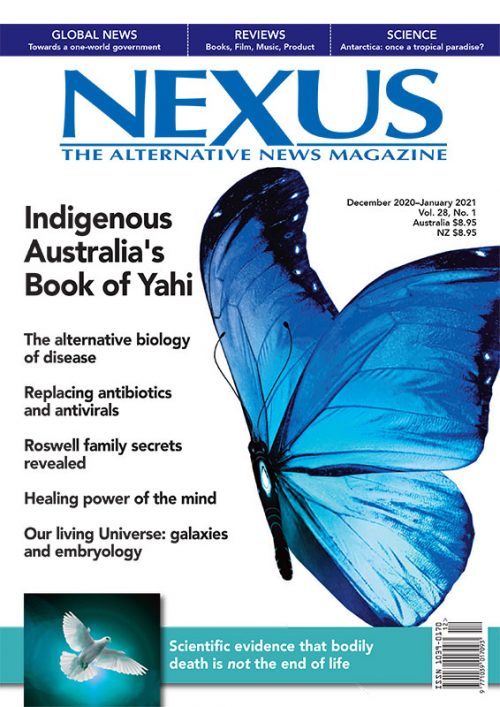 Volume 28, Number 1 – downloadable
$6.60
Volume 28, Number 1 (December 2020–January 2021) complete issue downloadable pdf file.
Description
LETTERS TO THE EDITOR
Readers comment on the Biomat and recovery from major surgery, a universal basic income, the nature of the British Empire, gratitude for NEXUS, electrons and consciousness, open-source free energy devices, Kali Yuga observations and ball lightning and mercury.
GLOBAL NEWS
We report on military drones surveilling civilians, robot soldiers, conscious crows, the 50–50 chance reality is a simulation, growing ice sheets, a US–China war and the creation of a one-world government, the imminence of a great global reset and more.
Richard Malter follows on from his 2016 article on silver iontophoresis's potential to replace antibiotics, with new insights into the effectiveness of using both silver iontophoresis and low intensity direct current for bacterial and viral infection treatment.
Alternative Biology and Suppressed Explanations of Disease
Greg Fredericks, ND, NMD explains that for 150 years there have been parallel schools of thought on biology, and though alternative biology has been suppressed by vested interests favouring monomorphism, it is now being supported by recent scientific research.
The Healing Power of the Mind
Sociologist Albert Amao Soria, PhD says humans have the ability to heal themselves without medicine—medical and other treatment is simply a tool used to overcome the blocking of the mind to allow recuperation to take place, and healing from medication is due to the placebo effect.
Indigenous Australia's Book of Yahi
Auntie Minnie Mace shares the Indigenous Australian creation story which tells of the goddess, Yahi guiding spirits through the dimensions of the Universe and vortices of time to become guardians of the land and its spirits, led by the head of the family, Baiame.
This issue Peter Jupp shares his theory that ice sheets form quicker than science claims, and fossilisation occurs rapidly in certain electrical conditions, resulting in the incorrect dating of Antarctica's tropical period.
Matthew Ehret takes a fresh look at Halton Arp's work on the birthing of galaxies, and the work of various fields of science, including embryology, to show that rather than the Universe becoming an empty expanse in the distant future, it will constantly rebirth.
Life Beyond Death
Mark Pitstick cites evidence collected by research scientists, clinicians and firsthand experiences of near-death, spirit communication technology, authentic mediums and more to conclude that findings are consistent with the living soul hypothesis.
While researching Roswell, Anthony Bragalia discovered families surprised to find out about their father's military involvement there at the time of the reported alien crash in 1947—others knew, but refused point-blank to discuss their family history, suffering from "alien shock".
BOOKS

TREE BEINGS by Raymond Huber; illustrated by Sandra Severgnini
PLANT SPIRIT REIKI by Fay Johnstone
GIANTS: MEN OF RENOWN by Denver Michaels
THE CHILDREN OF MU by James Churchward
THE ALCHEMY OF STONES by Robert Simmons
DOORS TO PAST LIVES AND FUTURE LIVES by Joe H. Slate, PhD and Carl Llewellyn Weschcke
THE SPIRITUAL ROOTS OF THE TAROT by Russell A. Sturgess
ESOTERIC MYSTERIES OF THE UNDERWORLD by Jean-Pierre Bayard
PRODUCTS
Activation Products: oils, minerals, superfoods

FILM REVIEWS
The Social Dilemma Directed by Jeff Orlowski
The Phenomenon Directed by James Fox
MUSIC REVIEWS
Songs Beyond Words by A Moving Sound
The Makarrata Project by Midnight Oil
Hunting Eagles Catching Swans by Lin Shicheng and Gao Hong
Letter to You by Bruce Springsteen