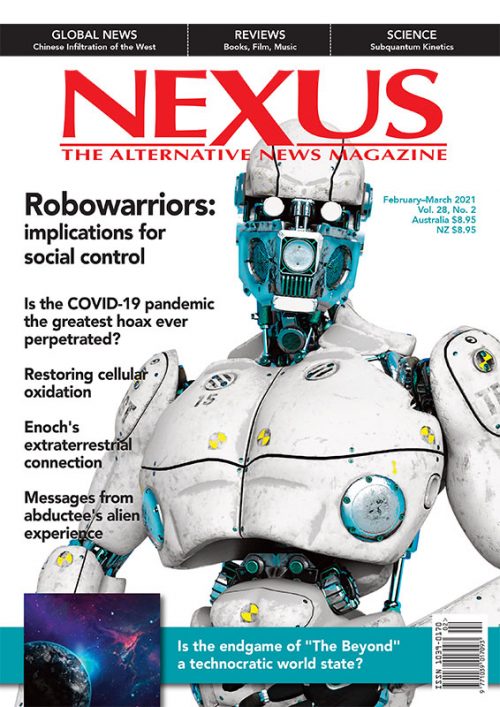 Volume 28, Number 2 – downloadable
$6.60
Volume 28, Number 2 (February – March 2021) complete issue downloadable pdf file.
Description
LETTERS TO THE EDITOR
Readers comment on the Göbekli Tepe Ellis article issues, action regarding the current world agenda, modern humans worldwide, flaws in the theory of relativity, fear and great Earth changes, and vilification of the Right.
GLOBAL NEWS
We report on the mystery of gold, no asymptomatic spread of COVID-19, merge of Big Tech and Big Pharma, China's Western infiltration, another Vatican insider's warning on the global reset, legalisation of cannabis, space chief's acknowledgement of aliens, UFO disclosure triggered by COVID-19 bill and more.
The COVID-19 Hoax + An Honest Perspective of COVID-19
Dr Joseph Mercola explains how fear is being used by technocrats and Big Tech in the management of the coronavirus to create a compliant society, while some experts push for a more informed, educated public.
Richard Gale and Dr Gary Null share the concerns of thousands of medical professionals worldwide on COVID-19 death counts, PCR testing, lockdown myths hydroxychloroquine, and more.
Biological Oxygen Therapies: Restoring Our Cellular Oxidation
The body relies on efficient oxidation for good health, explains Walter Last, illustrating that the modern problem of energy deficiency can be managed with the use of therapies such as ozone, vitamin C, hydrogen peroxide, MSM, CO2, lemon juice and more.
Robowarriors: The Future Battles Fought By Machines
T.J. Coles provides a round-up of emerging military technologies, from autonomous drones to nanobots, cyborgs to tanks and space weapons, and notes the shift in use of these machines to enact social control.
Angels Among Us and the Beyond
An excerpt from the latest book by Paul D. Collins and Phillip D. Collins explores aliens as contemporary angels and discusses how fear of the unknown is used as a means of control, with the ultimate agenda being a technocratic world state for all of humanity.
Science News: Subquantum Kinetics
Dr Paul LaViolette corrects misinterpretations of his subquantum kinetics theory in the recent article by Adrian Ellis, "Göbekli Tepe, the Fox and Global Catastrophe" and elaborates on his novel microphysics paradigm.
Enoch's Encounters with Extraterrestrials
Enoch and his lineage are alien hybrids, Stephen McMurray concludes, after studying the Books of Enoch and finding the texts full of accounts which could be interpreted as alien encounters—and which also seem to correspond with descriptions of modern UFO encounters.
Strange Times: My Alien Experience
Martin Richardson describes in depth his 2017 abduction from a small European fishing town, including medical experiments, and shares messages from the aliens that general changes will soon happen on Earth when humanity, aided by space races, will take the right path.
BOOKS
THE ELECTROMAGNETIC BRAIN by Shelli Renée Joye, PhD
KNOWLEDGE OF SPIRIT WORLDS AND LIFE AFTER DEATH by Dr Bob Woodward DREAMING TECHNIQUES by Serge Kahili King, PhD
WITHOUT RESERVATION by Randy Kritkausky
SECRETS OF THE DRUIDS by Teresa Cross
ELEMENTAL MAGIC by Nigel Pennick
LOCKDOWN: THE VIRUS WAS NOT THE CAUSE ESOTERIC MYSTERIES OF THE UNDERWORLD by Jean-Pierre Bayard
THE ENCYCLOPEDIA OF AILMENTS AND DISEASES by Jacques Martel
FILM REVIEWS
THE NEED TO GROW, Directed by Rob Herring and Ryan Wirick
Alien Worlds: Giants and Hybrids, Directed by Rico Lowry and J. Michael Long
MUSIC REVIEWS
MEETING by A.G.A Trio
THE LAST DALAI LAMA? by Philip Glass and Tenzin Choegyal
MORNING MEDITATION by Sumeet Anand Pandey
WHERENESS by Paul Cheneour, Ansuman Biswas, Alistair Zaldua and Maureen Wolloshin