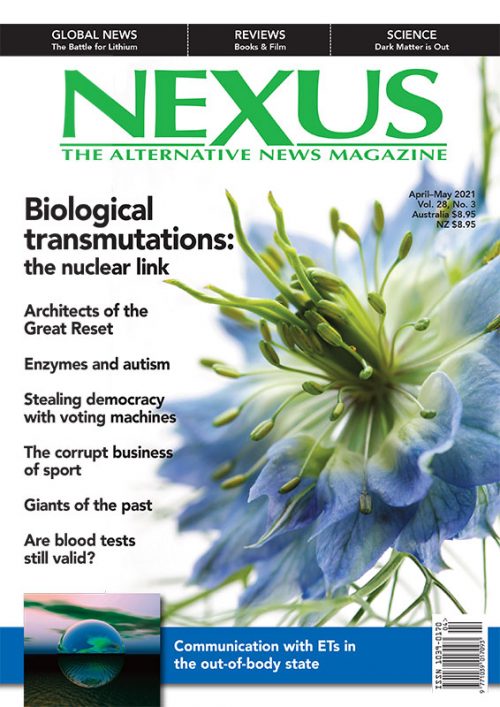 Volume 28, Number 3 – downloadable
$6.60
Volume 28, Number 3 (April – May 2021) complete issue downloadable pdf file.
Description
LETTERS TO THE EDITOR
Readers comment on the "rage to read", 1984 or a brave new world, speeding up of Earth's rotation, masking agendas, ETs in India and questions about reality.
GLOBAL NEWS
We report on the COVID hoax, Wikipedia bias, falling birth rates, a conscious Universe, 3D printed organs and bones, organic matter in space, pet collar poison, the battle for lithium, UFO materials in US possession, magnetic field collapse extinctions, and more.
Are Blood Tests Still Valid?
Dr Patrick Quanten questions the efficacy of standard blood tests and their apparent necessity, noting that industry is creating a society dependent upon them and that results could be misleading due to several factors including that cells provide their own needs.
Autism: A Chemical Perspective
Brett Cohen, PhD examines research on autism and the role of the brain, liver and gender differences, concluding the evidence points to the enzyme GABA-transaminase as the root cause of autism and says moving forward, more research in this area is required.
Stealing Democracy with Voting Machines
T.J. Coles details the various types of voting machines and their vulnerabilities, the few Western countries conceding their weaknesses, the push for their use by the elites, and the problem of "national security" being used to avoid accountability or oversight.
The Great Reset Architects
Matthew Ehret exposes what is being covered up about economics, and observes that though the coronavirus will be blamed for the coming financial crisis, the controlled disintegration of the economy goes back decades.
Four Blind Mice: Corruption in Sport
Brian Tuohy shares his revelations about the role of the sports leagues, gambling industry, law enforcement and media in the corruption of sport, and the issue of selling integrity to maintain the big business that is sport.
Science News: Dark Matter is Out
David Nabhan discusses how dark matter was created to account for the cosmos not obeying accepted laws of physics, stresses the need to stand by scientific method, and notes the promise of modified Newtonian dynamics.
Biological Transmutations
Jean-Paul Biberian looks at biological transmutations and the connection with low-energy nuclear reactions, emphasising that further study is of vital importance.
Engaging with ETs in the Non-Physical Realms
An extract from Mary Rodwell's book, The New Human shares out-of-body multidimensional journeys, including the roles of vibration, colour, quantum energy and more.
Strange Times: Giants from the Past
This issue we present a few of the many hundreds of newspaper accounts published in days of yore which reported on giant skeletons found around the globe.
BOOKS

LIBERATING YOURSELF FROM LYME by Vir McCoy and Kara Zahl
THE LOST PILLARS OF ENOCH by Tobias Churton
THE LOTUS AND THE BUD by Christopher S. Kilham
SACRED GEOMETRY by Richard Heath
THE CORONA TRANSMISSIONS Edited by Sherri Mitchell, Richard Grossinger and Kathy Glass
WHEN IT'S TIME TO SAY GOODBYE by Angela Garner
BLOWBACK by Peter Kross
HOLY ICE by Paulinne Delcour-Min
JACK THE RIPPER'S NEW TESTAMENT by Nigel Graddon
SECRET MARS by M.J. Craig
HOW ESSENTIAL IS FLUORIDE? by Guy P.D. Armstrong
DOGS DON'T COOK by Regine Kohler

FILM REVIEWS
Time of the Sixth Sun, directed by Nikki Williams
A Bold Peace, directed by Matthew Eddy and Michael Dreiling