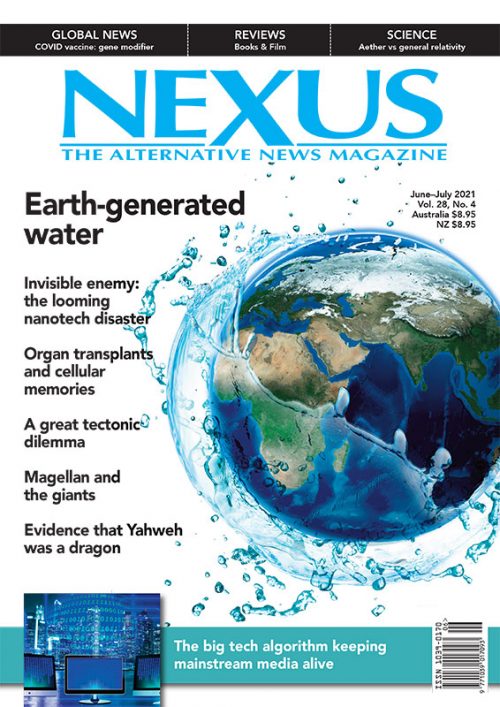 Volume 28, Number 4 – downloadable
$6.60
Volume 28, Number 4 (June – July 2021) complete issue downloadable pdf file.
Description
LETTERS TO THE EDITOR
Readers comment on the how contagion works, the Amazon banning of a bestseller, Apollo photos quality and a life ban from Twitter and Facebook.
GLOBAL NEWS
We report on bacteria steering energy, DARPA-linked Pentagon internet takeover, gene therapy and mRNA COVID-19 vaccines, massless energy storage breakthrough, cancer rates in medieval times, the big tech algorithm keeping mainstream media alive, the world's smallest injectable chip and more.
Organ Transplants and Cellular Memories
We revisit this fascinating article from 2002 by Paul Pearsall, PhD, Gary Schwartz, PhD and Linda Russek, PhD, which found that memories, behaviours, preferences and habits associated with organ donors were found to be transferred to the recipients.
Earth-Generated Water
Robert Gourlay argues that, contrary to mainstream science's view, the hydrological cycle explanation of water on Earth is flawed—Earth actually generates its own water through various processes, and current science must be challenged with existing evidence.
Invisible Enemy: The Looming Nanotech Disaster
T.J. Coles warns of the fast-paced yet unregulated development of nanotechnology in industry, food and medicine, noting its ever-increasing presence and detrimental health effects, as well as highlighting military use of nanotech to transmit deadly viruses.
Science News: Aether vs General Relativity
This issue Jean de Climont disputes general relativity, contending that it is necessary to give space itself the capacity to transmit angular moments for cosmology to conform to the conservation of angular momentum, and therefore that an aether filling space is necessary.
A Great Tectonic Dilemma
James Maxlow, PhD presents evidence which calls into question the assertion that Earth's radius has remained constant since its formation and argues that plate tectonics has overruled valid scientific observation which confirms the Earth is expanding.
Magellan and the Giants
 Antonio Pigafetta, an Italian supernumerary crew member on Magellan's 1519 voyage to the East Indies, kept a journal in which he wrote in 1520 of encounters with giants in South America, and here we share translated extracts of these experiences.
Strange Times: Yahweh the Dragon
An analysis by "Mr Mythos" speaks to the abundance of references in the Hebrew Bible to fiery beings as well as links between Yahweh and Nahushtan and Yahweh and Seraphim, leading Mythos to question whether the god of the ancient Israelites may have in fact been a dragon.
BOOKS

THE FALL OF SPIRITUALITY by Julius Evola
PRECOGNITIVE DREAMWORK AND THE LONG SELF by Eric Wargo
INVITING ANGELS INTO YOUR LIFE by Kathryn Hudson
THE MYSTERY TRADITION OF MIRACULOUS CONCEPTION by Marguerite Mary Rigoglioso, PhD
TIME SHIFTS by Von Braschler
BEYOND THE FLOWER OF LIFE by Maureen J. St Germain, Revised and Expanded Edition
GHOSTS OF ATLANTIS by J. Douglas Kenyon
THE MYSTERIES OF REALITY by Gayle Kimball
THE DIVINE FEMININE TAO TE CHING by Rosemarie Anderson, PhD
VIBRATIONAL SOUND HEALING by Erica Longdon
THE WISDOM OF TEETH by Michel Montaud
THE COVID-19 PANDEMIC OF FEAR by Margaret Stevenson
A HOLISTIC APPROACH TO VIRUSES by David Brownstein, MD

FILM REVIEWS
MEDICAL RACISM: THE NEW APARTHEID, Directed by David Massey
DON'T LET THE GENE OUT OF THE BOTTLE, Directed by Jeffrey M. Smith