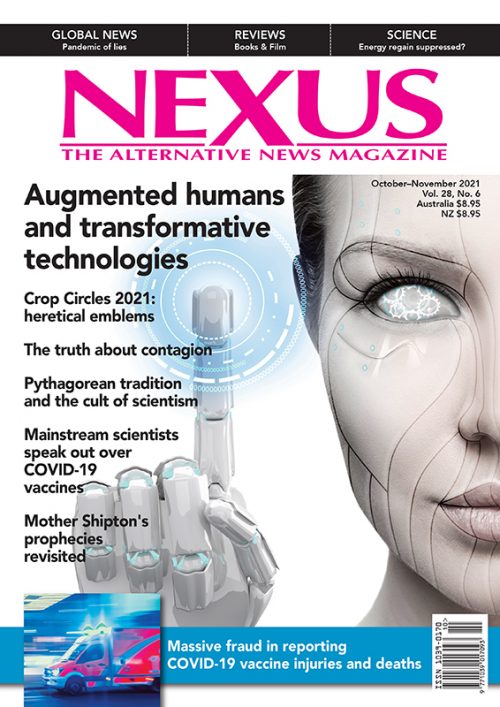 Volume 28, Number 6 – downloadable
$6.60
Volume 28, Number 6 (October – November 2021) complete issue downloadable pdf file.
Description
LETTERS TO THE EDITOR
Readers comment on Facebook censorship, nebulising hydrogen peroxide, memories as a consciousness frequency of the soul, and COVID-19 and consciousness.
GLOBAL NEWS
We report on brain implants, Big Pharma's criminal history, nature's electric grid, the murder of activists, Five Eyes' expansion, prion research dangers, the suppression of ivermectin and hydroxychloroquine, "pandemic of the unvaxxed" lies, fraud in COVID-19 vaccine injuries and deaths reporting, and more.
Censoring the Experts
A list of experts and their credentials compiled by Duncan Roads includes scientists and doctors who have been muted for voicing their grave concerns about the vaccination approach to handling COVID-19, and how it is based on unsupported science.
The Truth About Contagion
Thomas S. Cowan and Sally Fallon Morell explore theories of how disease spreads and reveal that the misidentification of exosomes as viruses is a disaster; their actual role being to provide the communication system that allows us to live a full and healthy existence.
Hi-Tech Alchemy
T.J. Coles looks at the historical roots of human augmentation and how corporations and the military modify humans with transformative technologies but to what end—will a "new species" be created by humans via digital and biotechnological augmentation?
Science News: Energy Regain
Excerpts from a 1973 filmed interview between engineer Ieuan Thomas and Austin Willis in which Thomas speaks of the discovery of energy regain and testing of systems producing infinite, safe, clean energy leave unanswered questions on why this technology remains unknown.
Crop Circles 2021: Heretical Emblems
Andy Thomas brings us 2021's crop circle roundup, noting that after last year's unexpected burst of activity, crop circles had a quieter time in 2021 but still delivered some exceptional and inspirational patterns which continued to challenge conventional thinking.
Pythagoras Suppressed
Matthew Ehret challenges the standard models of science, noting that a revival of the suppressed Pythagorean Tradition is needed as an antidote to the cult of scientism which has permeated thinking during the current age and stifled creative thinking.
Strange Times: Mother Shipton
This issue we reprint a rare collection of the famous Mother Shipton prophecies painstakingly transcribed more than 55 years ago, and view them in the context of the present day including some possible interpretation of events past, COVID-19 and events to come.
BOOKS

WATER REALMS by Karen Mutton
THE GREAT PYRAMID VOID ENIGMA by Scott Creighton
A HEALER'S JOURNEY TO INTUITIVE KNOWING by Dolores Krieger, PhD, RN
THE ENCHANTED GARDEN by Zorah Cholmondeley
GRANDMOTHER AYAHUASCA by Christian Funder
WHERE AFTER by Mariel Forde Clarke
OUR SPIRITUAL DNA by Carmel Niland
BEYOND ESOTERIC: ESCAPING PRISON PLANET by Brad Olsen
ANDROMEDA: THE SECRET FILES by David Hatcher Childress
ALIEN INTELLIGENCE AND THE PATHWAY TO MARS by Mary Bennett
THE TRUTH ABOUT CONTAGION by Thomas S. Cowan, MD and Sally Fallon Morell

FILM REVIEWS
LIVING IN THE FUTURE'S PAST directed by Susan Kucera
OUT OF SHADOWS directed by Mike Smith