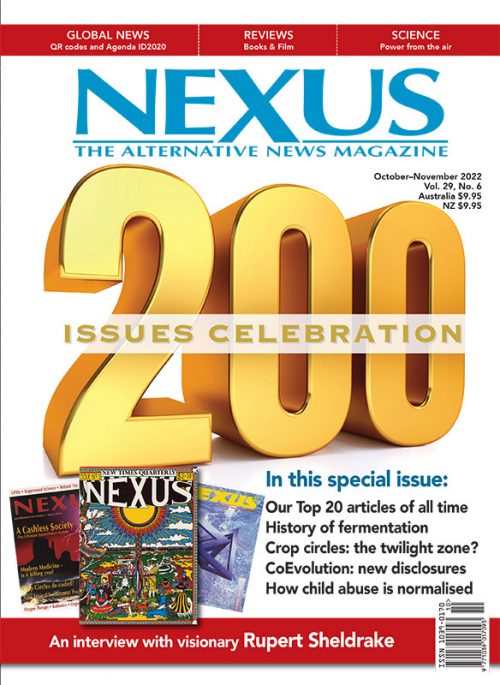 Volume 29, Number 6 – downloadable
$6.60
Volume 29, Number 6 (October – November 2022) complete issue downloadable pdf file.
Description
LETTERS TO THE EDITOR
Readers comment on their experience of NEXUS through 200 issues, field structure and ECE theory, the hijacking of water science, the Phoenix timeline, Great Pyramid experience and AI and sentience in this extended version of Letters to the Editor.
GLOBAL NEWS
We report on France's climate change police force, WEF calls for AI to police internet, WEF plans to implant humans with microchips, brain chips to control crime, UFO videos exempt from being declassified, FBI and Facebook news censorship, the end of cash, smart meters used for control and more.
Editor's Pick: Top Twenty NEXUS Articles
In this special two-hundredth edition of NEXUS Magazine, Duncan Roads shares background on a range of articles that have over the years had an impact on him as Editor, and also those which have resulted in follow-up, success and reader feedback.
Normalising Child Abuse
T.J. Coles illustrates the history of the normalisation of child abuse and reveals groups who have pushed pro-paedophile reforms and protected adults attracted to minors along with organisations who have promoted the sexualisation of children, which continues today.
Good Microbes: the Dawn of Fermentation
Karen Mutton explores fermentation as one of the greatest technologies invented, examining its evolution from Neolithic times with bread, alcohol, dairy and soy all across the world, and recent research discovering its use also in ancient Australia.
Rupert Sheldrake's Holistic World View
Rupert Sheldrake discusses morphic resonance with Robert Boucnik, and the gaps in mainstream science leading to a fixed view which can't explain how self-organising systems appear to inherit a memory from previous similar systems containing consciousness.
Science News: Power From the Air
Robert A. Nelson of RexResearch.com presents several patents from more than a century ago illustrating how to harness atmospheric electricity by inventors in the US, France and Estonia—establishing that Tesla wasn't alone in this field of research.
Crop Circles 2022: The Twilight Zone?
Andy Thomas reports that there were some extraordinary and complex patterns in the fields during the English summer, but a notable reduction in numbers—leading to the question of what this might mean for the future of the crop circle phenomenon.
Strange Times: Interrogation or Education?
Ahead of the long-awaited third edition of his book CoEvolution, author Alec Newald discloses previously unreleased information regarding his experience and the interrogation he faced on Earth subsequent to his 1989 ten-day otherworld journey to planet Haven.
BOOKS

UFOS AND THE PIONEERS OF ONENESS by Gerard Aartsen
CONVERSATIONS WITH BLOB by Lana Penrose
THE ULTIMATE BOOK ON VOCAL SOUND HEALING by Githa Ben-David
THE PETROGLYPHS OF MU by Carole Nervig
THE DREAMING CIRCUS by Jim Morris
ORIGINS OF THE GODS by Andrew Collins and Gregory L. Little
DREAMTIMES AND THOUGHTFORMS by Richard Grossinger
180 DEGREES: UNLEARN THE LIES YOU'VE BEEN TAUGHT TO BELIEVE by Feargus O'Connor Greenwood
MICRODOSING WITH AMANITA MUSCARIA by Baba Masha, MD
THE OCCULT IN NATIONAL SOCIALISM by Stephen E. Flowers, PhD
SANE ASYLUMS by Jerry M. Kantor

FILM REVIEWS

INFERTILITY: A DIABOLICAL AGENDA directed by Andy Wakefield
FANTASTIC FUNGI directed by Louie Schwartzberg