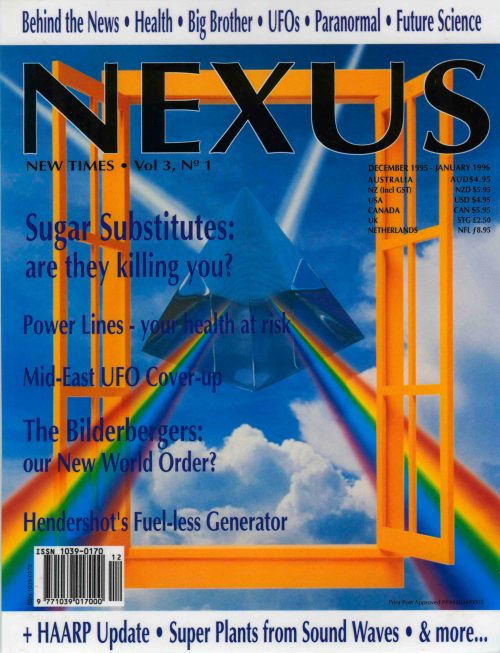 Volume 3, Number 1 – downloadable
$6.60
Volume 3, Number 1 complete issue downloadable pdf file.
Description
LETTERS TO THE EDITOR
GLOBAL NEWS
A round-up of the news you probably did not see.
THE BILDERBERG GROUP
By Armen Victorian. With its members from the elite of Europe and North America, the Bilderbergers have had an invisible global influence since the 1950s.
HAARP: VANDALISM IN THE SKY
By Dr Nick Begich and Jeane Manning. The HAARP transmitter in Alaska may irrevocably damage the ionosphere and seriously disrupt the mental and physical health ofentire populations.
SONIC BLOOM: A GROWING SUCCESS STORY
By Stephen Jones. Growers who switch to Sonic Bloom, the plant treatment using sound waves and foliar nutrient spray, achieve record, high-quality yields. Could it eliminate world hunger?
BITTER TRUTH ON ARTIFICIAL SWEETENERS-Part 2/2
By Mark D. Gold. Part 2 of our disturbing expose of the dangers of aspartame-and the vested interests who'd prefer the public didn't know.
THE HEALTH BENEFITS OF RED WINE-Part 1/2
By Bert Schwitters. Abundant in the grape seeds 'and skins crushed for red wine-making, OPC's are nature's most powerful antioxidant, with proven health and anti-ageing benefits.
THE HEALTH HAZARDS OF POWER LINES
By Kim Besly. A growing body of evidence shows that high-voltage power lines are hazardous to human and animal health, yet government authorities and utilities downplay or deny the risks.
EXPERIMENTS WITH AURAS
By Dr Chiang Kanzhen. New research shows that DNA may be only half the transmitter of genetic information-the other half being the human bioelectromagnetic field, or aura.
SCIENCE NEWS
A selection of interesting news and views from the underground science network. This issue we feature the Hendershot Fuelless Motor.
THE STONE DISCS OF BAIANëˆKARAëˆULA
By Filip Coppens. Found in a cave in remote China, these 'humming' discs purportedly relate the demise of an extraterrestrial visit 12,000 years ago.
THE TWILIGHT ZONE
A collection of strange stories from around (and off) the world. This issue, UFOs in the Middle East.
REVIEWS–Products
"The Rave Man" from Vibrance
REVIEWS–Books
"The Paradise Conspiracy" by Ian Wishart
"Angels Don'T Play This HAARP" by Nick Begich & Jeane Manning
"Carl Sagan and Immanuel Velikovsky" by Charles Ginenthal
"The Cure For All Diseases" by Hulda Regehr Clark, Ph.D., N.D.
"When the Sky Fell: In Search of Atlantis" by Rand & Rose Flem-Ath
"Mysterious Australia" by Rex Gilroy
"Upcoming Changes" by Joya Pope
"The Obedience of Australia" by Peter Jones
"Your Body's Many Cries For Water" by F. Batmanghelidj, M.D.
"Millennium Prophecies" by A. T. Mann
"Dead Men Can't Talk" by Alexander Niles
"In Secret Mongolia" by Henning Haslund
"Bad Medicine" by John Archer
"The Jesus Conspiracy" by Holger Kersten & Elmar R. Gruber
"Nostradamus: The New Revelations" by John Hbgue
"Vegetarian Baby & Child" by Pelra Jackson
REVIEWS-Videos
"The Hemp Revolution" directed by Anthony Clarke
"Medical Miracles" with Dr Sam Chachoua
REVIEW-Audio
"Wetland" by Shaun Rigney
"Bloodwood" by Alan Dargin with Michael Atherton
'Where There Is Life" by Luciano
"Music of the Angels" by Gerald Jay Markoe
"Beggars and Saints" byJai Uttal & the Pelican Love Orchestra
"Lovesong" by Tony O'Connor
"A Healing & Replenishment…" by The Galactic Troubleshooter
"Mermaids in the Well" by Kavisha Mazzella
"Vida Para Vida" by Oliver Serano-Alve