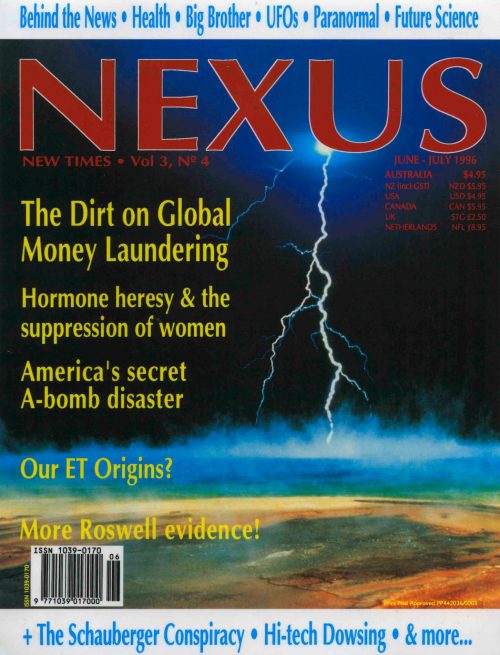 Volume 3, Number 4 – downloadable
$6.60
Volume 3, Number 4 complete issue downloadable pdf file.
Description
LETTERS TO THE EDITOR
GLOBAL NEWS
A round-up of the news you probably did not see.
THE PORT CHICAGO DISASTER
By Robert L. Allen and Peter Vogel. America's worst home-front disaster of World War II occurred when a massive nuclear explosion destroyed the Port Chicago naval base, California, killing hundreds of people. Was it really an accident?
THE HORMONE HERESY-Part 1/2
By Sherrill Sellman. Hormone replacement therapy is based on erroneous science, yet doctors, unaware of the dangers to women's health, still prescribe it and the pharmaceutical companies continue to reap enormous profits.
THE MONEY LAUNDRY
By David C. Guyatt. Successive banking scandals reveal the global financial establishment to be awash with dirty money accumulated in its sinister dealings with organised crime and the intelligence community. So who's left to clean up the mess?
THE KEY TO HUMANITY's ORIGINS-Part 1/3
By David Wood and Ian Campbell. New scientific discoveries are unravelling the mystery of our evolution, while the decoding of sacred landscape geometry is giving further clues about civilisations that existed on Earth and Mars in ancient times.
WHO WAS VIKTOR SCHAUBERGER?-Part 2/3
By Callum Coats. We continue the story of genius inventor Viktor Schauberger, focussing on his wartime experiences and his trying times with an American consortium in the late 1950s.
EARTH RADIATION-Part 2/2
By Christopher Bird. Several devices have been developed which can detect Earth ray emanations and 'electronically dowse' oil-bearing formations, mineral deposits and underground water.
SCIENCE NEWS
A selection of interesting news and views from the underground science network. This issue, a 2,000 year-old battery, and a chemical liquid scrubbing solution for car and truck exhaust emissions.
AN ET PERSPECTIVE ON EARTH-Part 1/3
With Alex Collier. An ET contactee gives an extraordinary account of 'the big picture' from the Andromedan point of view covering who we are, how we got here, and what other alien civilisations are vying to control or influence human progress.
THE TWILIGHT ZONE
Strange stories from around (and off) the world. In this issue, amazing new Roswell crash revelations, and Rosselli's mysterious map of Antarctica.
REVIEWS-Books
"The Clinton Chronicles Book" edited by Patrick Matrisciana
"Foreign Body: Secret Life of Robert Maxwell" by Russell Davies
"Cancerproof Your Body" by Ross Horne
"The Water You Drink: Flow Safe Is It?" by John Archer
"Conversations Beyond the Light" by Dr Pat Kubis and Mark Macy
"Alternative Medicine" compiled by Burton Goldberg Group
"The Greatest Fraud: Fluoridation" by Dr Philip R. N. Sutton
"Gravitational Force of the Sun" by Dr Pari Spotter
"Healthy Home and Healthy Office" by Reinhard Kanuka-Fuchs
"One Light: A Factual Experience" by Jon Whistler
"Fingerprints of tne Gods" by Graham Hancock
"A Child of Eternity" by Adriana Rocha and Kristi Jorde
"A/ien Discussions" edited by Andrea Pritchard et al.
"Essiac-Fighting the Cancer in Our Systems" ed. by C. MacDonald
"TRANCEformation of America" by Cathy O'Brien & Mark Phillips
REVIEWS-Audio
"I'm Not Hyper, Angry or Lazy" by Rod Markham
"Mixed Spice" by Riley Lee
"Realm of the River King" by David Pickvance
"Music for a Changing World" from Xenophile Records
"Shaman's Breath" by Professor Trance & the Energisers
"All is One" by Yulara
"Raindreaming" by Stairway
"Escape" by Mars tasar
"Secret Garden" by Fionnuala Sherry and Rolf Lovland