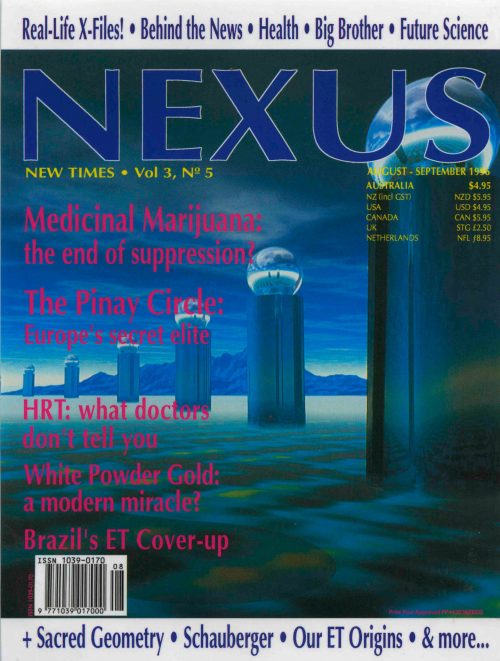 Volume 3, Number 5 – downloadable
$6.60
Volume 3, Number 5 complete issue downloadable pdf file.
Description
LETTERS TO THE EDITOR
GLOBAL NEWS
A round-up of the news you probably did not see.
THE PINAY CIRCLE
By David G. Guyatt. A little-known transatlantic clique drawn from the intelligence community, the military, politics and banking, Le Cercle is implicated in destabilising and overthrowing freely elected governments since the 1910s.
MARIJUANA: A MEDICINAL MARVEL?
Dr Lester Grinspoon, interviewed by jana Ray. The US Marijuana Tax Act of 1931 forced doctors to stop prescribing cannabis despite its medicinal benefits and minimal toxic side-effects. There is a strong case for reinstating it to the Pharmacopoeia.
THE HORMONE HERESY-Part 2/2
By Sherrill Sellman. Oestrogen treatments are linked with increased incidence of osteoporosis, heart disease and cancers in women, yet doctors still prescribe them. What's more, chemicals which mimic oestrogens threaten our very survival.
WHITE POWDER GOLD-Part 1/2
With David Hudson. White Powder Gold is a substance which defies the textbooks with its amazing properties and potentials. How it was discovered is a fascinating story in itself.
THE KEY TO HUMANITY's ORIGINS-Part 2/3
By David Wood and Ian Campbell. Renne-Ie-Chateau's sacred landscape geometry bears the mark of an earlier advanced culture in France with links to ancient Egypt. The evidence is at odds with the 'authorised' version of history.
WHO WAS VIKTOR SCHAUBERGER?-Part 3/3
By Callum Coats. Soon after his US backers 'stole' his patents, Viktor Schauberger died, a broken man. Yet his legacy lives on, for his ideas are as relevant today as ever and their adoption is long overdue.
SCIENCE NEWS
A selection of interesting news and views from the underground science network. In this issue, we highlight Tom Watson's research into a geometric relationship between gravity and magnetism.
AN ET PERSPECTIVE ON EARTH-Part 2/3
With Alex Collier. An ET contactee reports the Andromedan view on our genetic heritage, the forces that would curtail and advance human evolution, and the importance of self-responsibility.
THE TWILIGHT ZONE
Strange stories from around (and off) the world. In this issue, we consider an ET sighting and capture in Brazil that has been covered up by their military.
REVIEWS-Books
"Towards a New Alchemy" by Dr Nick 8egich
"The Jesus Papyrus" by Carsten Peter Thiede and Matthew d'Ancona
"Valley of the Spirits" by Alan L. Kolata
"Apocalypse 1945: The Destruction of Dresden" by David Irving
"Energy in the Red: Living with CFS" by Jacqueline Finch
"Power & Prospects" by Noam Chomsky
"Ether-Technology" by Rho Sigma
"Natural Progesterone" by John R. Lee, M.D.
"The Gift: The Crop Circles Deciphered" by Doug Ruby
"The Secret of Healing" by Hans Holzer, Ph.D.
"The Food That Would Last Forever" by Dr Gary Gibbs
"Help Your Child to Perfect EyeSight… " by Janet Goodrich, Ph.D.
"Cry in the Wilderness" by Jean R. Williams
REVIEWS-Videos
"Voyagers of the Sixth Sun: UFOs and the Destiny of Mexico"
"The Mysterious Origins of Man" hosted by Charlton Heston
REVIEWS-Software
"Natural Health & Nutrition Databank" from Hyperhealth
REVIEWS-Audio
"Doorways" by Ayman
"Heaven & Earth" by Jan Wobble
"Otway Spirit" by Simon Lewis
"Celtic Woman: A Collection"
"Heaven on Earth" by Ray Oliver