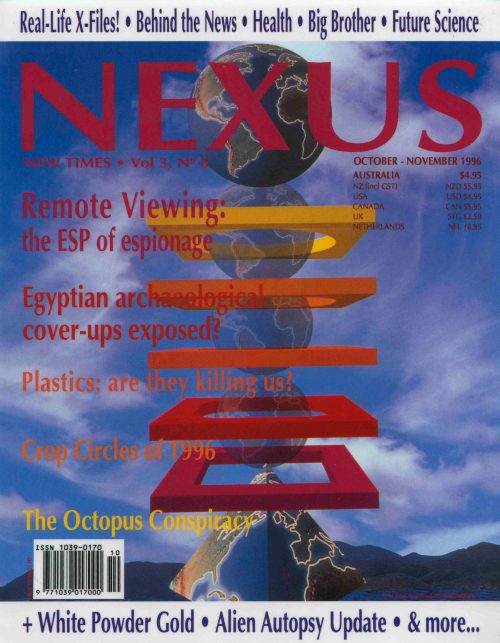 Volume 3, Number 6 – downloadable
$6.60
Volume 3, Number 6 complete issue downloadable pdf file.
Description
LETTERS TO THE EDITOR
GLOBAL NEWS
A round-up of the news you probably did not see.
THE PROBLEM WITH POISONOUS PLASTICS
By Barry Densley. PVCs and phthalates have entered our food chain, disrupting our hormones and even causing cancer. Should they be banned?
REMOTE-VIEWING: THE ESP OF ESPIONAGE-Part 1/3
By Turan Rifat. Despite their denials, military and intelligence espionage operatives have been using and fine-tuning their RV technologies for decades.
THE "OCTOPUS" CONSPIRATORS-Part 1/2
By Kenn Thomas. Writer Danny Casolaro found more than he expected when he began to uncover the crimes of the "Octopus" cabal. He lost his life.
THE DOBKIN TECHNIQUE: A LIFE-SAVER
By Jeffrey Dobkin. Utilising an automatic oxygenconserving reflex, this simple procedure can help save heart-attack victims by averting brain damage.
EGYPT's SECRETS: A HIDDEN AGENDA?
By Graham Hancock. Egyptian authorities have displayed monumental tunnel-vision at Giza, in snubbing researchers and trying to hide the truth.
THE KEY TO HUMANITY's ORIGINS-Part 3/3
By David Wood and Ian Campbell. To conclude this analysis, could the very secrets of creation be encoded in the landscape of Rennes-le-Chateau?
WHITE POWDER GOLD-Part 2/2
With David Hudson. ORMEs are superconducting materials with interdimensional properties that can raise our consciousness and restore perfect health.
SCIENCE NEWS
A selection of interesting news and views from the underground science network. This issue, we present Carl Cella's do-it-yourself water-fuelled car.
CEREAL THRILLERS: THE CROP CIRClES OF '96
By Marcus Allen. This year's bountiful crop-circle harvest in the UK has yielded such intricate, aweinspiring designs as to defy our comprehension.
ALIEN AUTOPSY: ROSWELL OR SOCORRO?
By Michael Hesemann. Evidence suggests that 'the Roswell film' is not a hoax but the alien it depicts was retrieved from an earlier UFO crash at Socorro.
AN ET PERSPECTIVE ON EARTH-Part 3/3
With Alex Collier. We complete this ET contactee's report with the Andromedans urging us to live responsibly in peace and love, or woe betide us.
THE TWILIGHT ZONE
Strange tales from around/within/off the world. This issue, a crop-circle creation captured on video, and in Canada, an alien civilisation found underground.
REVIEWS-Books
"The Mystery of the Min Min Light" by Maureen Kozicka
"Open Skies, Closed Minds" by Nick Pope
"Encounter" by Kelly Cahill
"Safe As Houses" by David Cowan & Rodney Girdlestone
"Fields ofMystery" by Andy Thomas
"Pooular Alienation" edited by Kenn Thomas
White Death" by Julian Cribb
"Spies" by Ernest Volkman
"Mars/Earth Enigma" by DeAnna Emerson
"I Am With You Alway," by G. Sparrow, Ed.D.
"The Paradigm Conspiracy" by Denise Breton & Christopher
"The Natural Way to Better Babies" by F. Naish & I. Roberts
"Living with HIV/AIDS" by Peter de Ruyter
"Keeper of Genesis" by Robert Bauval & Graham Hancock
"From Atlantis to the Sphinx" by Colin Wilson
"Secret Power" by Nicky Hager
REVIEWS-Software
"CyberSayer" by Majistyks
REVIEWS-Audio
"Blood of the Land"
"Celtic Destiny" by Bruce Mitchell
"The Trance ofSeven Colors" by Maleem Maahmoud Ghania
"If Then… Else" by Caodice Pacheco
"A River of Sound: A Collection"