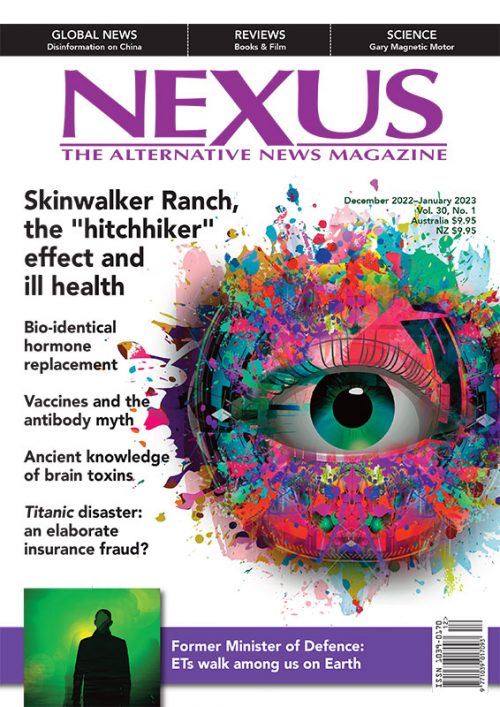 Volume 30, Number 1 – downloadable
$6.60
Volume 30, Number 1 (December 2022 – January 2023) complete issue downloadable pdf file.
Description
FOLLOW THIS LINK IF YOU WISH TO BUY THIS ISSUE AS A HARD COPY
LETTERS TO THE EDITOR
Readers comment on top 20 NEXUS articles, Sheldrake interview, 200th edition of NEXUS, trees and tree health, music reviews, war plans and glyphosate in school food.
GLOBAL NEWS
We report on the end of cash, countries enforcing the use of digital ID, nations lining up to join BRICS, citizens spied on for COVID-19 compliance scoring, Gen Z mental health, public belief in UFOs and disclosure, fungi in tumours, Facebook using ex-CIA agents in censorship, truths about China and more.
Vaccines and the Antibody Myth
Stephen McMurray unravels myths of the COVID-19 vaccination including the ambiguity between antibodies and protection, antibody-dependent enhancement and the deliberately obscured risks surrounding informed consent during vaccine trials.
The Titanic Disaster Was an Elaborate Insurance Fraud
 John Hamer argues that Titanic at the time of sinking was swapped for its damaged sister ship, Olympic to save the shipping line from financial ruin, and to despatch with powerful passengers—businessmen resisting the formation of the Federal Reserve.
Ancient Knowledge of Brain Toxins
Dietary medical historian, Paul S. Lloyd, PhD explores ancient insights into cognitive functioning related to diet, sleep and brain toxins, comparing with "new, cutting-edge research" and wonders if contemporary neuroscientists are walking a well trodden path.
Bio-Identical Hormone Replacement
Dr Jonathan V. Wright shares experience and results from his Tahoma Clinic in patients treated with bio-identical hormone replacement therapy, the importance of copying nature, the appropriate dose of oestradiol and oestriol and the significance of iodine in health.
Science News: Gary Magnetic Motor
This issue we republish an article which first appeared in the 1879 edition of Harper's New Monthly Magazine, introducing the Wesley W. Gary magnetic motor invention, a device built to change the polarity in magnets to induce motion in order to create power.
Skinwalker Ranch Contagion
Government insider Colm A. Kelleher discusses paranormal activity at the infamous Skinwalker Ranch with visitors there bringing home and sharing ill health, poltergeists and more with loved ones, raising questions of transmissibility and social contagion.
Strange Times: Paul Hellyer Interview
Stan Mallow's 2021 interview with former Canadian Minster of Defence, Paul T. Hellyer, just prior to his death, discusses his knowledge on and public acknowledgement of UFOs, his views on cabals, global warming and the dangers of cyber currency.
BOOKS

STARSEEDS by Alexander Quinn
NOTHING ON RADAR by George Simpson
HEALING SOUNDS by Jonathan Goldman
PROOF OF SPIRITUAL PHENOMENA by Mona Sobhani, PhD
SACRED GEOMETRY OF THE STARCUT DIAGRAM by Malcolm Stewart
THE MAP AND THE MANUSCRIPT by Simon M. Miles
GREY ALIENS AND ARTIFICIAL INTELLIGENCE by Nigel Kerner
JIN SHIN FOR CATS AND DOGS by Tina Stümpfig
REAL HONEST MONEY by James McCumiskey
KING SOLOMON THE MAGUS by Claude Lecouteux
SECRET HISTORY OF THE WILD, WILD WEST by Daniel J. Duke
UNCERTAIN PLACES by Mitch Horowitz

FILM REVIEWS

END OF THE LINE: THE WOMEN OF STANDING ROCK directed by Shannon Kring
UNDER THE SKIN directed by Bert Ehgartner