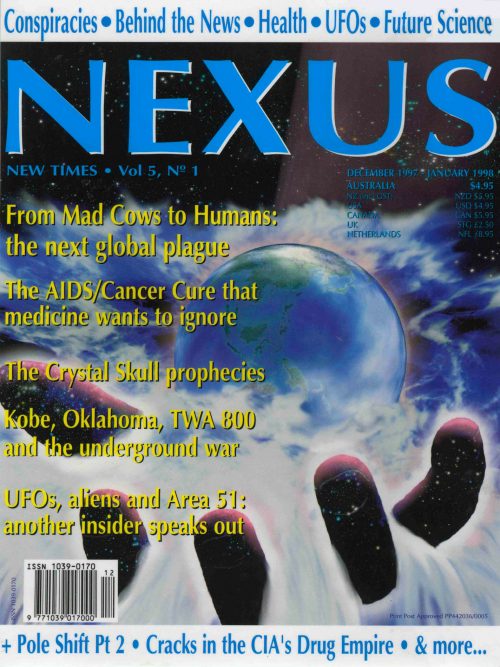 Volume 5, Number 1 – downloadable
$6.60
Volume 5, Number 1 complete issue downloadable pdf file.
Description
LETTERS TO THE EDITOR
GLOBAL NEWS
A round-up of the news you probably did not see.
FROM MAD COWS TO HUMANS
By Lynette J. Dumble. Agricultural and health authorities did too little too late to avert a BSE species jump to humans. The emergent, fatal variant-CJD could be the next global plague.
DEEP BLACK: THE CIA's SECRET DRUG WARS
By David G. Guyatt. Before they died, three former military men revealed their roles in the CIA's gunsand- drugs empire and in the surveillance of US politicians for black-budget blackmail purposes.
POLE SHIFT 2000 CLIMATE CRISIS? Part 2/2
By Richard W. Noone. If the Antarctic ice-cap continues its uneven, unstable build-up, it could soon slip, fracturing the Earth's crust and triggering a catastrophic planetary pole shift.
INDUCED REMISSION THERAPY Part 1/2
By Dr Sam Chachoua. This doctor/scientist can cure cancer and AIDS with his revolutionary immunotherapy, but the medical and media mafia want to destroy him and his life-saving work.
THE AMA's CHARGE ON THE LIGHT BRIGADE
By Stuart Troy. In the US in the 1920s, Dr Dinshah pioneered a preventive/curative coloured-light therapy which the AMA and FDA spent decades trying to extinguish, using ridicule and show-trials.
SCIENCE NEWS
A selection of interesting news and views from the underground science network. First, we run Jerry Decker's story on the 1972 Richard Clem Over- Unity Engine; then Andrei Samokhin's write-up of a Russian breakthrough in vacuum-energy research.
BRIGHT SKIES Part 5/5
By Harry Mason. The great Kobe earthquake, the Oklahoma City bombing and the downing of TWA Flight 800 may have been caused by EM weapon strikes in a factional battle for control of our planet.
THE TWILIGHT ZONE
Strange tales from around/within/beyond the world. This issue we focus on recent transmissions of the Mitchell-Hedges "talking" crystal skull, covering the history of the civilisation who made it, as well as prophecies about imminent Earth changes.
AREA 51/S-4: SECRETS BEHIND THE SCENES
By Wendelle C. Stevens. This veteran UFO researcher tells the story of an ex-US Marine sentry who confirmed the presence of UFOs and aliens at Area 51/S-4 before mysteriously disappearing.
REVIEWS Books
"Mind Control, Oswald, JFK: Were We Controlled?" by L. Lawrence
"Deadly Feasts" by Richard Rhodes
"Opening to the Infinite" by Alice Bryant and Linda Seebach
"A Covert Agenda" by Nicholas Redfern
"Virtual Government" by Alex Constantine
"The Feminization of Nature" by Deborah Cadbury
"Life Extension…Protocols 1997" by William Faloon
"Where Science Went Wrong" by Peter Bros
"The Mystery of the Crystal Skulls" by C. Morton & C. L. Thomas
"The Supergods" by Maurice Cotterell
"Journey into the New Millennium" by Wendy Munro
"Vaccination: A Parent's Dilemma" by Greg Beattie
"Toxic Deception" by Dan Fagin and Marianne Lavelle
"The Estrogen Alternative" by Raquel Martin with Judy Gerstung
REVIEWS Videos
1997 Australian International UFO Symposium Videos
REVIEWS Audio
"Kilim" by Nikola Parov
"Deep in Didge" by Tribal Trance
"Halim" by Natacha Atlas
"Music of Olympic National Park" by Mars Lasar
"Travel the World with Putumayo" (compilation)