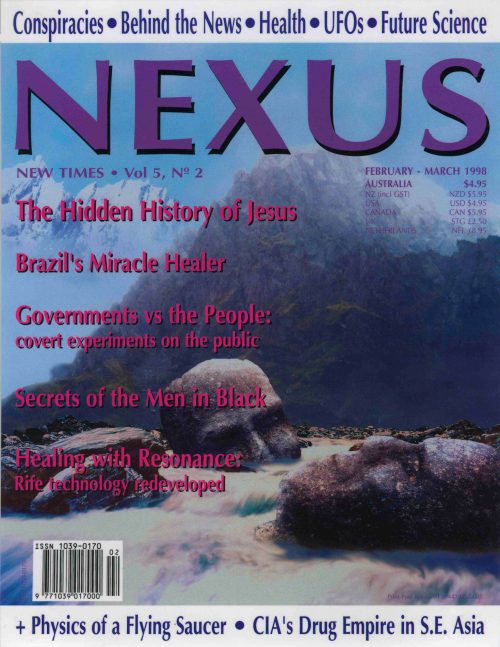 Volume 5, Number 2 – downloadable
$6.60
Volume 5, Number 2 complete issue downloadable pdf file.
Description
LETTERS TO THE EDITOR
GLOBAL NEWS
A round-up of the news you may have missed.
THE AMAZING CURES OF A MIRACLE MAN
By Robert Pellegrino-Estrich. Brazilian medium Jo'£o de Deus incorporates spirit entities who perform miraculous healings on the sick, many of whom have been abandoned by modern medicine.
THE HIDDEN HISTORY OF JESUS Part 1/3
With Sir Laurence Gardner, Kt St Gm, KCD. This distinguished genealogist explains how the Christian scriptures, doctrines and sacraments were doctored to conceal the truth about the bloodline of Jesus the real Holy Grail.
DEEP BLACK: THE CIA's DRUG WARS Part 2/2
By David G. Guyatt. Working for a secret US Government clique, the CIA used the Vietnam War as a cover to expand its lucrative heroin pipeline, while the DEA took care of the competition.
GOVERNMENTS VS THE PEOPLE
By Susan Bryce. So-called western 'democratic' governments have been using innocent civilians in experiments with radiation, nuclear fallout, biowarfare agents, mind control and sterilisation for over half a century. Should they be put on trial?
DR RIFE's RESONANT ENERGY DEVICE Part 1/2
By James E. Bare, DC. Dr Royal R. Rife's cancercuring resonant energy device was suppressed by the medical mafia in the 1930s, but a redeveloped unit is now producing astonishing healing effects.
SCIENCE NEWS
Interesting news and views from the underground science network. In this issue, we feature David Cowlishaw's Gyroscopic Inertial Thruster which has the potential to revolutionise space travel.
THE PHYSICS OF A FLYING SAUCER
By Ted Roach. By redefining our understanding of time and space dimensions, this engineer has come up with an explanation for flying saucer propulsion within terrestrial and intergalactic space.
THE TWILIGHT ZONE
This issue we consider alien-sourced technological breakthroughs from 1947, and the NSA's contact with the Greys using intuitive communications.
MEN IN BLA CK: A CLOSE ENCOUNTER Part 1/2
By Albert K. Bender. One of the first modern "Men in Black" episodes dates to 1953, when ufologist Al Bender was visited by three black-attired aliens who revealed secrets in return for his silence.
REVIEWS Books
"The Quickening" by Art Bell
"The Miracle Man" by Robert Pellegrino-Estrich
"The Hiram Key" by Christopher Knight and Robert Lomas
"Mind Control, World Control" by Jim Keith
"Innocent Casualties" by Elaine Feuer
"Above Black" by Dan Sherman
"The Red Lion" by M'ria Szepes
"Every Breath You Take" by Dr Paul J. Ameisen
"Gemisphere Luminary" compiled and edited by Michael Katz
"Water, Electricity and Health" by Alan Hall
"Earth Under Fire" by Paul A. LaViolette
"Spirit Visions" by Dennison and Teddi Tsosie
"Molecules of Emotion" by Candace B. Pert, PhD
"Papaya: The Medicine Tree" by Harald W. Tietze
REVIEWS Videos
"Infinit: The Journey"
"The Philadelphia Experiment" presented by Alfred Bielek
"The Montauk Project" with Alfred Bielek
"ETs, UFOs & New World Order Technology" with Phil Schneider
"ETs, UFOs & Cover-up of New Technologies" with Phil Schneider
REVIEWS Software
"Dr Who: Destiny of the Doctors"
REVIEWS Audio
"Buena Vista Social Club" by Ry Cooder
"B'ismillah: Highlights from the Fes Festival of World Sacred Music"
"Picture Dreams" by Riley Lee and Satsuki Odamura
"Beautiful Wasteland" by Capercaillie
"Voice of the Celtic Myth" by Greenwood