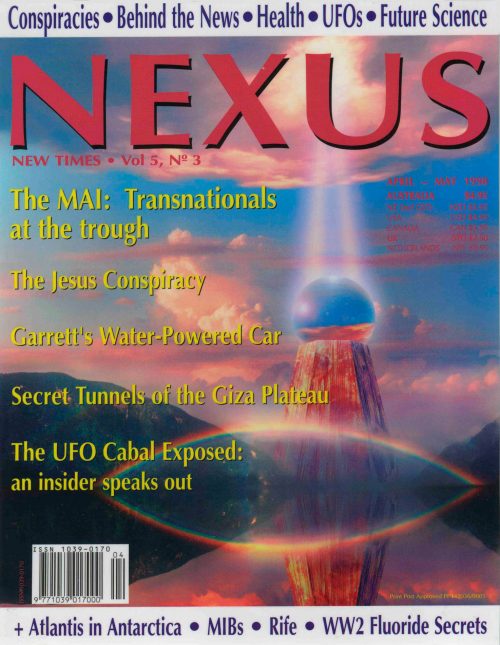 Volume 5, Number 3 – downloadable
$6.60
Volume 5, Number 3 complete issue downloadable pdf file.
Description
LETTERS TO THE EDITOR
GLOBAL NEWS
A round-up of the news you may have missed.
TOXIC SECRETS: FLUORIDE & THE A-BOMB
By Joel Griffiths & Chris Bryson. Manhattan Project scientists and military men who developed the first atomic bomb also conducted secret studies of fluoride but hid the facts about its health hazards.
THE HIDDEN HISTORY OF JESUS Part 2/3
With Sir Laurence Gardner. The original Gospels were not only mistranslated and misinterpreted, they were deliberately amended by the early Church bishops to obscure the truth about Jesus.
MAIGALOMANIA! THE MAI AGREEMENT Part 1/2
By Corporate Europe Observatory. Moves to establish the Multilateral Agreement on Investment are designed to put more power and resources in the hands of transnational corporations at the expense of people and governments globally.
DR RIFE's RESONANT ENERGY DEVICE Part 2/2
By James E. Bare. This article concludes with further analysis of Dr Royal R. Rife's cancer-curing radio-frequency unit and comparison with other historical resonant-energy therapeutic devices.
ATLANTIS IN ANTARCTICA? Part 1/2
With Rand Flem-Ath. Having studied Plato's accounts, ancient maps and geological records, this researcher argues that the legendary lost continent of Atlantis is actually Antarctica!
SCIENCE NEWS
Interesting news and views from the underground science network. In this issue we highlight Charles Garrett's 1935 patent on an electrolytic carburettor that can split hydrogen from water and combust it immediately without any need for storage.
INSIDE REVELATIONS ON THE UFO COVER-UP
By Richard Boylan. In this interview, Dr Michael Wolf, a scientist who has worked in highly classified projects, makes startling disclosures about the US Government's agenda on UFOs and ETs.
THE TWILIGHT ZONE
Strange tales from around/within/beyond the world. Featured here is an interview with documentary film-maker Boris Said about the secret tunnels, and the politics, of the Giza Plateau in Egypt.
MEN IN BLACK: A CLOSE ENCOUNTER Part 2/2
By Albert K. Bender. We conclude our coverage of this pioneering ufologist's 1953 encounter with aliens who transported him to their Antarctic base and revealed fascinating details about their mission.
REVIEWS Books
"Cannibals, Cows & the CJD Catastrophe" by Jennifer Cooke
"Hitler and His Secret Partners" by James Pool
"Food Pets Die For" by Ann N. Martin
"Lost Science" by Gerry Vassilatos
"Eating with Conscience" by Dr Michael W. Fox
"The Water Wizard" edited by Callum Coats
"Voyages into the Unknown" by Bruce Moen
"Genetic Engineering: Dream or Nightmare?" by Dr Mae-Wan Ho
"The Spacing of Planets" by Alexander Alan Scarborough
"Summer with the Leprechauns" by Tanis Helliwell
"Ancient Micronesia & the Lost City of Nan Madol" by D. Childress
"Perpetual Motion: An Ancient Mystery Solved?" by John Collins
"The Magic Square of Three Crystal" by Arto Juhani Heino
"Bombs, Bliss & Baba" by Paul Narada Alister
"Black Helicopters II: The Endgame Strategy" by Jim Keith
REVIEWS Product
"MindLab Orion" from Lifetools
REVIEWS Audio
"Simple Magic" by Dee Rogers
"'"'r Mabinogi: Legends of the Celts" by Ceredwen
"Essence" by Peter Kater
"Dakar Heart" by Jimi Mbaye
"The Holy Spirit and The Holy Grail" by Adrian Wagner