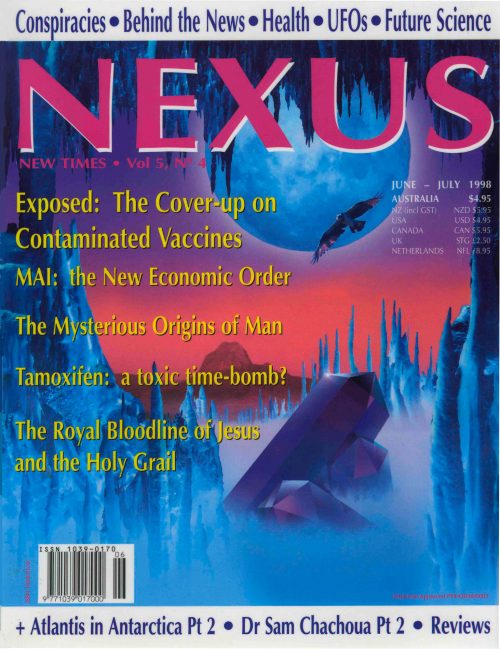 Volume 5, Number 4 – downloadable
$6.60
Volume 5, Number 4 complete issue downloadable pdf file.
Description
LETTERS TO THE EDITOR
GLOBAL NEWS
A round-up of the news you may have missed.
THE HIDDEN HISTORY OF JESUS Part 3/3
With Sir Laurence Gardner. The final part in this series considers the bloodline descendants of Jesus Christ and rise of the Grail courts against the backdrop of suppression by the Church of Rome.
VACCINE CONTAMINATION: Germ Warfare?
With Dr Leonard Horowitz, interviewed by Dr Roger Mazlen. For decades, health authorities have known that vaccines contain foreign viral contaminants, but have done little to remove them.
MAIGALOMANIA! THE MAI AGREEMENT Part 2/2
By Corporate Europe Observatory. This feature concludes with analysis of the corporate global investment agenda behind the MAI, and the citizens' campaigns that are exposing its flaws.
INDUCED REMISSION THERAPY Part 2/2
By Dr Sam Chachoua. Applying the "nemesis" theory that for every disease there is an antidisease organism, this maverick doctor has developed compounds that can cure AIDS and cancer.
TAMOXIFEN: A MAJOR MEDICAL MISTAKE?
By Sherrill Sellman. The synthetic hormone-like drug Tamoxifen may be having limited success against breast cancer recurrence, but it is already proving to have life-threatening, toxic side-effects.
SCIENCE NEWS
Interesting news and views from the underground science network. In this issue, Martin Gottschall describes a thermal converter that has exciting potential for the unlimited recycling of heat energy.
ATLANTIS IN ANTARCTICA? Part 2/2
With Rand Flem-Ath. In concluding his lecture on Antarctica being the lost continent of Atlantis, this research librarian discusses crustal shifts, Great Flood legends and the origins of agriculture.
THE TWILIGHT ZONE
Strange tales from around/within/beyond the world. This issue, we report on the controversy over the Martian landscape anomalies, and the Vatican's interest in the implications of extraterrestrial contact.
THE MYSTERIOUS ORIGINS OF MAN
By Michael Cremo. Darwinian dogma has been challenged by the discovery of artefacts in ancient rock strata and the suggestion that humans may have been on Earth many millions of years ago.
REVIEWS Books
"Hidden Agendas" by John Pilger
"Mad Cow USA" by Sheldon Rampton and John Stauber
"The Earth's Shifting Axis" by Mac B. Strain
"Gods of Eden" by Andrew Collins
"Vaccination Roulette" from Australian Vaccination Network
"The Second Messiah" by Christopher Knight and Robert Lomas
"Can Bacteria Cause Cancer?" by David J. Hess
"The Case for The Face" edited by S. McDaniel and M. Rix Paxson
"The Keys to the Temple" by David Furlong
"Bringing the War Home" by William Thomas
"Milk: The Deadly Poison" by Robert Cohen
"The Mystery of Easter Island" by Katherine Routledge
"The Sirius Mystery" by Robert Temple
"Kombucha Tea For Your Health…" by Alick and Mari Bartholomew
REVIEWS Videos
"Lethal Medicine"
"Vaccination: The Hidden Truth"
"High Strange New Mexico"
REVIEWS Audio
"Emer Kenny" (self-titled)
"Caf'é Paradiso" by Steve Erquiaga
"The Music of Islam" (compilation)
"Chakradancer" by Brainscapes
"Stormbird" by Matthew Doyle and Tony Lewis