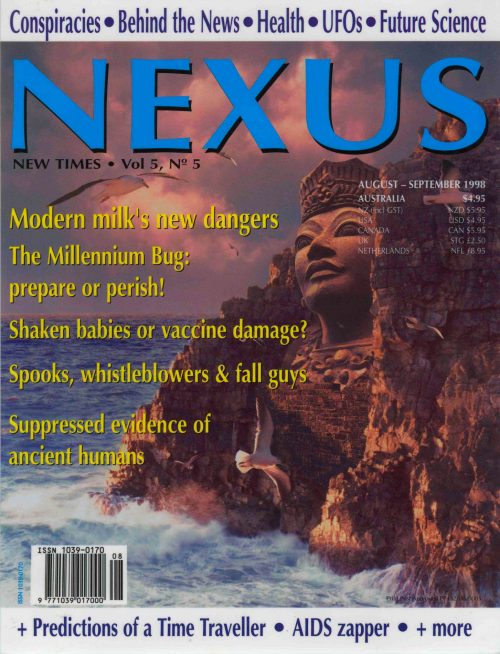 Volume 5, Number 5 – downloadable
$6.60
Volume 5, Number 5 complete issue downloadable pdf file.
Description
LETTERS TO THE EDITOR
GLOBAL NEWS
A round-up of the news you may have missed.
THE MILLENNIUM BUG: IS THERE A CURE?
By Peter Montague, and also with Alan Simpson. Governments, utilities and businesses are not only grossly underprepared for the Y2K problem, they have no crisis plan for the effects of imminent meteorite showers and the 1999 "solar max" event.
SPOOKS, WHISTLEBLOWERS & FALL GUYS
By Uri Dowbenko. The first of a two-part interview with the whistleblowers' whistleblower, Rodney Stich, on US state-sponsored terrorism and drugrunning, institutional and corporate corruption, and the informants who want the truth to come out.
THE HEALTH DANGERS OF DAIRY PRODUCTS
With Robert Cohen. Powerful interests insist that cow's milk is good for us, despite contrary medical evidence and, in the US, the addition of antibiotics and untested, engineered hormones.
SHAKEN BABIES: THE VACCINATION LINK
By Dr Viera Scheibner. Parents and care-givers are increasingly being accused of causing shaking injuries to infants, when evidence suggests such injuries can also be the result of vaccine damage.
THE BECK ZAPPER: NEW HOPE AGAINST AIDS
By Dr Robert Beck. An electromedical device that's cheap and easy to build is reported to have a high success rate in neutralising HIV and eliminating a host of disease-causing microbes.
SCIENCE NEWS
Interesting news and views from the underground science network. Here, Barry Hilton describes Joe X's revolutionary fuel cells that can power a car by seemingly extracting energy from the ether.
SUPPRESSED EVIDENCE FOR ANCIENT MAN
By Dr Virginia Steen-McIntyre. Proof that humans hunted mammoth in Mexico 250,000 years ago has been buried by establishment scientists with their ossified theories on the peopling of the Americas.
THE TWILIGHT ZONE
Strange tales from around/within/beyond the world. This issue, we report on an alleged time traveller who has provided US talkshow host Art Bell with some intriguing headlines from the near future.
UFOs & EBEs: MORE INSIDER EVIDENCE
By Linda Moulton Howe. A former US Army Signal Corps and CIA officer who toured Area 51 in 1958 is the latest ex-insider to divulge details on what the government is hiding about UFOs and alien races.
REVIEWS Books
"Damanhur: The Real Dream" by Jeff Merrifield
"Glimpses of Other Realities" by Linda Moulton Howe
"The Perils of Progress" by John Ashton and Ron Laura
"Atlantis in America" by Ivar Zapp and George Erikson
"Letter to Earth" by Elia Wise
"Northumberland Dreaming" by Mary Rhees Merker
"Flying Saucers Over Los Angeles" by Dewayne B. Johnson
"Remarkable Healings" by Shakuntala Modi, MD
"Faces of the Visitors" by Kevin Randle and Russ Estes
"Technology's Curse: Diet for the Atomic Age" by Sara Shannon
"Thoth: Architect of the Universe" by R. Ellis
"The Hidden Maya" by Martin Brennan
"Breaking the Sound Barrier of Human Energy…" by John O'Neill
"Pre-Tasman Explorers" by Ross Wiseman
REVIEWS Videos
"Holes in Heaven? HAARP & Advances in Tesla Technology"
"Remembering the End of the World"
"The Money Masters"
REVIEWS Product
"Air Supply Personal Air Purifier"
REVIEWS Audio
"Bothy Culture" by Martyn Bennett
"Dance in the Fire" by Paul Cheneour and Dilly Meah
"Sura" by Chlo'‰ Goodchild
"Benediction Moon" by Pia
"Cosmic Tree" by Yulara