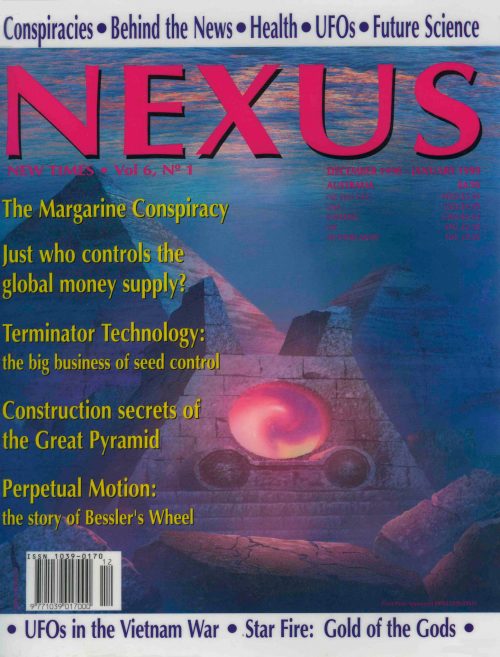 Volume 6, Number 1 – downloadable
$6.60
Volume 6, Number 1 complete issue downloadable pdf file.
Description
LETTERS TO THE EDITOR
GLOBAL NEWS
This issue, our round-up of the news includes an expos'é of a troublesome and persistent class of water pollutant: pharmaceutical drugs.
CENTRAL BANKING Part 1/2
From "The Money Masters". Whoever controls the money supply controls governments and the people. These last few centuries, that control has been exerted by privately owned central banks.
THE OILING OF AMERICA Part 1/2
By Mary G. Enig and Sally Fallon. The massive rise in heart disease in the US may be due to people consuming more foods high in hydrogenated vegetable oils, in response to campaigns promoting their benefits over animal fats.
TERMINATOR TECHNOLOGY
By Martha L. Crouch. A patented but untested genetic engineering technique for killing secondgeneration seeds has serious implications for human health and the survival of ecosystems.
STAR FIRE: THE GOLD OF THE GODS Part 2/3
By Sir Laurence Gardner. With the departure of the Anunnaki 'gods', the Sumerian Master Craftsmen created a Star Fire substitute: a mystical bread made from the alchemical white powder of gold.
BUILDING THE GREAT PYRAMID AT GIZEH
An interview with Richard Noone by Alex Horvat. According to this theory on how the Great Pyramid was built, a pump system was incorporated into the structure, and water and chemical power were used to raise the massive blocks to higher levels.
SCIENCE NEWS
Interesting news/views from the underground science network. Here, we reprint Frank Prentice's 1923 patent for electrical power accumulators that can tap directly into Earth energy.
PERPETUAL MOTION: BESSLER's WHEEL
By John Collins. Amidst the heated debate over perpetual motion in the early 1700s, the successful demonstration of a gravity-propelled wheel caused huge controversy for its inventor, Johann Bessler.
THE TWILIGHT ZONE
Strange tales from around/within/beyond the world. This issue, former NASA astronaut Edgar Mitchell speaks out on ETs, Richard Boylan reports on monoliths and a secret space station in orbit, and Spain's Air Force declassifies its UFO files.
MILITARY/ET CONTACT IN VIETNAM WAR
By Linda Moulton Howe. A retired US Army Special Forces officer tells of a close encounter with humanoid aliens and with the MJ-12 and CIA while on secret assignment in Cambodia.
REVIEWS Books
"The Forgotten Monarchy of Scotland" by Prince Michael of Albany
"Time Travelers From Our Future" by Dr Bruce Goldberg
"The Head of God: Lost Treasure of the Templars" by Keith Laidler
"Too Much Medicine?" by Ray Moynihan
"Free Energy Pioneer: John Worrell Keely" by Theo Paijmans
"The Chinese Roswell" by Hartwig Hausdorf
"The Manipulators" by Jeffrey Robinson
"Altered Genes: The Debate" edited by Richard Hindmarsh et al.
"The Seventh Millennium" by John F. Ashton, PhD
"Scorched Earth" by William Thomas
"The Cosmic Game" by Stanislav Grof
"The Harmonic Conquest of Space" by Bruce Cathie (new edition)
"Mapping the Millennium" by Terry M. Boardman
"Science versus Truth" by Cameron Horn
"It's Not Too Late" by Hamish Miller
REVIEWS Videos
"Merkabah: Voyage of a Star Seed" by J. J. Hurtak & J.-L. Bozzoli
"UFOs: The Footage Archives" by 2000 Film Productions
REVIEWS Audio
"Environment" by Vulcan's Child
"Venus, Sculptress of Love" by Raymond Oliver & Ray Vanderby
"Journey Between" by Baka Beyond
"Afro-Latino" by various artists
"Ceremonies" by Armen Chakmakian