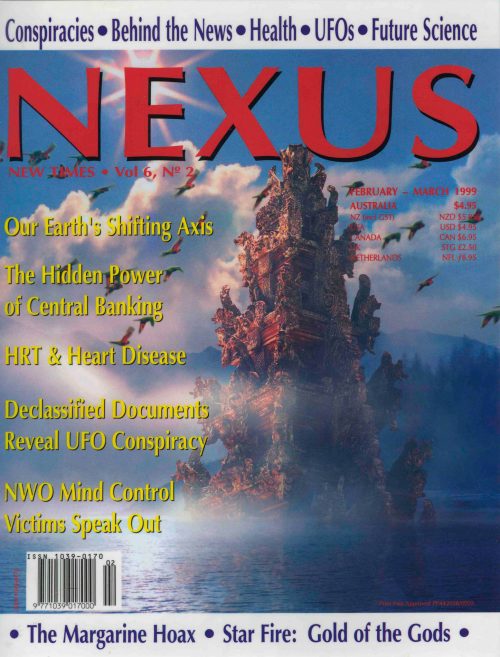 Volume 6, Number 2 – downloadable
$6.60
Volume 6, Number 2 complete issue downloadable pdf file.
Description
LETTERS TO THE EDITOR
GLOBAL NEWS
This issue, our news round-up includes a rundown on Y2K computer failure predictions plus an item about a Swiss scientist who is now legally allowed to speak out on the dangers of microwaved food.
CENTRAL BANKING Part 2/2
From 'The Money Masters'. By the early 1800s, the Rothschild family and its allies, using fractional reserve banking practices, had begun to dominate the central banks in the UK, USA and France.
HRT: THE LINK TO HEART DISEASE & STROKE
By Sherrill Sellman. Contrary to mainstream medical opinion that HRT can prevent cardiovascular disease in menopausal women, synthetic hormonal drugs are increasingly implicated as a cause of heart attacks, strokes and blood clots.
MIND CONTROL SLAVERY & THE NWO
By Uri Dowbenko. Deprogrammed MKULTRA and Monarch mind-control victims are 'coming out' to tell of their horrific ordeals as high-tech slaves to top-ranking New World Order politicians. Their experiences, if true, have disturbing implications.
THE OILING OF AMERICA Part 2/2
By Mary G. Enig and Sally Fallon. For many years, maverick scientists have been warning of the health dangers from consuming partially hydrogenated vegetable oils, but this hasn't stopped the food corporations and authorities from promoting them.
THE HAMMER AND THE PENDULUM Part 1/2
By Richard W. Noone. The most feasible theories attempting to explain our planet's geological record seem to be advances on Prof. Charles Hapgood's thesis on the Earth's shifting crust, and are based on models of catastrophism, not uniformitarianism.
SCIENCE NEWS
Interesting news/views from the underground science network. This issue we feature Howard Johnson's motor powered by permanent magnets, patented in 1979 as a perpetual motion device.
STAR FIRE: THE GOLD OF THE GODS Part 3/3
By Sir Laurence Gardner. The discovery of a secret temple laboratory in the Sinai Peninsula proved that the Egyptian Pharaohs continued the Anunnaki Star Fire tradition through eighteen dynasties.
THE TWILIGHT ZONE
Here we report on newly released, once Top Secret documents that refer to the 1947 recovery of crashed UFOs and ETs in New Mexico and the creation of MajesticŠ—–12 to manage the cover-up. If authentic, they confirm a vast military/industrial secret agenda involving applications of alien know-how in new technology, genetics, drugs and bioweaponry.
REVIEWS Books
"Everything is Under Control" by Robert Anton Wilson
"Voyage Beyond Doubt" by Bruce Moen
"Nature as Teacher" by Viktor Schauberger, edited by Callum Coats
"The Montauk Files" by K. B. Wells, Jr
"The Last Pope: The Prophecies of St Malachy…" by John Hogue
"Kundalini Tales" by Richard Sauder, PhD
"Quest for Truth" sourced by Darryl Anka, edited by Steve Meyers
"Conversations with Animals" by Lydia Hiby with Bonnie Weintraub
"Day of Destiny…August 13, 1999" by John Mini
"The Gods, Gemini, and the Great Pyramid" by James Bowles
"The Vedic Prophecies" by Stephen Knapp
"The Ultimate Time Machine" by Joseph McMoneagle
"Dark Moon" by Mary Bennett and David S. Percy
"The Devil's Rainbow" by Jean R. Williams
"The Gate of Paradise: Secrets of Andean Shamanism" by Chamal'_
REVIEWS Product
"The Quantronic Resonance System"
REVIEWS Audio
"Ankh: The Sound of Ancient Egypt" by Michael Atherton
"Naked Waters" by Cathie Malach and Kim Rosen
"Riptide" by Anam
"Mambo Yo Yo" by Ricardo Lemvo and Makina Loca
"Circle" by Harvey Summers