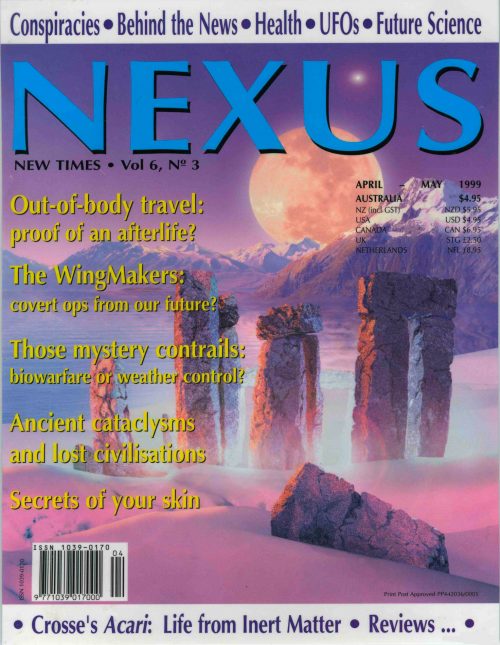 Volume 6, Number 3 – downloadable
$6.60
Volume 6, Number 3 complete issue downloadable pdf file.
Description
LETTERS TO THE EDITOR
GLOBAL NEWS
Our news round-up this issue includes the "ten worst corporations" of 1998, privacy fears over the Pentium III chip, and the discovery of a submerged continent far off the southwest of Australia.
DEBRIEFINGS
More news behind the news. This issue we cover weather manipulation, NWO mind-control slavery, alleged US Navy assassin programs, the latest genetic food scare, and La Ni'±a's global extremes.
'CHEMTRAILS': POISON FROM THE SKY
By William Thomas. Contrails made by US Air Force aircraft tankers have been criss-crossing US skies for the last two years and have coincided with mysterious respiratory disease outbreaks. Are they part of a biowarfare or weather-control experiment?
FOOD FOR THE SKIN: AN ABSORBING REPORT
By Maurice J. Czarniak. This pharmacist's passion for food and biochemistry inspired him to develop a series of skin-repair formulas comprising allnatural ingredients including fresh eggs.
THE HAMMER AND THE PENDULUM Part 2/2
By Richard W. Noone. The author of 5/5/2000 concludes his analysis of two exciting geological theories that consider the forces that have caused catastrophes and destroyed civilisations in our ancient past as they will do in the future.
THE WINGMAKERS' TIME CAPSULE
From the WingMakers website. An anonymous secret -agency defector claims that strange chambers and artifacts found in a remote New Mexico canyon are the work of the WingMakers , travellers from our future. Truth or elaborate hoax?
NEW SCIENCE NEWS
Fascinating news/views from the underground science network. This issue we feature John Mount's report on a curious electrical phenomenon first observed by Andrew Crosse in 1836, whereby life-forms are created out of non-living matter.
A VOYAGE TO AFTERLIFE KNOWLEDGE
By Bruce Moen. With a little help from Robert Monroe's techniques in out-of-body travelling, this author found proof that other realms exist beyond our three-dimensional physical reality, and that consciousness continues after death.
THE TWILIGHT ZONE
Strange tales from around/within/beyond the world. Here we report on author Victor Hugo's seances with aliens in the 1850s, President Carter's 1969
UFO sighting, hauntings at a UK spy headquarters, and UFO encounters by British police officers.
REVIEWS Books
"Nuclear Transmutation" by Tadahiko Mizuno
"Genesis of the Grail Kings" by Laurence Gardner
"The Age of Spiritual Machines" by Ray Kurzweil
"Family of Light" by Barbara Marciniak
"Project Mindshift" by Michael Mannion
"Martian Genesis" by Herbie Brennan
"The Symbiotic Planet" by Lynn Margulis
"Jesus the Master Builder" by Gordon Strachan
"The Aliens and the Scalpel" by Dr Roger K. Leir, DPM
"Remote Perceptions" by Angela Thompson Smith
"The Fifth Revelation" compiled by Kelly Elstrott
"Keepers of the Ancient Knowledge" by Joan Parisi Wilcox
"Uninformed Consent" by Dr Hal Huggins & Dr Thomas Levy
"Lost Continents & the Hollow Earth" by D.H. Childress & R. Shaver
"The Divine Spark of Creation" by Kathleen Murray
REVIEWS Videos
"Earth Under Fire" with Dr Paul A. LaViolette & Johanna Lambert
"UFOs: The Film Archives,1993-1995" from 2000 Film Productions
REVIEWS Audio
"Conversations with God: Disc 2" by collected artists
"Crescent Moon" by Omar Faruk Tebilek
"Kokoro: Spirit of the Heart" by Fay Goodman
"Khepera" by Randy Weston
"Supralingua" by Mickey Hart and Planet Drum