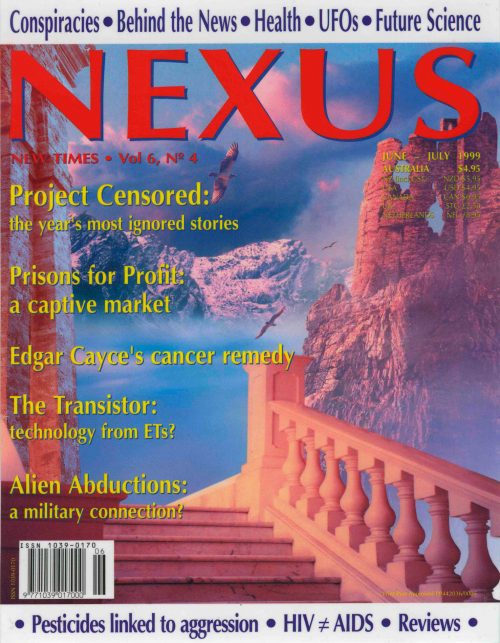 Volume 6, Number 4 – downloadable
$6.60
Volume 6, Number 4 complete issue downloadable pdf file.
Description
LETTERS TO THE EDITOR
GLOBAL NEWS
In our news round-up we look at the link that's now established between the solar cycle and the Earth's changing climate, and at the evidence implicating pesticides in child hyperactivity.
PROJECT CENSORED: NEWS THAT's NOT NEWS
From Project Censored. Panellists have selected the top 25 news stories from 1998 that demanded better media coverage, including the MAI and new diseases resulting from gene technology transfer.
THE PRISON INDUSTRIAL COMPLEX
By Eve Goldberg and Linda Evans. Private and state-run prisons, and the enterprises set up within them, are making a fortune exploiting cheap labour provided by prisoners, most of whom are victims of the phony War on Drugs and have few rights.
THE YIN & YANG OF HIV Part 1/3
By Valendar F. Turner and Andrew McIntyre. For the last 10 years the "HIV causes AIDS" hypothesis has been known to be flawed, yet the AIDS establishment still rejects plausible alternative theories that are supported by scientific evidence.
THE UNIFIED THEORY OF MATTER
By Samuel P. Costin. According to this theory, matter consists of spinning particles of the same size, whose spin velocity dictates the state of matter that the particles take. Moreover, spin may explain forces like electricity, magnetism and gravity.
EDGAR CAYCE's CANCER REMEDY
By Phil Thomas. In his readings, American psychic Edgar Cayce referred to Animated Ash having promise in fighting cancer. Now, a lone bioenergetics researcher has produced an ash based on Cayce's advice and is putting it to the test.
NEW SCIENCE NEWS
This issue, we report on the Aether as life energy waves, and new digital technology utilising pulsed ultra-wide-band radio waves for communication.
REVERSE-ENGINEERING UFO TECHNOLOGY
With Jack Shulman. The head of American Computer Company explains why the transistor could have been developed from Roswell alien technology, and tells what happened when he found out about a super-secret Sky Station in orbit.
THE TWILIGHT ZONE
Strange tales from around/within/beyond the world. Futurist Gordon-Michael Scallion talks to radio host Art Bell about solar flares due to hit Earth before the Y2K bug, the expected magnetic pole shifts, and the secret purpose of the Great Pyramid in Egypt.
MILITARY MIND CONTROL & ABDUCTIONS
By Helmut Lammer, PhD. Many people claiming to have been abducted by aliens also report the presence of military personnel during their abduction ordeals.
REVIEWS Books
"How to Survive the Y2K Crisis in Australia" by Chris Gilbey
"The Conspiracy Reader" compiled by Al Hidell and Joan d'Arc
"Suppressed Inventions & Other Discoveries" edited by Jon Eisen
"The Secret Zodiacs of Washington DC" by David Ovason
"Jesus, Last of the Pharaohs" by Ralph Ellis
"Bridge to Superconsciousness" by Rick Prater
"The Lost Treasure of the Knights Templar" by Steven Mora
"Atlantis: Mother of Empires" by Robert B. Stacy-Judd
"Cosmic Journeys" by Rosalind A. McKnight
"Changing Habits, Changing Lives" by Cyndi O'Meara
"The Paradise Conspiracy II: The Coverup Exposed" by Ian Wishart
"Healing Codes for the Biological Apocalypse" by Horowitz/Barber
"Saucers of the Illuminati" by Jim Keith
"Etidorhpa, or The End of Earth" by John Uri Lloyd
"The Mind Controllers" by Dr Armen Victorian
"Confessions of an Intergalactic Anthropologist" by Marcia Schafer
"Healing the Heart of the Earth" by Marko Pogacnik
REVIEWS Audio
"Maiden of Mysteries" with The Taliesin Orchestra
"Baaba Maal Live at Festival Hall" with Baaba Maal
"A Gift of Love" with Deepak and Friends
"Celtic Solstice" with Paul Winter and Friends
"Womad 99: Southern Hemisphere" with selected artists