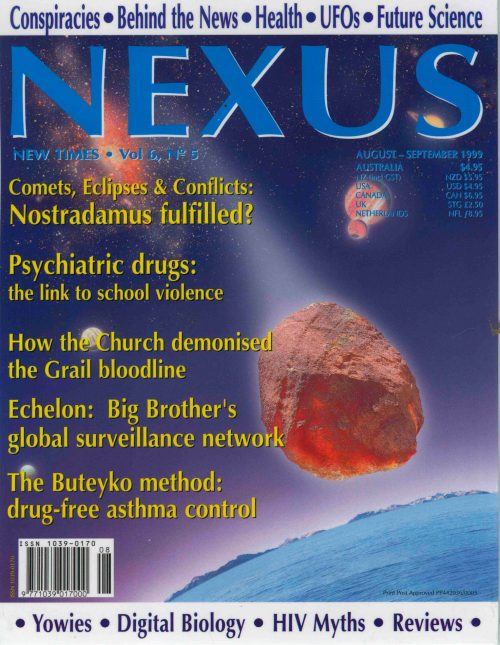 Volume 6, Number 5 – downloadable
$6.60
Volume 6, Number 5 complete issue downloadable pdf file.
Description
LETTERS TO THE EDITOR
GLOBAL NEWS
Our news highlights this issue cover the still-secret UKUSA agreement, Monsanto's plans to control water resources, and US Government moves to outsource training of Third World armies.
COMET LEE: THE NOSTRADAMUS COMET?
From Col. James B. Ervin & The Millennium Group. If the August 1999 solar eclipse and Grand Cross weren't enough to prepare for, now there's a wildcard comet heading our way. Is Comet Lee the "King of terror" that Nostradamus prophesied?
THE ECHELON SPYING NETWORK Part 1/2
By Patrick S. Poole. With the ultra-high-tech ECHELON global electronic surveillance system in place, no phone, fax or e-mail communication is safe from the US National Security Agency, prime mover in the secret 1948 UKUSA agreement.
SCHOOL VIOLENCE & PSYCHIATRIC DRUGS
By Jon Rappoport. Drugs like Prozac and Ritalin are known to cause violent behaviour but are increasingly being prescribed to children. These drugs are implicated in recent US school shootings, but why are the media ignoring this link?
THE BUTEYKO METHOD FOR ASTHMA
By Dr Paul J. Ameisen. This simple breathing technique, developed in Russia in the late 1950s, continues to help people control, if not cure, asthma and related illnesses without drugs.
THE YIN & YANG OF HIV Part 2/3
By Valendar F. Turner and Andrew McIntyre. Conventional HIV theory, diagnosis and drug treatment are under siege by dissident scientists who suggest that the so-called purified virus is nothing more than a tangle of cellular debris.
SCIENCE NEWS
French scientist Dr Jacques Benveniste explains his revolutionary experiments in which biomolecular signals are recorded, digitised and transmitted.
IN THE REALM OF THE RING LORDS Part 1/2
With Sir Laurence Gardner. The Church persecuted the Grail Bloodline heirs and dissenters to maintain its power, and subverted the stories that would keep the Grail legacy alive in people's hearts.
THE TWILIGHT ZONE
In this issue, an Italian WWII veteran speaks out on foo fighters, a consciousness institute calls for participants in an online OOBE survey, and ufologist Nick Redfern suggests the British Official Secrets Act is used to stymie UFO investigations.
UNDERSTANDING THE YOWIE PHENOMENON
By Gary Opit. If bellowing calls, huge footprints and mutilated prey are any evidence, Australia's dense forests may be home to two cryptic primates: the Yowie and its smaller relative, the Junjadee.
REVIEWS Books
"Net Spies" by Andrew Gauntlett
"The Atlantis Enigma" by Herbie Brennan
"Old Souls" by Tom Shroder
"Your Health at Risk" by Toni Jeffreys, PhD
"Alien Investigator" by Tony Dodd
"The Key to Gabriel" by Coby Zvikler
"Inside the Gemstone File" by Kenn Thomas & David H. Childress
"Healing Disease with Rebirthing" by Pauline Avis & David McNab
"Reaching for Reality" by Constance Clear, MA, MSW
"The Plague Makers" by Wendy Barnaby
"The Mother Link" by Cassandra Eason
"The Rhythms of Nature: Volume I" by Brian David Andersen
"MILABS" by Dr Helmut Lammer & Marion Lammer
"Healing: Doorway to the Spiritual World" by D.A. McDowall, DC
REVIEWS Videos
The 1999 NEXUS Conference Videos: Dr Paul Ameisen, Professor
John Frodsham, Sir Laurence Gardner, Chris Gilbey, Barry Hilton,
Dr James Hurtak, Johanna Lambert, Bruce Moen, Graham Strachan.
REVIEWS Audio
"New Ancient Strings" by Toumani Diabete with Ballake Sissoko
"Remember Shakti Š—– Live in Concert"
"Birth of a River" by Paul Reisler & Bobby Read
"A Mediterranean Odyssey" by various artists
"Genesis of the Grail Kings" by Adrian Wagner