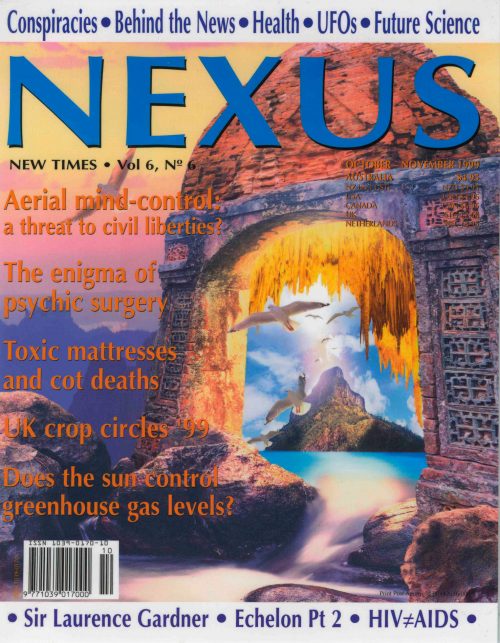 Volume 6, Number 6 – downloadable
$6.60
Volume 6, Number 6 complete issue downloadable pdf file.
Description
LETTERS TO THE EDITOR
GLOBAL NEWS
Our round-up this issue includes news on the politics of genetically engineered food, and the solar wind as the cause of the ozone holes.
DEBRIEFINGS: NEWS BEHIND THE HEADLINES
In this issue's deBriefings we feature Piers Corbyn's solar-based theory of global warming, and Jim Sprott's research into cot death (SIDS) caused by outgassing from toxic bedding.
ECHELON: NSA's SPYING NETWORK Part 2/2
By Patrick S. Poole. The US National Security Agency uses the ECHELON global surveillance system to keep tabs on civilians and politicians as well as on foreign competitors of US corporations.
THE ENIGMA OF PSYCHIC SURGERY
By Harvey Martin. Despite attempts to outlaw it, Filipino psychic surgery continues to attract patients from around the world. Its practitioners claim they perform their miraculous operations through the intercession of Spirit Protectors.
AERIAL MIND-CONTROL BROADCASTS
By Judy Wall. Broadcasts of subliminal radio-frequency messages from aircraft have been part of US military PsyOps since the early 1980s. With today's satellite and HAARP capabilities, will such broadcasts be directed against vast populations?
THE YIN & YANG OF HIV Part 3/3
By Valendar F. Turner and Andrew McIntyre. Conventional HIV theory, diagnosis and drug treatment are under siege by dissident scientists who suggest that the so-called purified virus is nothing more than a tangle of cellular debris.
IN THE REALM OF THE RING LORDS Part 2/2
With Sir Laurence Gardner. To maintain its power, the Church persecuted the Grail Bloodline heirs and dissenters, banned their ancient musical scales and subverted their histories.
SCIENCE NEWS
This issue we highlight a report by Robert Nelson of Rex Research, looking at experiments conducted in the mid-1920s to transmute mercury into gold.
UK CROP CIRCLES OF 1999
Introduction by Andy Thomas. The recent UK crop circle season produced plenty of surprising designs as well as exciting developments on familiar themes, as revealed in our pick of the photographs.
THE TWILIGHT ZONE
A recently published UFO report, prepared by an independent group at France's Institute of Higher Studies for National Defence, gives serious attention to the question: "What must we be prepared for?"
REVIEWSBooks
"Voices of the Rocks" by Robert M. Schoch, PhD, with R.A. McNally
"Biohazard" by Ken Alibek with Stephen Handelman
"Voyages into the Afterlife" by Bruce Moen
"Australian Bush Flower Healing" by Ian White
"Uriel's Machine" by Christopher Knight and Robert Lomas
"Summoned: Encounters with Alien Intelligence" by Dana Redfield
"Blood on the Mountain" by Richard Andrews
"The Time Travel Handbook" edited by David Hatcher Childress
"Israel Betrayed" by Barry Chamish
"Born Many Times" by George McMullen
"The Cosmic Matrix" by Leonard G. Cramp
"Victoria Police Corruption, Books 1 & 2" by Raymond Hoser
"Anti-Aging Manual" by Joseph B. Marion
"Elements of Danger" by Dr Morton Walker with Dr Victor Zeines
REVIEWS Videos
"Crop Circle Update 1999"
"UFOs: The Footage Archives Š—– Part 4: 1996Š—–1998"
"Giving Birth: Challenges & Choices"
REVIEWS Music
"Dawn of a New Century" by Secret Garden
"Awakenings" by Tony O'Connor
"Ngaio Gamelan" by David Parsons
"Niafunk'é" by Ali Farka Toure
"Coloured Wings" by Jaya