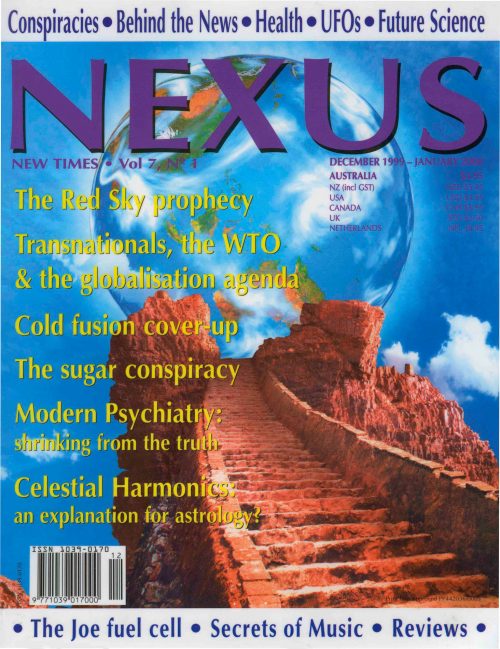 Volume 7, Number 1 – downloadable
$6.60
Volume 7, Number 1 complete issue downloadable pdf file.
Description
LETTERS TO THE EDITOR
GLOBAL NEWS
Our round-up includes revelations about food chain violations in Europe, and recent findings about the erratic behaviour of El Ni'±o since 1976.
THE WTO 'MILLENNIUM BUG' Part 1/2
By Corporate Europe Observatory. Transnational corporations, in collusion with economic power blocs, are using the World Trade Organization to gain control over less-industrialised nations.
REFINED SUGAR: THE SWEETEST POISON
By William Dufty. The consumption of refined sugar, or sucrose, could be a primary cause of many physical and mental ailments due to its leaching of the body's nutrients.
PSYCHIATRY: SHRINKING FROM THE TRUTH
By Rochelle Macredie. Psychiatry and psychology, whether employing shock therapy, psychotropic drugs or psychotherapy, have had questionable success in curing or treating mental illness, yet these professions continue to enjoy high status.
HIDDEN ELEMENTS IN MUSIC & SOUND
By Chev. Adrian Wagner. The Western musical tradition was not sourced from the Greeks and Romans but, rather, it evolved from much older influences in ancient Sumer, Babylon and Egypt.
THE JOE FUEL CELL: AN ORGONE TRAP?
By Alex Schiffer. Believed to trap Orgone or life-force energy, the so-called "Joe cell" is being used to power car engines and has the potential to revolutionise energy-generation systems.
NEO-ASTROLOGY
By Anthony Craig. Statistical evidence for the harmonic influence of the planets on 'body' and 'character' types is allowing astrology to be reassessed in a new scientific light.
SCIENCE NEWS
Samuel Costin explains how his Unified Theory of Matter can be applied to electricity; and Hal Fox describes successes with new-energy experiments and the background to the cold fusion cover-up.
NIGHT OF THE RED SKY
By Tom Brown, Jr. In the 1920s, an Apache wise man had a stream of prophetic visions that foretold the demise of humanity unless we changed our ways. Two of these visions seem to have come true.
THE TWILIGHT ZONE
Paola Harris interviews former US Army intelligence operative Sgt Clifford Stone about his involvement with retrievals of crashed UFOs and his knowledge of the military's interactions with alien races.
REVIEWSBooks
"Experimenter's Guide to the Joe Cell" by Alex Schiffer
"The Stargate Conspiracy" by Lynn Picknett and Clive Prince
"Biopiracy" by Vandana Shiva
"The Copper Scroll Decoded" by Robert Feather
"Healers and Healing" by Roy Stemman
"Liquid Conspiracy" by George Piccard
"Breathing Free" by Teresa Hale
"Ancient Energies of the Earth" by David Cowan with Anne Silk
"The Indigo Children" by Lee Carroll and Jan Tober
"Hollow Planets" by Jan Lamprecht
"Remote Viewing" by Tim Rifat
"Giza: The Truth" by Ian Lawton and Chris Ogilvie-Herald
"Cosmic Crashes" by Nicholas Redfern
"The Monkey and the Tetrahedron" by David M. Jinks
"The Secret Teachings of the Espiritistas" by Harvey Martin
REVIEWS Product
"CellSensor" Cellular Phone/EMF Meter from TecHealth Corp.
REVIEWS Audiotapes
"The Mystical Measurement of the Great Pyramids" by Isar Gregor
REVIEWS Music
"Seventh Heaven" by Ian Cameron Smith
"Moonsung" by Sheila Chandra
"A Wish" by Hamza El Din
"Africa North" by various artists
"Stars to Share" by Samite