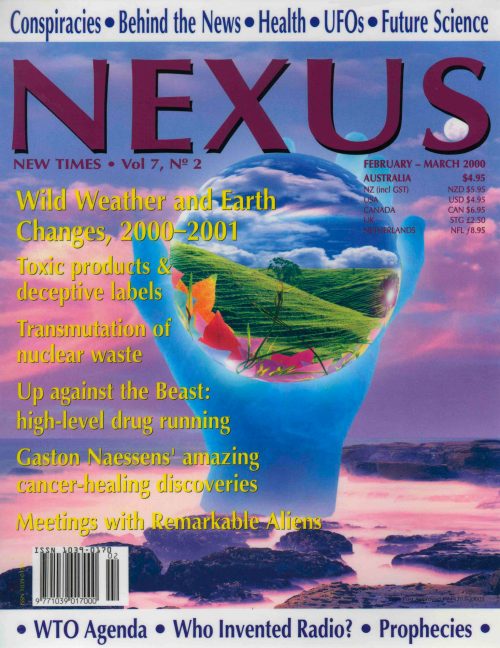 Volume 7, Number 2 – downloadable
$6.60
Volume 7, Number 2 complete issue downloadable pdf file.
Description
LETTERS TO THE EDITOR
GLOBAL NEWS
News you may have missed, including digitised drugs, satellite-trackable implants, ASIO privacy intrusions, the medicinal power of prayer, and the corporate politics of the Caspian oil pipeline.
DeBRIEFINGS
Peter Montague recaps the WTO agenda post-Seattle, and William Thomas reports on 'Chemtrail' sample analyses and alarming health side-effects.
WILD WEATHER FORECASTS, 2000Š—–2001
With Jennifer Lawson. This astrometeorologist predicts that, globally, the next two years will bring unprecedented storms, floods, quakes and volcanic eruptions, with May 2000 being of great concern.
THE WTO 'MILLENNIUM BUG' Part 2/2
By Corporate Europe Observatory contributors. The transnational globalisation agenda continues apace through the World Trade Organization, but citizens groups are forcing a change of strategy.
GASTON NAESSENS & THE SOMATID CYCLE
By Ralph W. Moss, PhD. Gaston Naessens's anti-cancer therapies, developed over the last 50 years, are based on his observations of the somatid cycle.
UP AGAINST THE BEAST Part 1/2
By Uri Dowbenko. High-level US intelligence personnel and politicians are named as drug-running conspirators in a damning lawsuit filed on behalf of imprisoned former Green Beret Bill Tyree.
TOXIC PRODUCTS, DECEPTIVE LABELS Part 1/2
By Nina Silver, PhD. Poisonous chemicals in everyday products are inadequately labelled as to their true chemical makeup and effects on health.
SCIENCE NEWS
Underground science investigator Robert Nelson reports on exciting research and techniques in transmuting radioactive material to make it safe.
THE INVENTION OF RADIO COMMUNICATION
By Phil Callahan, PhD. It was not Marconi or even Tesla who first discovered and demonstrated the wireless transmission of radio waves, but an American dentist, Mahlon Loomis, in the 1860s.
MEETINGS WITH REMARKABLE ALIENS
By Linda Moulton Howe. Unwilling abductee Jim Sparks claims to have had an in-the-flesh encounter with a group of advanced reptilian humanoids with an environmental awareness message for humanity.
THE TWILIGHT ZONE
This issue includes a report on advanced aerospace designs inspired by the crashed Roswell spacecraft, the UK 'D-notice' on 'black triangle' sightings, and 'End Times' prophecies from 7th-century Arabia.
REVIEWSBooks
"The Code Book: The Science of Secrecy…" by Simon Singh
"Crop Circles: Greatest Mystery of Modern Times" by Lucy Pringle
"Eden in the East" by Stephen Oppenheimer
"Prophecy & Prediction: Threat or Warning?" by Ronnie Burns
"Violent Weather Predictions 2000Š—–2001" by Jennifer Lawson
"Keepers of the Secrets" by Robert Siblerud
"Universe of Waves" by Ross Wiseman
"Not by Fire but by Ice" by Robert W. Felix
"The Christ Conspiracy: The Greatest Story Ever Sold" by Acharya S
"Astral Dynamics" by Robert Bruce
"Maury Island UFO: The Crisman Conspiracy" by Kenn Thomas
"The Atlantis Connection" by W. T. Samsel
"The Path of the Pole" by Charles Hapgood
"In the Domain of the Lake Monsters" by John Kirk
REVIEWS Videos
"Cancer: Truth or Consequences?" with Sifu Gregory James Crockett
REVIEWS CD-ROM
"Realm of the Holy Grail" by Laurence Gardner and Adrian Wagner
REVIEWS Music
"Celestial Mozart: For Relaxation" by Gerald Jay Markoe
"One Truth" by Omar Faruk Tekbilek
"Trip to the Sun" by Tracy Scott Silverman
"Cho Ku Rei" by Weave
"Routes: 20 Years of Essential Folk Roots & World Music"