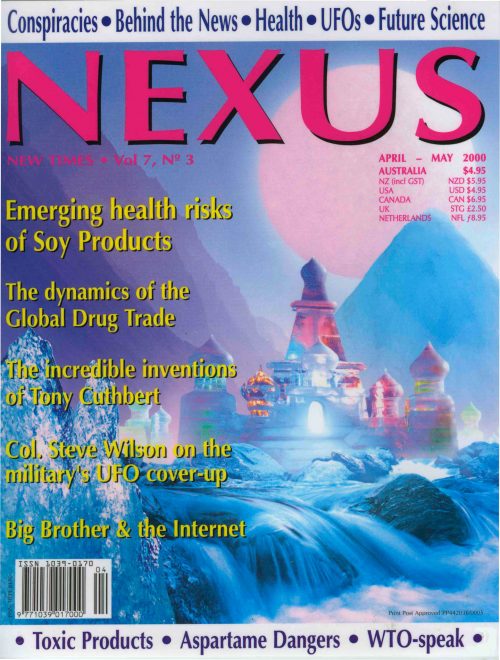 Volume 7, Number 3 – downloadable
$6.60
Volume 7, Number 3 complete issue downloadable pdf file.
Description
LETTERS TO THE EDITOR
Comments from readers on NEXUS-related topics.
GLOBAL NEWS
This issue we look at a secret report from the soft-drink industry on aspartame dangers' revelations that US Army PsyOps personnel have infiltrated CNN News' and new threats to Internet freedoms.
DeBRIEFINGS: BEHIND THE HEADLINES
Don Maisch reports on anomalies between Russian and Western EMF standards' Wayne Madsen discusses Internet disinformation; and Jim Puckett provides a WTO-speak dictionary for activists.
SOY PRODUCTS: TRAGEDY AND HYPE
By Sally Fallon and Mary Enig, PhD. Soy products are not a panacea for good health; rather, they contain antinutrients and toxins which inhibit the absorption of essential vitamins and minerals.
THE INTERNATIONAL DRUG COMPLEX Part 1/2
By Hans T. van der Veen. The so-called War on Drugs will never be won by strategies which, in effect, give incentives to illegal entrepreneurs to reorganise their activities and increase their profits.
TOXIC PRODUCTS, DECEPTIVE LABELS Part 2/2
By Nina Silver, PhD. We need to be aware of the poisonous chemicals that abound in common household products, and be informed of the safe alternatives that are readily accessible.
UP AGAINST THE BEAST Part 2/2
By Uri Dowbenko. According to a class action lawsuit, the US CIA and Department of Justice have collaborated in concealing the truth about government-sanctioned illicit drug running.
SCIENCE NEWS
From the underground science network. This issue, we resurrect Edwin V. Gray's EMA motor which taps static electricity and releases it on demand.
INCREDIBLE INVENTIONS OF TONY CUTHBERT
By Tony Edwards. A gifted, prolific inventor who happens to be seriously dyslexic, Tony Cuthbert has come up with inventions that can provide limitless, free energy and change the world for the better.
COL. STEVE WILSON, UFO WHISTLEBLOWER
By Richard Boylan, PhD. Before his death in 1997, Retired US Air Force Colonel Steve Wilson divulged incriminating details about the military's covert UFO retrieval and back-engineering programs.
THE TWILIGHT ZONE
This issue's coverage includes a report on 'pipelines' on Jupiter's moon Europa, and UFO sightings by Russian cosmonauts from the Mir space station.
Books
"Genetic Engineering, Food & Our Environment" by Luke Anderson
"The Inquisition" by Michael Baigent and Richard Leigh
"Mass Control: Engineering Human Consciousness" by Jim Keith
"Secret Chamber" by Robert Bauval
"Earth Rising" by Dr Nick Begich and James Roderick
"Gaia Matrix" by Peter Champoux and Friends
"Projections of the Consciousness" by Waldo Vieira, MD
"The Coincidence File" by Ken Anderson
"Progesterone: The Natural Hormone" by Kimberley Paterson
"The Magic of Our Universe" by Kent Davis Moberg
"What if Everything…about AIDS was Wrong?" by C. Maggiore
"The Lost Magic of Christianity" by Michael Poynder
"The Arch Conspirator" by Len Bracken
"Ley Lines: A Comprehensive Guide" by Danny Sullivan
"Gateway to Atlantis" by Andrew Collins
Videos
"UFO Abductions: A Global Phenomenon"
"UFOs: The Footage Archives Š—– Part 5: 1998-1999"
Music
"Flowing Harmonies" by Jaro*Kova
"East Wind" by Uttara-Kuru
"Phat Global #1" by various world music artists
"Bolivian Blues Bar" by Alex de Grassi
"All the Rivers Gold" by Terry Oldfield