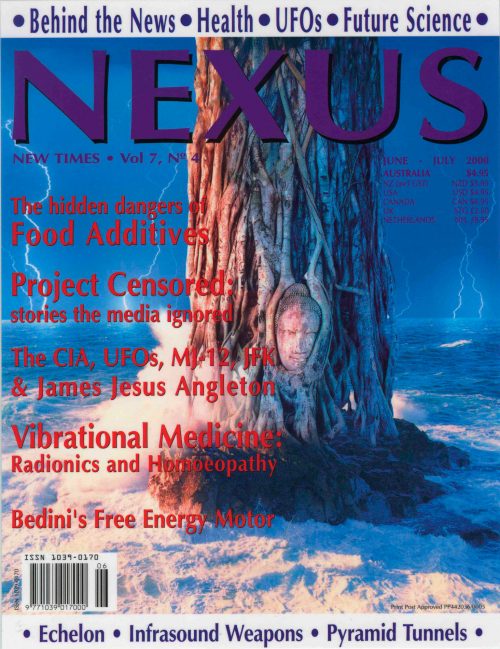 Volume 7, Number 4 – downloadable
$6.60
Volume 7, Number 4 complete issue downloadable pdf file.
Description
LETTERS TO THE EDITOR
Comments from readers on NEXUS-related topics.
GLOBAL NEWS
News and views, from the digital supervirus threat and MI5's new e-mail monitoring capability, to why a key Lockerbie witness can't testify.
DeBRIEFINGS: BEHIND THE HEADLINES
An update on drug pollutants in North American waters' Kenn Thomas on the connection between Echelon and the infamous PROMIS software; and new findings on the MMR vaccine's link to autism.
PROJECT CENSORED's 25 TOP NEWS STORIES
Compiled by the Project Censored team, this list of the most under-covered stories in the US last year includes the return of the "Star Wars" space weapon system, NATO's defence of corporate interests in the Balkans, and toxic racism in Louisiana.
THE INTERNATIONAL DRUG COMPLEX Part 2/2
By Hans T. van der Veen. Organised crime groups have globalised the illegal drug industry in cooperation with established power elites, while subverting political and economic structures and disempowering individuals, societies and nations.
EXCITOTOXIC FOOD ADDITIVES Part 1/2
By Dr Russell L. Blaylock. Evidence is growing that processed food additives like MSG and aspartame are "excitotoxins" which react with brain receptors, kill neurons and cause neurological disorders.
DR GAVREAU's INFRASONIC WEAPON
By Gerry Vassilatos. Dangerous infrasound can be generated by both natural phenomena and the built environment. In the late 1950s and 1960s, French robotics scientist Dr Vladimir Gavreau found a way to detect it, weaponise it and defend against it.
SWIMMING THROUGH THE ETHER
By Nick Franks. The vibrational healing techniques of radionics and homoeopathy can be better understood in terms of an esoteric scientific model which recognises the nature of nonmaterial reality.
SCIENCE NEWS
By John C. Bedini. US inventor John Bedini recently put plans for his free-energy motor on the Internet, after helping a 10-year-old schoolgirl win science awards for running the motor non-stop for four days.
THE CIA, MJ-12, JFK & JAMES JESUS ANGLETON
By Timothy S. Cooper. In his role as the CIA's Chief of Counterintelligence with an eye on the Soviets, James Jesus Angleton was privy to Top Secret/MJ-12 UFO data which President Kennedy tried hard to access before he was assassinated.
THE TWILIGHT ZONE
This issue we look at a B-29 gunner's version of the Roswell incident; an ancient city alleged to be beneath Death Valley, California; and the discovery of previously unknown chambers and a tunnel in Egypt's Meidum pyramid, built around 2600 BC.
Books
"The Toxic Playground" by Jo Immig
"Global Spin" by Sharon Beder
"Celtic Mysteries in New England" by P. Imbrogno and M. Horrigan
"The Tutankhamun Prophecies" by Maurice Cotterell
"Roswell 1947: 'I Was There'" by Robert J. Shirkey
"The Out-of-Body Experience" by Graham Dack
"Vaccination: The Right Choice?" by Maureen Hickman
"Magical and Mystical Sites" by Elizabeth Pepper and John Wilcock
"The Living Energy Universe" by Gary Schwartz and Linda Russek
"Cyberculture Counterconspiracy" edited by Kenn Thomas
"The People Before" by Gary J. Cook and Thomas J. Brown
"The Pure State of Nature" by David Horton
"The Thread of Infinity" by Jon Whistler
"The Grand Design, Volumes 1 & 2" by Paddy McMahon
"Conspiranoia!" by Devon Jackson
Videos
"UFO Down-Under" by Barry Taylor
Music
"Taralinga Lila" by Sangeet, Tarshito, Jimmy
"Republica Dominicana" by various artists
"Beyond Skin" by Nitin Sawhney
"Tribe" by Tribe
"Shafqat Ali Khan" by Shafqat Ali Khan