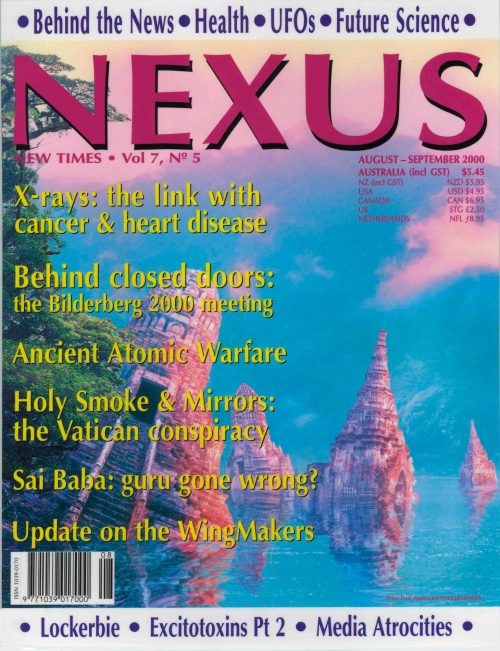 Volume 7, Number 5 – downloadable
$6.60
Volume 7, Number 5 complete issue downloadable pdf file.
Description
LETTERS TO THE EDITOR
Comments from readers on NEXUS-related topics.
GLOBAL NEWS
News you may have missed, including global financial regulation moves, the World Bank's war against Third World water rights, and how the CIA and NSA help US corporations win contracts.
DeBRIEFINGS: BEHIND THE HEADLINES
This issue features the official list of participants at the Bilderberg 2000 meetings' ten reasons why biotechnology will not ensure food security; and the latest controversies in the Lockerbie trial.
THE MEDIA AND THEIR ATROCITIES
By Michael Parenti, PhD. The first casualty of the Kosovo conflict was the truth, when the media fell for the military propaganda on genocide and mass rape that justified NATO's bombing of Serbia.
HOLY SMOKE AND MIRRORS
By David G. Guyatt. During WWII, the Vatican, in its zeal to eradicate communism, formed shady alliances with secret societies, fascist groups and intelligence agencies which continue to this day.
X-RAYS: THE MAJOR CAUSE OF CANCER?
By Peter Montague. Since their discovery in 1895, X-rays have been known to be dangerous, but recent findings suggest that medical X-rays are a major cause of cancer and even heart disease.
EXCITOTOXIC FOOD ADDITIVES Part 2/2
By Dr Russell L. Blaylock. Processed food additives like aspartame and MSG can bypass the blood-brain barrier, causing neurological damage and aggravating certain health disorders.
SCIENCE NEWS
This issue we highlight a 1929 article by free-energy pioneer T. Townsend Brown, in which he examines the relationship between electricity and gravity and describes his 1924 gravitator impulse experiment.
ANCIENT ATOMIC WARFARE Part 1/2
By David Hatcher Childress. Are the fused desert sands of Egypt and California and the vitrified ruins of Scotland, France, Turkey and India evidence of high-tech weaponry and atomic war in antiquity?
SATHYA SAI BABA EXPOSED
From various contributors. Many individuals who have been close to Indian guru Sathya Sai Baba are alleging he is involved in not just fraud and fakery but the sexual molestation of boys and young men.
THE TWILIGHT ZONE
This issue we return to the WingMakers controversy, with comments from the website webmaster and music distributor on the art, music and book and on the elusive custodians of the New Mexico artefacts.
Books
"Behavioural Problems in Childhood" by Viera Scheibner, PhD
"The Psychic Battlefield" by W. Adam Mandelbaum
"Doomsday: The Science of Catastrophic Events" by Antony Milne
"When The Gods Came Down" by Alan Alford
"Advertising & the Mind of the Consumer" by Sutherland & Sylvester
"Electrical Nutrition" by Denie and Shelley Hiestand
"Deep Time: Cladistics, The Revolution in Evolution" by Henry Gee
"Technology of the Gods" by David Hatcher Childress
"Pathways of the Gods Š—– Volume 1" by Neil Hudson Newman
"Web of Gold" by Guy Patton and Robin Mackness
"Father Ernetti's Chronovisor" by Peter Krassa
"UFO FBI Connection" by Bruce Maccabee, PhD
"Ancient Celtic New Zealand" by Martin Doutr'é
"The Keys to Avalon" by Steve Blake and Scott Lloyd
Videos
NEXUS Conference 2000 videos
Products
"Elanra Portable Therapeutic Ioniser Mark III" from Bionic Products
Music
"Heaven's Dust" by Ekova
"Walking On" by the Ananda Shankar Experience & State of Bengal
"Spring Sea Š—– Music of Dreams" by Riley Lee and Marshall McGuire
"Tides" by Peter Carolan
"ëMo' Vida!" by various Latin artists