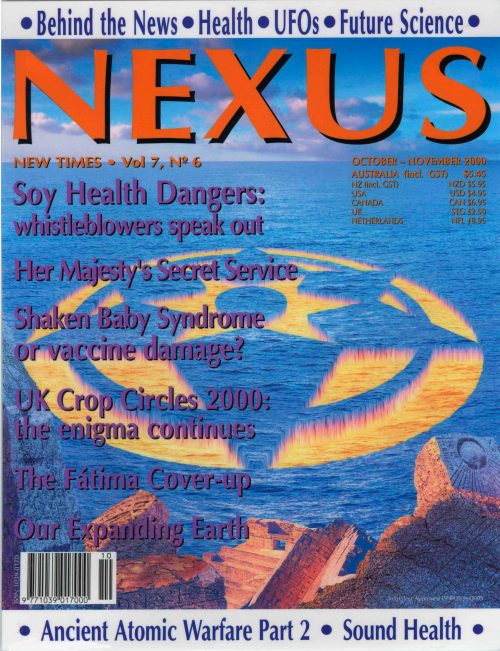 Volume 7, Number 6 – downloadable
$6.60
Volume 7, Number 6 complete issue downloadable pdf file.
Description
LETTERS TO THE EDITOR
Comments from readers on NEXUS-related topics.
GLOBAL NEWS
News you may have missed: oppressive European secrecy laws' the launch of the "Digital Angel" implant; the CIA's "War on AIDS"; the implications of the UK's new RIP surveillance law…and more.
DeBRIEFINGS: BEHIND THE HEADLINES
A letter by scientists protesting the FDA's soy protein ruling; a dissenting view on AIDS policy; a class action lawsuit on Ritalin fraud; and a report on a healing journey with Brazil's Jo'£o de Deus.
ON HER MAJESTY's SECRET SERVICE
By Stephen Dorril. Britain's Secret Intelligence Service, MI6, is obsessive about high-tech surveillance equipment, intelligence-gathering and security, and its operations are hidden from public scrutiny behind a veil of official secrecy.
DECLOAKING PATHOGENS WITH LOW-FREQUENCY SOUND
By Sharry Edwards. Analysis of the voice print can reveal the presence of disease-causing pathogens. By receiving inputs of complementary frequencies and harmonics, the body is assisted in fighting these pathogens and restoring health and balance.
SHAKEN BABIES OR ADVERSE VACCINE REACTIONS?
By Maureen Hickman. Adverse reactions to vaccines are often mislabelled as Shaken Baby Syndrome; and with SBS court cases becoming more common, medical experts and legal advisers have an ethical responsibility to be well informed.
GLOBAL EXPANSION TECTONICS
By James Maxlow. Plate tectonics theory has been smashed by modern, global-scale data which suggest that the Earth has been expanding in size particularly since the Early Jurassic period.
SCIENCE NEWS
KeelyNet's Jerry Decker presents Robert Calloway's high-efficiency collector circuit; and David W. Allan explains his new theory of gravity and diallel lines.
ANCIENT ATOMIC WARFARE Part 2/2
By David Hatcher Childress. Radioactive salt pillars in the Dead Sea and the ruins of vitrified cities in the Indus Valley give credence to descriptions in the Vedic texts of high-tech wars in ancient times.
FORMATIVE FIELDS: UK CROP CIRCLES OF 2000
By Andy Thomas. The UK summer 2000 crop circle season yielded a satisfying selection of circular, triangular, diamond-shaped and grid-like patterns as well as some surprising optical illusions.
THE TWILIGHT ZONE
We feature John Hogue's report on the Vatican's alleged cover-up of the real Third Secret of F'tima; and highlight recent controversial archaeological finds beneath Lake Titicaca and in Syria and Israel.
Books
"Physician" by Richard Leviton
"Dogs That Know…Owners Are Coming Home" by Rupert Sheldrake
"The Divine Deception" by Keith Laidler
"The End of Privacy" by Reg Whitaker
"Wellness in Menopause" by Marylyn Meek
"The Crystal Sun" by Robert Temple
"The Gympie Pyramid Story" by Brett J. Green
"Proof of Vedic Culture's Global Existence" by Stephen Knapp
"The Shamballa Impacts" by Phillip Lindsay
"Remote Viewing Secrets" by Joseph McMoneagle
"Our Evolution" by Waldo Vieira, MD
"The Jesus Mysteries" by Timothy Freke and Peter Gandy
"The Cancer Conspiracy" by Toni Jeffreys, PhD
"The Master Key" by Charles F. Haanel
"pH: Youthing, Not Ageing" by Harald W. Tietze
Videos
"What Happened on the Moon?" presented by Ronnie Stronge
Music
"Songman" by Nomad
"Under Southern Skies" by Tony O'Connor
"Dance into Eternity" by Omar Faruk Tekbilek
"Feng Shui: The Eightfold Path" by Chinmaya Dunster
"Niya Yesh" by Axiom of Choice