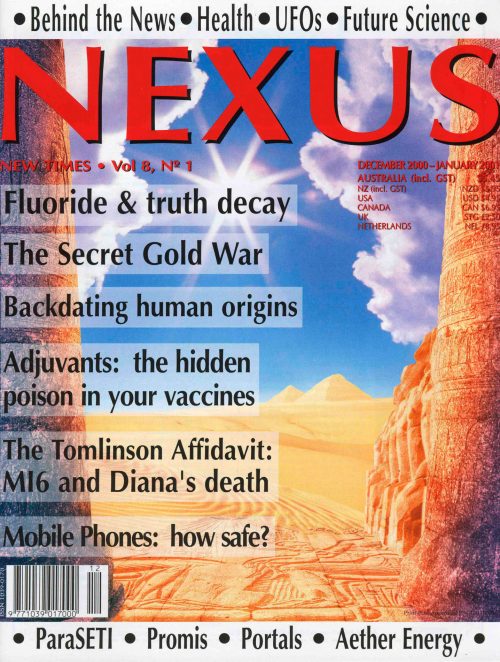 Volume 8, Number 1 – downloadable
$6.60
Volume 8, Number 1 complete issue downloadable pdf file.
Description
LETTERS TO THE EDITOR
Comments from readers on NEXUS-related topics.
GLOBAL NEWS
Military jet pulses may have caused TWA Flight 800 to explode mid-air; some vaccines may be contaminated with mad cow disease; and scientists confirm the reality of the near-death experience.
DeBRIEFINGS: BEHIND THE HEADLINES
We reprint former UK MI6 operative Richard Tomlinson's affidavit outlining his suspicions that the agency is not telling all concerning the death of Diana, Princess of Wales' plus commentary on the flawed UK York Report on water fluoridation.
MOBILE PHONES: TIME FOR PRECAUTIONS
By Simon Best, MA. As more evidence emerges of mobile phones' harmful effects on health, it's time to minimise phone use and lobby governments to adopt more stringent guidelines on emissions.
THE SECRET GOLD TREATY
By David G. Guyatt. A financial battle is raging between the euro and the dollar as the independent Gold Anti-Trust Group exposes a "gold collusion" cartel operated by international bankers.
THE "PROMIS" THREAT
By Michael C. Ruppert. A tangled web of intrigue has been spun around the stolen "Promis" software which is now so enhanced it can facilitate high-resolution satellite surveillance and allow high-tech thieves to manipulate global financial markets.
EFFECTS OF VACCINE ADJUVANTS Part 1/2
By Viera Scheibner, PhD. Vaccines contain adjuvants chemical substances meant to boost the immune response but which are known to be toxic and to have adverse and severe side-effects.
PARASETI: ET CONTACT VIA SUBTLE ENERGIES
By Gavin Dingley. SETI radiotelescopes are not designed to detect or use the subtle frequencies that permeate the extraterrestrial or extradimensional Universe, but Hodowanec's gravity-wave detector proves that two-way communication is possible.
SCIENCE NEWS
By Robert Adams, DSc. The inventor of the Adams Triplex Aetheric Energy Motor-Generator explains the fundamentals of applied aether science and smashes some myths about electricity generation.
THE EXCAVATIONS OF CARLOS RIBEIRO
By Michael A. Cremo. In the 1860s, Portuguese geologist Carlos Ribeiro found worked flints in Miocene strata dated at five to 25 million years old, but his findings on an earlier date for the emergence of toolmaking humans are largely unknown today.
THE TWILIGHT ZONE
Dr Michael Wolf's final interview, conducted by Paola Harris' Richard Boylan's revelations from an inside source on US research into holographic time portals' and radio talk show host Dave Alan's extraordinary out-of-body experiences in hospital.
Books
"Rogue Messiahs" by Colin Wilson
"Rule by Secrecy" by Jim Marrs
"Mind Wars: The Battle For Your Brain" by Ian McFadyen
"The Dragon's Tail" by Anthony Austin and Brian Crowley
"Menace in the Mouth?" by Dr Jack Levenson et al.
"Extraterrestrial Contact" by Steven M. Greer, MD
"Mysteries of Ancient South America" by Harold T. Wilkins
"The Book of Magnet Healing" by Roger Coghill
"The Book of Enoch the Prophet" translated by Richard Laurence
"Pyramids in the Pacific" by Rex Gilroy
"The Vivaxis Connection" by Judy Jacka, ND
"Dolphin Healing" by Horace Dobbs
"Realm of the Ring Lords" by Laurence Gardner
"Mystery in Ac'mbaro" by Charles H. Hapgood
Videos
"The Secret NASA Transmissions: 'The Smoking Gun'"
"Out-of-Body Experience: A Glimpse of Immortality"
Music
"Afrika Wassa" by Vieux Diop
"Master Musicians of Jajouka" featuring Bachir Attar
"Fiesta Brasil" featuring various artists
"Cousteau's Dream: A Benefit Album" featuring various artists
"The Golden Portal" by Xumantra