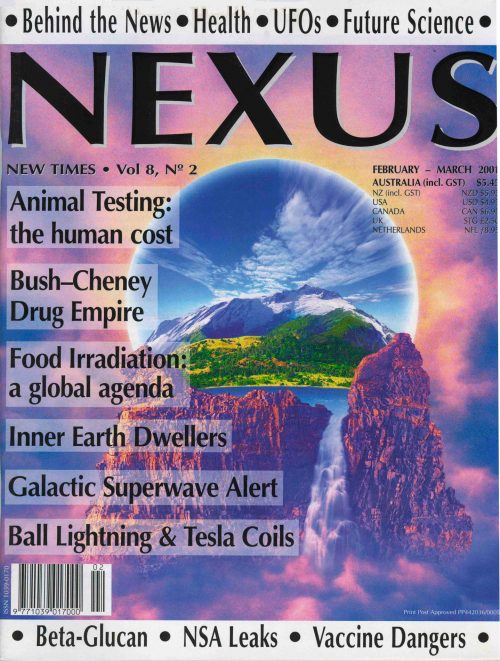 Volume 8, Number 2 – downloadable
$6.60
Volume 8, Number 2 complete issue downloadable pdf file.
Description
LETTERS TO THE EDITOR
Comments from readers on NEXUS-related topics.
GLOBAL NEWS
News they don't want you to read, including an alleged NSA override of an Antarctic scientific mission, and signs of a high-level cover-up surrounding the tragic Port Arthur Massacre.
THE BUSHŠ—–CHENEY DRUG EMPIRE
By Michael C. Ruppert. The Bush family's involvement in drug-running is no secret, but Dick Cheney's direct link to a global drug pipeline via a US construction company is not so well known.
FOOD IRRADIATION: THE GLOBAL AGENDA
By Susan Bryce. Transnationals, UN organisations and government authorities are foisting irradiated food onto unsuspecting consumers, but food treated this way has never been proved safe to eat.
THE HUMAN COST OF ANIMAL EXPERIMENTS
By Katrina Fox. There is overwhelming scientific evidence that animal-based testing is grossly inaccurate in evaluating whether a drug or product will affect humans, and apart from being harmful for animals it is ultimately dangerous for humans.
THE MEDICAL BENEFITS OF BETA-1,3D-GLUCAN
By Peter Olson. Beta-glucan, a naturally occurring chemical common to medicinal mushrooms, oats and seaweed, has enormous potential as an immune system enhancer, wound healer, cancer and AIDS fighter and even radiation neutraliser.
EFFECTS OF VACCINE ADJUVANTS Part 2/2
By Viera Scheibner, PhD. Vaccines contain adjuvants, chemical substances meant to boost the immune response, but to understand their action it is important to return to immunology principles.
SCIENCE NEWS
This issue, paranormal science researcher Albert Budden describes the success of electrical engineers Kenneth Corum and James Corum in creating ball lightning in the lab after reinterpreting Tesla's notes.
A GALACTIC SUPERWAVE HAZARD ALERT
By Paul LaViolette, PhD. According to this scientist's astrometric calculations, every 10,000 to 26,000 years the Milky Way's core explodes and the resultant superwave radiates out through the galaxy, causing cosmic catastrophes in its wake.
THE DEEP DWELLERS Part 1/3
By Wm Michael Mott. Ancient mythologies and religions are rich with tales of inhabitants from subterranean realms, and they have commonalities whether they be from the East, West or New World.
THE TWILIGHT ZONE
Richard Boylan, PhD, interviews "Z", a former NSA consultant who makes startling revelations about the US shadow government, the Americans' fleet of antigravity craft, a "doomsday" asteroid due to hit Earth in 2030, and the return of the tenth planet.
Books
"The Lynch-Mob Syndrome" by Ken Norman
"Unexplained Phenomena" by Bob Rickard and John Michell
"The Vast Enquiring Soul" by Ronald Russell
"Cosmic Wonder" by Laurelle Russell-Atkinson
"The Cholesterol Myths" by Uffe Ravnskov, MD, PhD
"The Aztec Virgin" by John Mini
"Take Control of Your Health" by Elaine Hollingsworth
"Tachyon Energy" by David Wagner and Gabriel Cousens, MD
"Mysteries of the Sacred Universe" by Richard L. Thompson
"The Tesla Papers" edited by David Hatcher Childress
"The PK Man" by Jeffrey Mishlove, PhD
"Eve of the Apocalypse" by Michael Bond
"AIDS: An Explosion of the Biological Time-bomb?" by Robert E. Lee
"The Fertile Earth" & "The Energy Evolution" edited by Callum Coats
"The Talk of the Galaxy: An ET Message for Us?" by Paul LaViolette
Audiotapes
"Children of the Rainbow" by Gordon-Michael Scallion & C. Keyes
Music
"Music from the Tea Lands" by various artists
"Shiatsu" by Llewellyn
"Parikrama" by David Parsons
"The Believer" by Remember Shakti
"Postcards from Bundanon" by Riley Lee